SMARTIA MF65: A High-Quality Thermally Insulated Folding Door System
SMARTIA MF65, the new folding door system by ALUMIL, is not only a high-performance system but is also appealing to the eye.
If you are looking for one of the unique folding door systems on the market, look no further than SMARTIA MF65. It can be adapted to any space with its minimal design and thin aluminium profiles that bring modern aesthetics and support up to 140 kg percent. In addition, its reinforced construction provides burglar protection. At the same time, its high-quality materials result in both high energy efficiency and low maintenance costs in the long run.
Top Thermal Insulation
Regarding energy efficiency, thermal insulation is essential to preserve your project's overall value and maintain a comfortable temperature throughout. SMARTIA MF65 folding door system increases energy efficiency and cost-saving thanks to the top thermal insulation performance (up to Uw=1.1 W/m2K).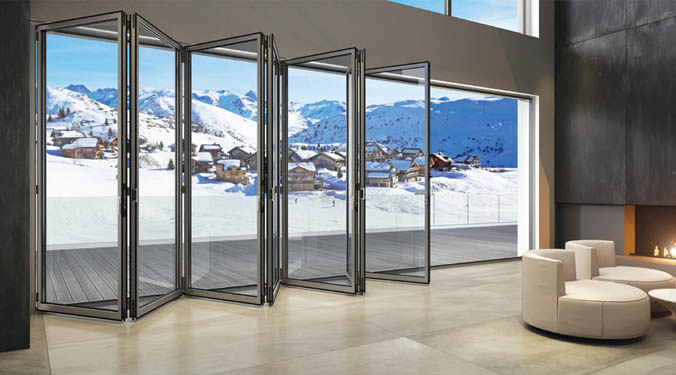 Minimal Style that Stands Out
You can integrate SMARTIA MF65 into your minimalistic design without compromising on robustness or aesthetics. The slightly visible aluminium sightlines add an excellent visual quality in terms of the connection with the exterior and will only improve the aesthetics in the long run, elevating the overall style of your space.
Embrace Natural Light The design which of the SMARTIA MF65 folding door system is all about maximizing the natural light in your space, offering slim sightlines (88 mm aluminium face width, sash to sash). If you're looking for an eco-friendly way to keep your area bright, MF65 is an ideal choice. ALUMIL's new folding door system is beautiful, with a modern design which is mpleasing to both your eyes and your energy bill, contributing to better living conditions.
Spectacular Performance at All Fronts
The system achieves top performance in terms of air permeability (class 3), water tightness (8A) and wind load resistance (class 2), offering an all-around reliable solution. Also, MF65 provides enhanced levels of burglary protection with quadruple latches, 3-point locking and a unique anti-lift mechanism. It is worth noting that the reinforced construction of SMARTIA MF65 allows it to carry a maximum weight of up to 140 Kg per vent, guaranteeing maximum durability and allowing large, robust constructions (up to 1.3m widths or up to 3m height).
A Folding Door System that Raises the Bar
SMARTIA MF65 sets a new standard for thermally insulated folding door systems. Whether you want to install a new one or upgrade an existing system, SMARTIA MF65 is a magnificent solution. Its top performance and unmatched aesthetic appeal tick
all boxes!
130