Soundproofing and temperature control mandates the need for insulated concrete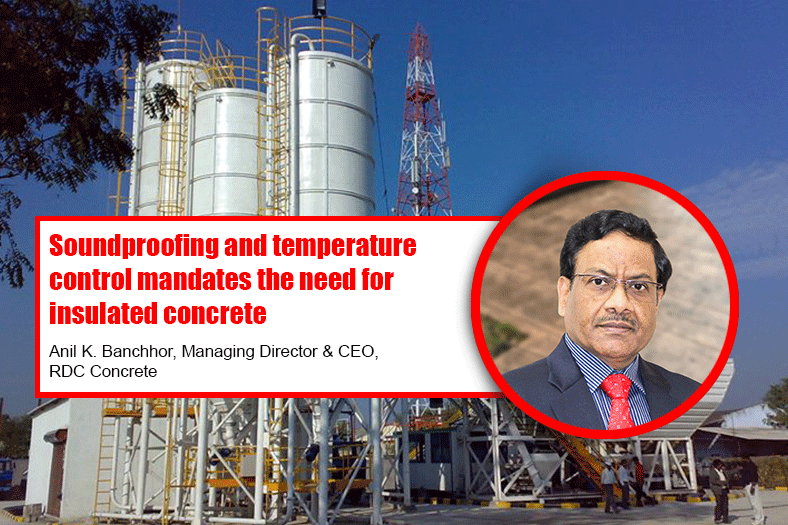 From residential buildings to a plethora of industries, the use of insulated concrete has broadened says Anil K Banchhor, Managing Director & CEO, RDC Concrete.
What kind of projects can be designed using insulated concrete?
The need of incorporating soundproofing and temperature control features in construction of buildings&industries has increased over the decades. Many builders and construction contractors are moving towards the use of insulated concrete due to its durable and resilient attributes. The insulated concrete can be used on the top floor of all residential and commercial buildings to ward off the heat from the sun and restrict its transmission inside the building. It can be used as thermal protection of parent concrete below boilers, furnaces, extruders etc. across different industries. It can be also used for thermal protection of load bearing columns in close proximity to heat generating equipment in the cement, steel, aluminium, petrochemical and other industries. We have a product named 'RDC Tempcrete' for Thermal Insulated Concrete.
Insulated concrete can be used for soundproofing of buildings also. This is essential for health & wellbeing of occupants and to improve communication of the occupants of the building. This can be used in between the floors of the commercial and residential building as soundproofing. Similarly, it can be used for the construction of acoustic walls for cinema halls/theatres to control the noise from going out. We have a product named 'RDC Soundproof Crete' for soundproofing of the building.
Is it safe to use insulated concrete in geographies which experience inclement weather?
Yes, it is completely safe to use insulated concrete in geographies where weather is cold and wet. The buildings constructed with insulated concrete provides thermal insulation which results in continuous and consistent core temperature inside the building. Thus reduces the use of energy in maintaining the temperature in building and improves the comfort and health of a building.
What kind of sound insulation can be garnered using ICF?
Architects and structural designers prefer to use Insulated Concrete Forms (ICF) for their multiple attributes such as reduced build time, labour savings and thermal efficiency. However, the acoustic properties of the building material are often overlooked or ignored. It's the acoustic components that reduce sound in a building structure, keeping noise pollution at bay while enhancing the acoustical effects of sounds generated within.
For these advantages alone, ICF is recommended for cinemas&sound studio's to control the noise going out. Hotels &airports tend to be in the centre of the noisy urban action and ICF construction here is a much more cost-effective way of providing a sanctuary of comfort for guests. ICF walls and floors are very cost effective for commercial office buildings where thermal insulation for maintaining temperature and reducing load on air conditioner. Apart from this sound insulation between floors and walls is also critical to productivity and comfort.
What makes ICF eco-friendly?
Insulated Concrete offers a number of solutions that provides structural strength, thermal insulation, sound barrier. The building made with insulated concrete are high performance buildings leading to reduced maintenance and repair cost, low energy consumption reducing operating costs and has the ability to continue functioning in adverse situations. ICF is made of sustainable materials. These insulated concrete buildings offer protection to main structural load bearing columns from fires and prevents its damage for a longer time. This results in durable, resilient structures that are environmentally friendly, made of sustainable materials and resource-efficient throughout the building's life-cycle. Right from the planning, construction, operation, maintenance, renovation to the demolition phase.
6