Steel is a perfect choice for architects seeking sustainable solutions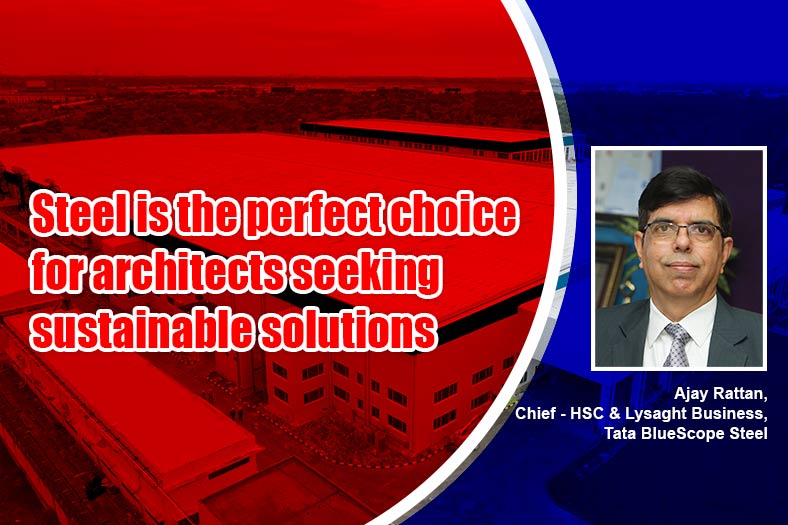 Being quick and easy to erect, steel buildings save time as compared to conventional ones and offer built-in weather resistance, says Ajay Rattan, Chief – HSC & Lysaght Business, Tata BlueScope Steel.
On what basis should one select the roofing sheets to be utilised for a particular project?
The metal roofing or wall cladding is one of the principle building components that act like an envelope for the entire structure. For a high performing roofing system, it is essential to consider the following before making an investment:
Load acting on roof: Whether it's the dead load, live load or the wind uplift; a roof must be built to endure both upward and downward pressure acting on
Design an effective roof slope: Roof slope and roof length play an important role in the selection of Consider geographical factors that affect its thermal movement due to temperature variations.
Choose the right profile and its thickness: Roof profile sheets contributes to aesthetics of the complete structure. Thickness of the roof profile plays an important role based on the purlin
Coating mass thickness and paint system of roof materials: Roof coatings are designed for adding a protective layer to the roof. It increases the service life of roof
Effective purlin spacing with optimised sections to match the loads
Additionally, one must also consider the sustainability aspect along with emphasize on safe installation practices. Roofing expense may contribute to just three per cent of your overall investment; however, it protects the remaining 97 per cent. It is always advisable to partner with someone who is trusted and experienced. Tata BlueScope Steel with its lineage (of Tata Steel and BlueScope Steel) is a perfect partner for all your cladding requirements.
What gives steel roofing sheets an upper hand as compared to other available options?
Steel as a building material has always been associated with strength and rigidity. Being a versatile metal, it is universally preferred for its durability, economic value and sustainability. In recent times, use of colour coated steel, has further added superior aesthetics and long-term performance. Traditional buildings incur costs due to its maintenance. Steel buildings on the other hand, offer durability and have lower or trouble-free performance. Large projects such as industrial, infrastructure, warehousing, power stations etc. prefer Tata BlueScope's Lysaght profiles made of ZIncalume steel (Al-Zn alloy coated steel) and Colorbond steel (pre-painted Al-Zn alloy coated steel), for cladding applications, as compared to conventional bare and painted galvanised steel. It can be easily cut to custom lengths and widths, as per requirements and offers design flexibility. Architects and designers can employ longer spans with design optimisation. Al-Zn coated steel also finds application in Light Gauge Framing system (LGFS) for both ground floor and high-rise buildings, owing to its properties like strength, light weight and corrosion resistance. Being quick and easy to erect, steel buildings save time as compared to conventional ones and offer built-in weather resistance. With greater emphasis on environment, steel is the perfect choice for architects seeking sustainable solutions. Steel is 100 per cent recyclable and reusable.
We also supply solar module mounting structures under brand Ilios, thereby promoting sustainability in our roofing solutions. Our profiles increase green ratings for your structures. For example: The Melbourne Convention and Exhibition Centre is the first convention centre in the world to have achieved a 6 Green Star rating in 2008 with roofing solution made completely of Lysaght Klip-Lok 700 made of Colorbond Steel (with Thermatech technology).
What are the dedicated products you offer as far as steel roofing sheets are concerned?
Perfectly suitable for  warehousing,  commercial,  industrial or manufacturing sectors; we offer a wide range of building products in form of Lysaght roof and wall cladding solutions. These range from concealed fixed roofing systems, screw down profiles and compatible accessories for greater finish. Made from high strength Zincalume and Colorbond steel, these profiles offer greater corrosion resistance, long-term performance, superior aesthetics and a maintenance-free experience.
2