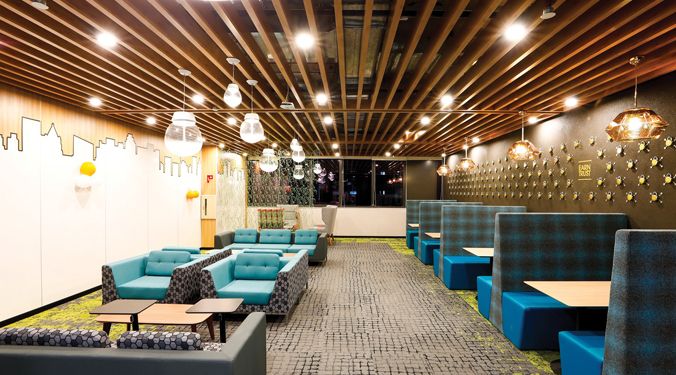 One of the biggest knowledge sharing platforms, IDAC will witness a concoction of architects, designers, top notch manufacturers and vendors all of whom bring the magnificent world of architecture and design to life.
The month of May will unleash one of the biggest events in the sphere of architecture and design. The event which will be held at the Jio World Convention Centre in Mumbai will witness the who's who of architecture and design coming together under one roof. Likewise top notch vendors, manufacturers and service providers catering to the building and construction industry will be out there to showcase their latest and innovative offerings. 
Events which are returning after a Covid-19 induced hiatus have added a lot of optimism and IDAC too has added this magic in the minds of its stakeholders and participants Amit Shah, Managing Director, Classic Marble Company (CMC) says "CMC is delighted to have IDAC as a platform to display its new products and announce the latest developments to our target audience. Some of our most promising products, including our new veined quartz products in white, will be displayed at the exhibition. We want to show off the best to the architects and designers attending the exhibition. Visitors will get to see cabinets, tables, puffies of Kalinga Stone porcelain surfaces, Terrazzo flooring in exquisite patterns and the 9th Avenue wall designs. We have tried our best to incorporate the needs of millennial and luxury homes both under one roof and are confident that visitors will appreciate it. Such a large scale industry gathering is happening after two years and so, we are quite excited to be part of IDAC this year"
Elucidating on the smart use of CMC's products for spicing up the look and feel of the interior spaces Amit Shah points out "Classic Marble Company's (CMC) Terrazzo engineered marble continues to remain a big hit with its old world charm in a new avatar. A fab combination of elegance and utility, the Terrazzo is immensely popular in a variety of applications including flooring and wall claddings. Reminiscent of the classical art deco design, Terrazzo can be installed in the kitchen as both the flooring and backsplash to give the space a retro, country house kind of a look. It can be installed in the bathroom running from the floor to the wall or as a wall clad for vanity counter application in the bath."
From marbles to granite and hardwood to laminate, a number of materials can be utilized for beautifying the interiors but that can happen only when a precise design strategy is in place. Drafting a design strategy and implementing it is thus one of the key aspects of good looking interiors. Jagdish Kularia, Director, Narsi Group points out "There are key aspects that should be kept in mind before drafting the design strategy for a space. The most basic yet important aspect is understanding the requirements of the client and ensuring that the design of the space resonates with the working style of the company/ individual. Colour and theme is extremely important, colours in particular influence the psychology of the users and themes to a certain degree resonates the atmosphere and the values of the company or the individual in question. Hence this fact also makes it even more important to understand the purpose of the space to be designed whether it's an office space, individual working space etc." 
"Every individual/ company has specific requirements depending on their nature. While Designing the work space, the work culture is to be kept in mind. Many companies prefer that the employees increase their interaction, which calls for designing an agile space to have an open work culture. For e.g. "A workspace for TCS/Infosys might want to include as many seats as possible for their work staff; however Google offices tend to have more free spaces along the lines of an open office concept. The other aspect to keep in mind is to optimize efficiency and make optimal use of daylight to save energy (Light and HVAC). The space should be optimized at its best depending on its area and numerous implementations must be done accordingly. Likewise before starting any designing journey of concept and strategy, The delivery time of the manufacturing of items, selecting and sourcing of materials, and importing items should be kept in mind."
Speaking on Narsi's participation in IDAC Expo Jagdish says "We look forward to being a part of this exhibition every year. Since IDAC is India's largest knowledge-sharing forum on the build industry, we are excited to showcase various products and services that Narsi Group has to offer. We are expecting to have numerous Interactions with Industry experts and professionals who would be visiting the premise which in turn would lead to fruitful collaborations.It's a platform that will help us in Showcasing of How the Interior Turnkey Segment has evolved with various technological advancements. How Narsi group is being Industry 4.0 ready by adapting those advancements and has been implementing them for their projects. We aim to generate the Narsi group's awareness by showcasing our work and reaching out to the masses via this platform."
IDAC will have six dedicated pavilions to ensure visitors and vendors can make the most out of the exhibition on the basis of the solutions they seek. The pavilions are High Rise Pavilion, Green Pavilion,IDAC Fire and MEP Pavilion,Facade Pavilion,Landscape Architecture Pavilion and Interior and Lighting Design Pavilion.
"Personalized lighting," says Anuj Dhir, Vice President and Business Head for Commercial & Institutional Lighting Business, "is steadily turning into a norm for post-pandemic spaces. People today understand what good, personalized lighting is like and want to choose lighting that best suits their preferences. It plays a vital role in attuning our circadian clocks with the natural day/light cycles. Spaces are being designed keeping in mind the environment for the people in the space, improve building operations, and provide superior energy performance. Lighting, both electric light and daylight, impacts every space. Lighting systems can now let users bring the best elements of the outdoors to the office via simple color temperature and light intensity control in offices. Suspended luminaires or pendant luminaires are as varied as architecture. They come in various shapes and forms like round, square, profile. Depending on taste, suspended luminaires can be hung from the ceiling by a rope or a sturdy pendant tube. Be it collaborative, functional, or hybrid the right light can create the perfect ambience. Users can control the color temperature and illumination; the luminaires can be connected to Wi-Fi and can be configured with Power over Ethernet(PoE)."
Speaking about the company's product showcase at IDAC Anuj adds "In the upcoming edition of IDAC, we expect discussion on Hybrid workplaces emerging as the next big thing globally – including India. Employees today visit the office not only for work but also for having experiences, interactions, and collaboration. Hybrid workspaces today are ideal for fluid interactions and spontaneous conversations interwoven with functional zones. It performs multiple roles where teams meet, a place to unwind & relax, a place for a quick regroup, or a place to simply get work done. Wipro offers solutions in soft seating and lighting to help customers create Hybrid workplaces. Levitate by Wipro Furniture is the latest furniture range bridging the gap by innovating the way furniture units can come together to create interesting formations prompting maximized collaboration. InSyncTM by Wipro Lighting aids to program light closest to the visible spectrum of sunlight and modulate it during the day. It is designed for employee wellbeing and its design principle considers three kinds of impact that lighting can have on employees – visual, emotional, and biological. The 'inform' by Wipro Lighting range offers uniform illumination, blended with a light engine adding to the space. Along with this, these luminaires can be dimmed for creating an effect for a variety of application areas."
Apart from engaging end users and vendors in meaningful conversations, IDAC Expo will also witness a series of seminars, workshops , design competition and an awards function.  From 5th to 7th May, across three days, IDAC Expo is ready to immerse Mumbaikars in the infinite possibilities which will shape the future of the building and construction as also the architecture and design.                                      
22