Toto India offers superlative solutions to luxurious hotels and homes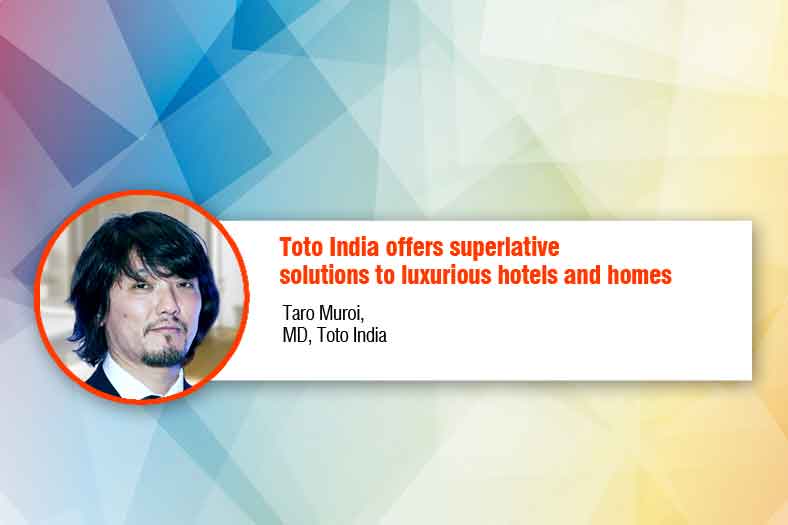 Taro Muroi, MD, Toto India in this free-wheeling interview chats about his company's plans and solutions being offered in India and sheds light on his product launches.
What does India as a market mean to Toto?
Currently, Toto has been able to successfully establish a strong customer base within the tier 1 Metro. Our current customer base is 80:20 – Urban metros vs tier 2 cities. Toto considers Indian market as one of the fastest developing markets and it is one of our next huge markets to focus on. The premium industry is said to take up about 10-12 per cent of the total market share and is seen growing year by year.
The luxury sector particularly has seen steady growth in the past years due to the increase in spending power. Indian customers are gradually purchasing more premium and high technology products for their bathrooms. This is due to the increase in environmental awareness, customers are moving towards eco-friendly sanitary-ware and bathroom fittings that help in conservation of water. Toto's Neorest collection was developed keeping the same awareness in focus.
How is Toto supporting PM Narendra Modi's Swachh Bharat Abhiyaan?
Toto India has been supporting numerous NGOs who are contributing to sanitation awareness and development and there by contributing to water saving and sustainability.
What are some of the iconic projects in which Toto's products were used?
Toto India offers superlative solutions to the most prestigious and luxurious hotels and homes. In India, Toto has served as a luxury premium bathroom solution alternative to elite hotels such as the Taj Falaknuma Palace – Hyderabad, Park Hyatt – Hyderabad, Taj Palace – New Delhi, The Oberoi – Delhi and high-profile residential properties such as Hiranandani Group.
What makes brand Toto unique amidst the existing players in the bath and sanitary space?
Toto is one of the world's most technology driven and environmentally sustainable bathroom solutions companies that strive to create a culture of comfort and healthy living. The Indian market nests Toto's high-tech products of the finest and premium quality. It takes huge pride in its products with the exquisite craftsmanship of products like the Neorest Series, Flotation Bathtub, the Washlets and Eco-washers, integrated toilets, Technology display, washbasins, showers, bathtubs, and public area items. The brand offers a wide range of products catering to all, providing fixtures, electrical solutions and high-tech sanitary-ware options from Designs to user needs who are looking for an end-to-end bathroom solution.
The brand has pioneered the industry with futuristic theories such as LifeAnew and Cleanovation. Toto's 'Life Anew' sets forth the company's enduring commitment to creating a culture of clean, comfortable living for people around the world through its innovative products and advanced technologies. Toto believes the bathroom should remain a relaxing, restorative space where people escape the physical and mental fatigue brought on by daily life stresses— whether at home or staying in a hotel.
What are some of the new products you are introducing in the market?
With demand for technology driven bathroom spaces, consumers are also looking at designs-aesthetics, quality, functionality and sustainability and that makes the bathroom and sanitation spaces more dynamic and consumer-driven. All Toto products are designed to facilitate these changing needs. Products with technologies like Ewater+, Actilight, Cefiontect, Rimless designs make sure to give the consumer the highest level of hygiene while the technologies like Tornado flush, Auto faucets, Eco Cap, Ariel Pulse help in reducing the consumption of the water for our daily needs giving users the desired level of comfort and satisfaction. In bathroom spaces, we have moved from the basic WCs/Commodes to Washlets (Electrical Toilet seats with bidet) and the more modern Neorest NX. Neorest Series comes with Sleek, Low profile One-piece skirting combines Integrated cleaning and comfort function in the seat.
Speaking of Luxury, Tornado flushing system can be operated by remote or by sensor operation, also Automatic toilet seat can be opened/closed by remote or sensor operation. In Bathtubs category we have shifted from normal bathing experience to advanced floatation bath tubs that to leave you with a more relaxing massage sensation to an indulging zero-dimension experience.
In 2020, Toto is introducing its luxury and premium range of faucets called Z- G- & L- Series and showers called Z- & G-Selection, with exquisite choices for colours, finishes and forms. With features like comfort glide, warm spa, comfort wave, active wave – for soothing, heat protect and safety thermo – for safe operation, and Mini Unit – for compact design, this new range is a perfect balance of design and technology.
67