Modern-day ceramic tiles started evolving from the past 130-150 years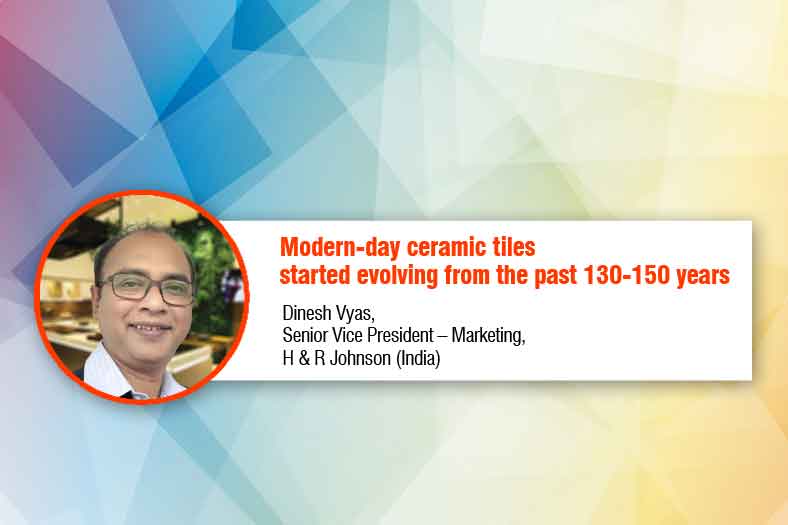 Dinesh Vyas, Senior Vice President – Marketing, H & R Johnson (India) elucidates on the evolution of tiles as an aesthetic element in interiors and H&R Johnson's unique offerings in different formats, value propositions and aesthetic.    
What are some of the key areas in interiors where tiles can be used effectively?
We, at Johnson are proud to say 'Johnson Tiles for all spaces'! Historically in Indian residential constructions, tiles were limited to bathrooms where no other material could perform due to the presence of water and in kitchens where the concern was not just limited to moisture but the greater challenge was present in terms of stain-causing ingredients used in cooking. The flooring was mainly natural stone and marbles, cement-mosaic tiles and the shining terrazzo. In the economy segment even the cement finished flooring was quite popular.
However, today large chunk of residential interior flooring has beautiful, strong and easy to maintain ceramic tiles that are very popular. The best thing is that Indian Tile Industry did a wonderful job by creating larger and more sophisticated tiles at an affordable price. Today you can buy a decently basic ceramic tile in beautiful design and pre-finished surface at as low as INR 30- 35 per square feet!  Apart from conventional application areas like bathroom, kitchen wall and flooring, the new variety of tiles and engineered stones can be used in –  Roof-top terraces and balcony.  Replacing granite and marble for Kitchen platforms and door-frames.  Accent wall in the living and other rooms.  Passage walls and external wall cladding.  Moulding large format tiles and engineered stones as table tops.
From a 12cm X 12cm to large slabs, how have tiles evolved beyond a mere component restricted to hotels, bath spaces, and hospitals?
The journey of ceramic tile is one of the most interesting stories among building materials. While the knowledge of basic ceramics is very old (close to 25000 years!), modern-day ceramic tiles started evolving from the past 130-150 years.  Initial tiles were made of small size and lighter body but used to lack in good mechanical strength to qualify for floor application. Today Johnson offers tiles which measure close to 8 feet x 4 feet also! (240cm x 120 cm). However, size is just one factor.
The common theme of the evolution of ceramic tile is based on two parameters – first, the decoration and second – versatility and suitability to be used in various different applications demanding durability and consistent performance under severe stresses on its surface.    Apart from aesthetics the two other parameters that decide the suitability of tiles for an application are – mechanical strength leading to durability and – functionality which means features on the tile which support day today challenges of modern-day lifestyle.  While all manufacturers try to qualify on the standard defined by the Indian and other prestigious organizations, we at Johnson, with our strong and most recognized R&D wing (IPNR Division) have mastered the art of creating innovative products many of which are patented ones.
What is the level of customization you offer in terms of design and size?
See, Johnson Tiles are known in the world for more than 100 years, in India for we have been around for 60 years. At short intervals, we introduce new products that are based on continuous feedback from our existing and potential customers including institutions and architects. Currently we have over 3000 products in different formats, value propositions and aesthetic.
All our plants are equipped to modify some parameters which allows us to customize in a mass production scenario. In fact, one of our recent initiatives is – Co-creation for unique projects. Co-creation for us is not just modifying visual appeal. It starts at the conceptualization level of the project where our designers, ceramicists, production engineers and marketing people team up with the Architect and a unique product is born which not only has customized aesthetics but also has the character that makes the flooring or walls to meet all the functional challenge.
What are some of your premium offerings for luxurious properties?
Luxury and lifestyle are closely related. Brand Johnson positioning is – Not just tiles, lifestyles. However, we do not relate lifestyle only with the show of wealth. The modern lifestyle has an essential element – wisdom. We strongly believe that lifestyle products must qualify and support few things which are the essence of lifestyle vizhealth & hygiene, safety, concern for environment and freedom to choose from a wide range of options.
Luxurious properties must fulfil these aspirations. Johnson offers products which are created keeping these very lifestyle elements in mind and we propose –  Germ-Free antimicrobial tiles for bathrooms, heavy-duty industrial grade Johnson Endura tiles for parking and exterior area, Stain-Free fully vitrified Marbonite tiles and Germ-Free –cum-stain free Porselano tiles in large sizes (e.g. 120×120 cm, 240×120 cm) for residential flooring, Johnson International range of Sanitary ware and bath fittings for bathrooms and Johnson Engineered Marble and Quartz slabs for platforms, door frames, and general wall and floor applications.
When it comes to the selection of tiles for commercial vs residential spaces, what are the key differences?
The key difference in criteria to choose tiles for different application areas comes up due to different usage environments. While there may not be much difference needed for wall application tiles, what really matters is – flooring.  When we say commercial space, it includes tiled surfaces of exterior portion as well.  Residential space has lesser people, at least on a regular basis and lesser movement of material over tiled surface. The situation is just reversed in commercial space. It means that not only the mechanical strength of tile (breaking strength) but also the quality and characteristics of the top surface of the tile is very important. It must be resistant enough to the day to day scratch causing substances that come along with our shoes and other objects moving on the floor.
Similarly, the level of reflectance could become an important criterion as it will influence the overall ambiance in the finished space.  The two top concerns that may suggest avoiding using a particular tile in commercial space are – mechanical strength and scratch resistance.
How can tiles be made shockproof?
We have a patented product in our portfolio – Anti Static tile! When our Anti-static tile is applied using the requisite methodology and material it addresses the Electro Static Discharge (ESD) Hazards. So yes, tile can be made shockproof in that sense. The anti-static Johnson Endura tile plays a very important role particularly in safeguarding electronic devices and server rooms in IT offices. Static electricity accumulates on the surface of any floor be it natural stone, ceramic tile or other flooring material.
This static electricity is accumulated due to the friction between any two surfaces like shoes and the floor. Endura Anti-static tiles are manufactured using a specially formulated conducting glaze that carries the static electricity charge from the surface of the tile to ground thus eliminating the fire hazard.
11