Way for a greener future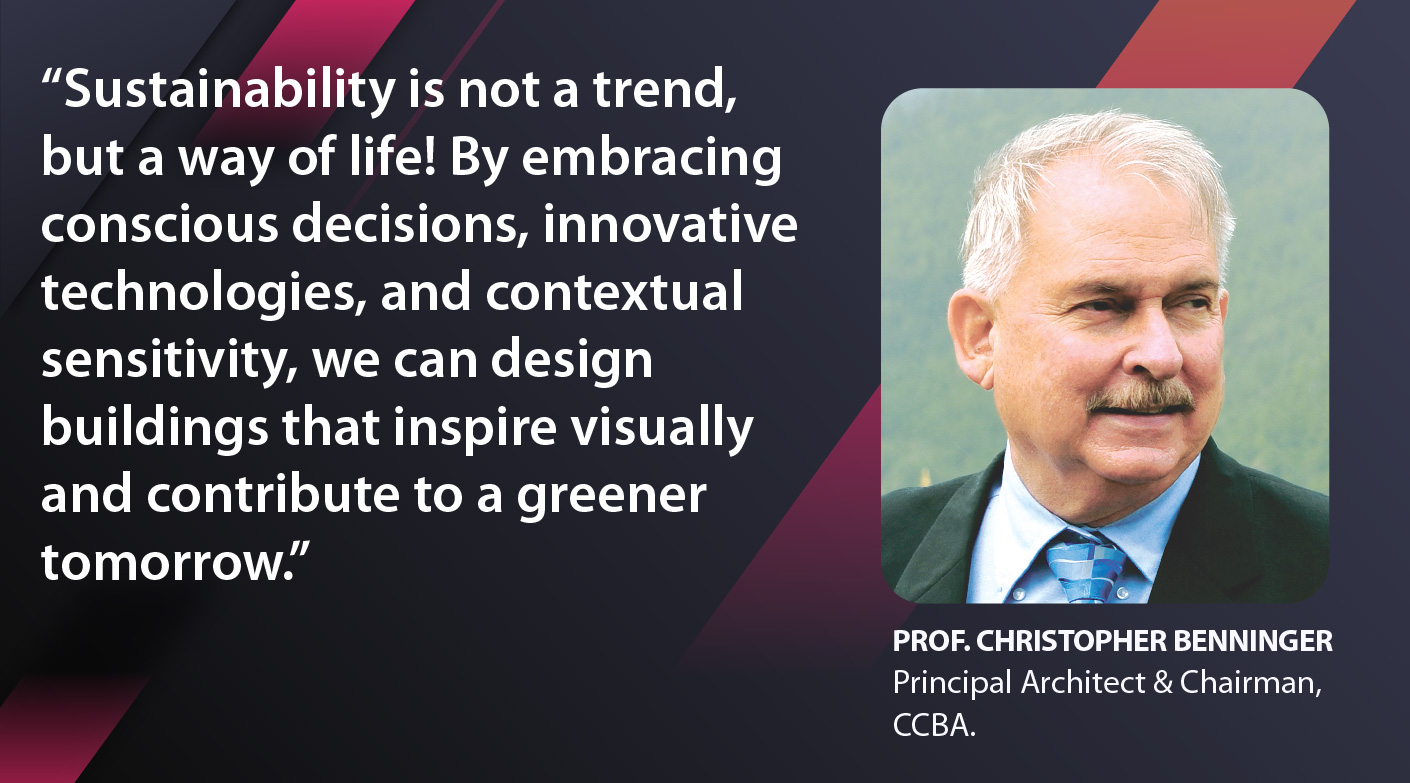 "Sustainability is not a trend, but a way of life! By embracing conscious decisions, innovative technologies, and contextual sensitivity, we can design buildings that inspire visually and contribute to a greener tomorrow." Prof. Christopher Benninger, Principal Architect & Chairman, CCBA.
What are the latest trends in architectural design, and how are they influencing your work? 
  While sustainability and green design concepts have been around for a while now, these terms are finally entering mainstream conversations, and everyone is beginning to understand their importance. Sensitivity to context and climate is becoming paramount, and technological advancements are opening doors to more sophisticated construction and building maintenance systems. I am eager to utilise these advancements to create better living conditions for the inhabitants of the buildings I design!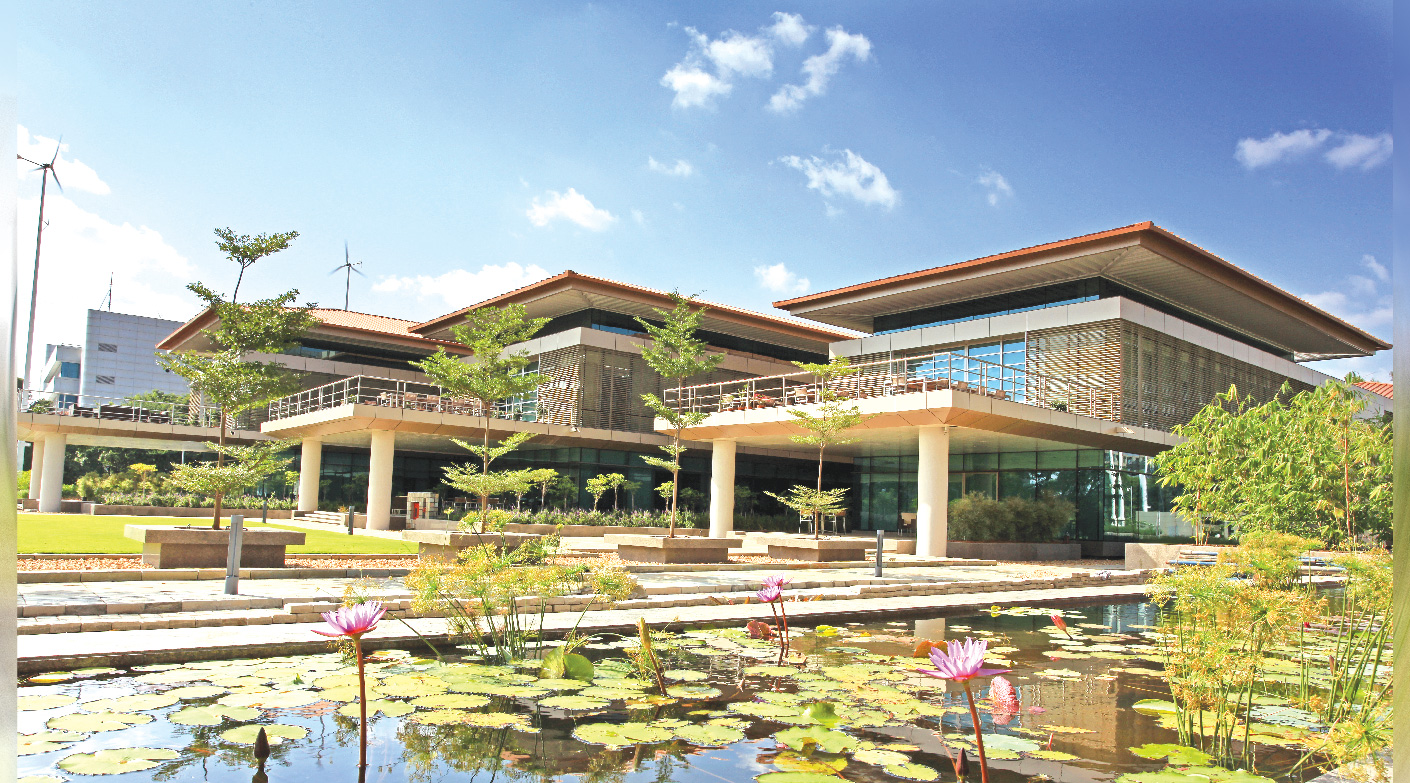 Can you shed some light on the net-zero projects you have created?
I designed the Suzlon One Earth Global Corporate Headquarters in Pune between 2006-2009. Suzlon Energy Limited, a leading wind energy company based in Pune, India, pledged to create the greenest office campus in India. Embodying the company motto, 'powering a greener tomorrow,' the design exclusively employed non-toxic and recycled materials. Water, energy, air, sewerage, and waste were all sustainably managed on-site. No sewerage, wastewater, or waste was removed from the site; everything was recycled within it.
Covering approximately one hundred thousand square meters of built-up area on the ground plus two levels on a 10.4-acre urban site, the project achieved international LEED Platinum and Indian TERI GRIHA top certifications. It generated 8 percent of its annual energy on-site through photovoltaic panels and windmills at an incremental cost of about eleven per cent. At the time of completion, this was the only campus in India that had achieved this level of certification, on-site renewable energy, and cost efficiency. With an off-site wind energy farm supplying ninety-two per cent of the potential four-megawatt energy consumption, the campus is a net-zero energy project!
My goal was to create a high-technology, global campus that would evoke a sense of being in India for visitors. The design strategy drew inspiration from historical campuses like Fatehpur Sikri and the Meenakshi Temple complex in Madurai, taking the form of a 'land scraper' as a counter-blast to the concept of a skyscraper and 'the glass box.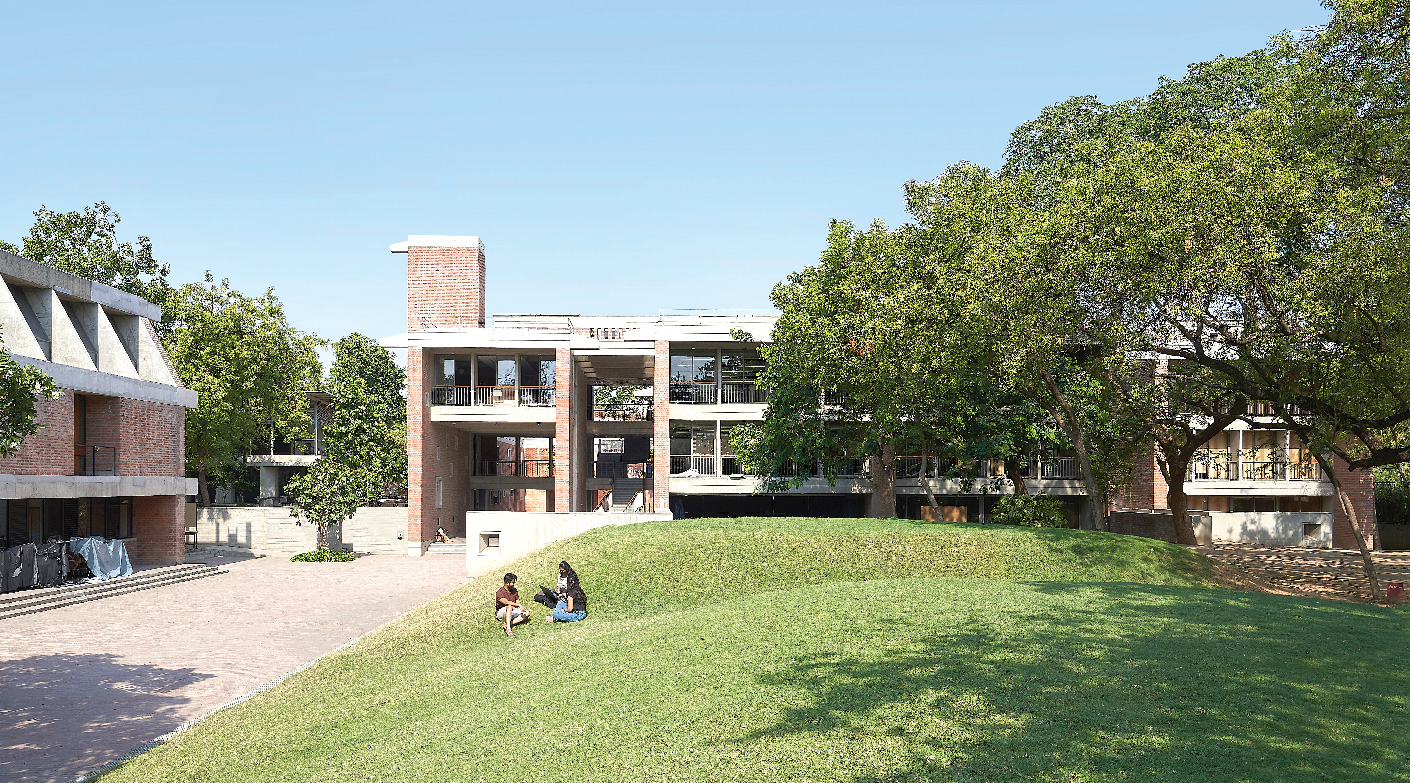 How do you incorporate sustainable practices into your projects? 
Sustainable practices are achieved through conscious decisions made at various stages of the design process. In essence, sustainable design is synonymous with sensitive design. Additionally, I adhere to my 10 Principles, which guide every design step: Balance with Nature, Tradition, Appropriate Technology, Efficiency, Human Scale, Conviviality, Opportunity, Balanced Movement, Institutional Integrity, and Regional Integration. For example, when I designed the Centre for Development Studies and Activities campus in Pune in 1986, the use of Indian space-making elements proved very useful in responding to the intricacies of the climate. Using local basalt stone was another measure to make the project sustainable while maintaining aesthetic appeal. Conversely, at the Samudra Institute of Maritime Studies, we implemented a photovoltaic wall on the south-side wall of the workshop to generate energy. In the Club House at Lodha Belmondo, we employed an intricate blend of indoor and outdoor spaces to reduce cooling loads while creating beautiful spaces!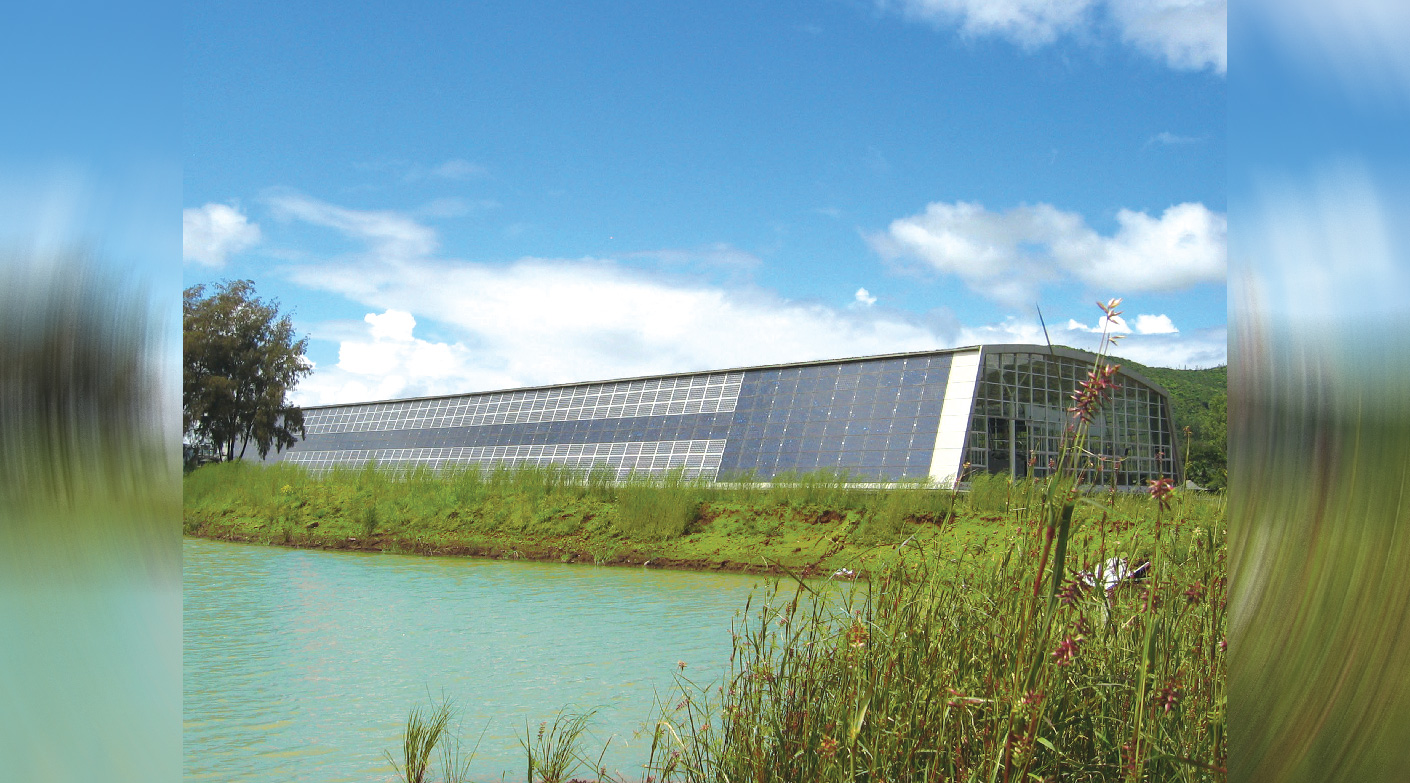 How do you balance your buildings' aesthetic and functional aspects with the need for energy efficiency and sustainability? 
I don't view sustainability, aesthetics, or functionality as separate design parameters; they are all interconnected in every line I draw and every sketch I make! The placement of a building on the land, its interaction with the surrounding nature, and its nurturing effect are crucial considerations. I strive to design buildings that harmonise with the context rather than disrupt it. Detailed planning is also vital, as it allows for conscious decisions to minimise waste and be frugal. By implementing these measures, the design naturally becomes more sustainable, saving materials and enhancing energy efficiency. Sustainability is not merely a trend but a way of life!
What are some of the biggest challenges architects face when designing net-zero buildings, and how do you overcome them? 
It is essential not to get caught up in sustainability 'metrics' or 'standards' but to focus on designing spaces responsive to the climate and users. Architects need to prioritise creating buildings that are comfortable to inhabit while also being energy-efficient.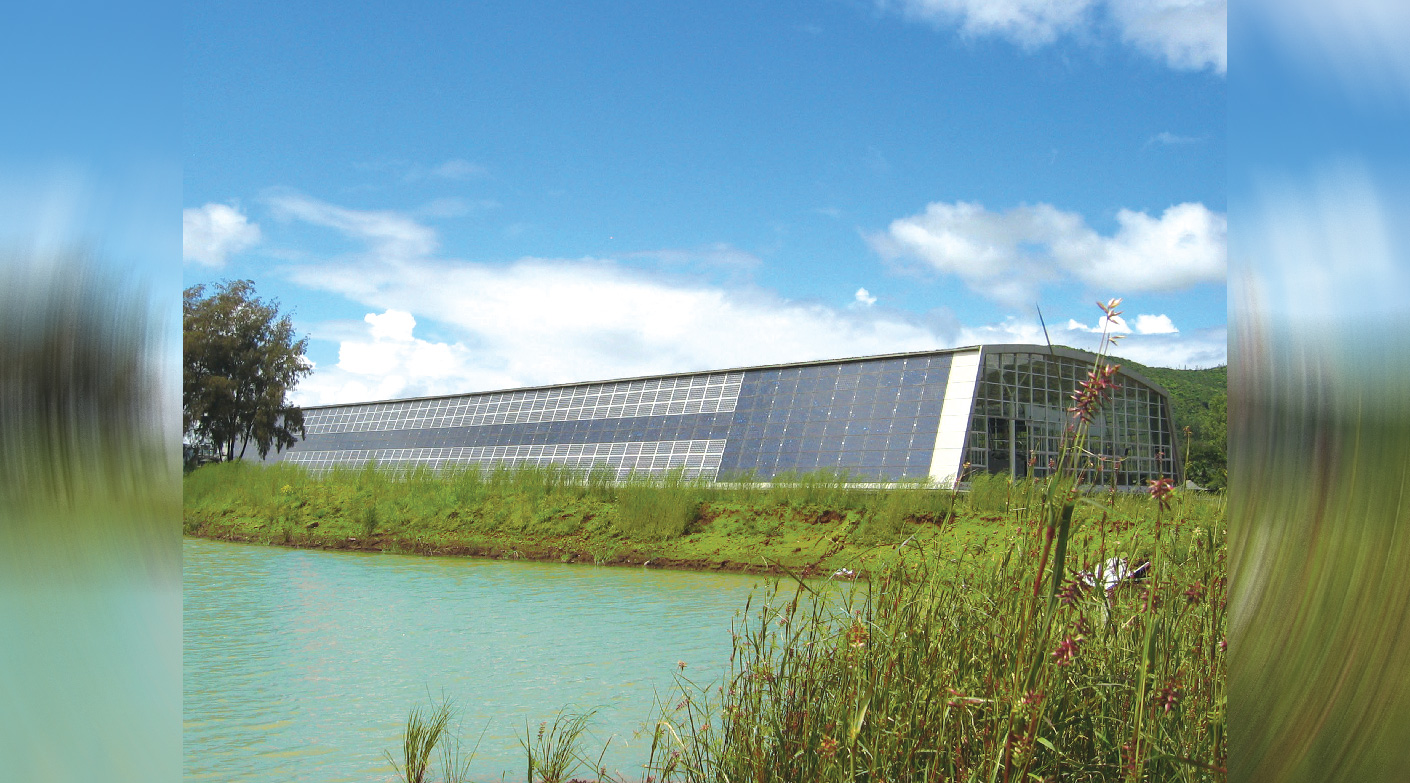 How do you see India developing responsible practices in construction? 
India is making remarkable progress in construction practices. With the integration of new technologies and sophisticated strategies, we are on track to becoming more sustainable. Effective project management, collaboration with environmental consultants, and the judicious use of materials will ensure a greener future for all.
for more info visit : https://ccba.in/
29