We are the only company in India that offers fly ash products with ISI marks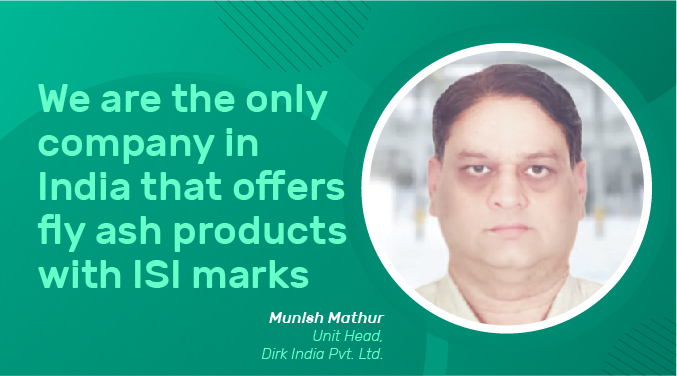 Munish Mathur, Unit Head of Dirk India, speaks on how they continually strive to improve every customer's design mix, resulting in higher strength and quality of products.
Which features of your concrete solutions offerings set you apart in the industry?
The first thing is we are the only company in India with 2 USA-based the classifier we use for classifying Flyash separates the finer portionsfrom the coarser parts. The finer the ash, the higher the results in concert and gives higher strength with lower water demand. As the only company in India that provides fly ash products with ISI marks, we maintain the highest standards. This company is the only one in India that offers quality assurance and is considered the benchmark for standards in the country.
Please tell us more about the concrete solution used in your cutting-edge manufacturing facilities.
We have a unique facility; you won't find another plant of this calibre in India, nor will you find a team as dedicated as ours. Our quality standards are so high that we check every Bulker that moves out. If it doesn't meet our parameters, even by 1%, it has been sent back for processing. We have products with heat-repellent capacity making the construction output more suitable for customer needs.
What are the procurement challenges faced by your company?
Fly ash raw material is in short supply, but being part of a larger group, we are trying to source fly ash from multiple sources. Further, we do the processing at Nasik and provide our customers with superior-quality fly ash.
What impact do raw material prices have on the industry?
It has a significant cost effect. Raw materials, fuel, transportation, and taxes have a considerable impact. Ultimately, it increases the cost of construction as well.
How is your organisation's R&D progressing to improve durability and performance efficiency?
The lab and the research team we have are very good. We also perform tests currently done only in overseas counties and not prescribed as per Indian standards. They continually strive to improve the design mix for every customer. The system will be developed based on the requirements of the customer.
32