We focus on the roller-based Drythane polyurea series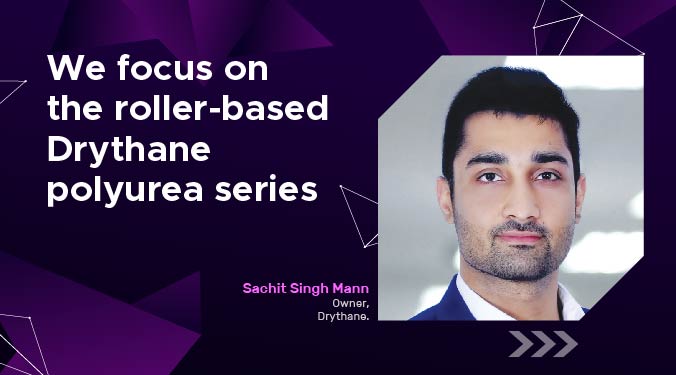 In an exclusive interaction, Sachit Singh Mann, Founder, Drythane, talks about its offerings and the expansion to overseas markets.
Please tell us a bit about Drythane.
Drythane is a division of Amchem Products that manufactures 100 percent Polyurethane/Polyurea coating membranes for waterproofing and anti-corrosion applications. We are trying to revolutionise commercial and residential real estate by getting people to switch from mediocre, substandard waterproofing to high-end coatings that last a lifetime. There was a great dearth of these products in the market, which is why we started this product line. We also partner with various global partners to boost sales and reach new customers.
How is Drythane different from traditional waterproofing products?
Our product has a few specific qualities that make it different from traditional waterproofing membranes:
3mm-10mm high crack spanning

high tensile strength and elongation. (7nm/mm2 to 20nm/2mm)

Extremely low water absorption. (.5 to 1 percent)

high chemical resistance.

High mechanical resistance.
We have introduced a revolutionary new three-coat system that consists of a base layer of 2K PIV primer, 500 microns of hybrid polyurea, and a topcoat of 2K polyurethane.
This system is unique because it couples the polyurea's elongation with the polyurethane's inherent ruggedness to give us a tough, durable membrane with 8 mm crack bridging, and the hardness of the topcoat makes it foot trafficable without any reinforcement.
Do you plan on selling these products to overseas markets?
We have already partnered up with various manufacturers in the Gulf to promote our products in that region. The US and Europe are also key potential markets for us. We plan to promote our products in those markets because they are on par with or better than the products sold there while being priced very economically compared to them.
Traditionally, the application cost is very high with high-grade polyurea products. Is it the same with the Drythane range of products?
Drythane products are designed for spray and roller-based applications, focusing on roller-based applications. We have seen tremendous failures on spray-applied polyurea systems, which is why we designed the Drythane polyurea range in a way that would permit roller-based application.
What do you aim to accomplish?
 Our motto is "technology, innovation, customer focus, and ethics." "We want to bring about a sea change in how people view waterproofing." Sadly, some large real estate developers are cavalier about this aspect of construction, which will end up protecting the fancy structures they have built. Customers should also be more aware when they are purchasing an apartment. They should look at the quality of waterproofing when they judge the quality of construction.
How has the market recovered after the pandemic slowdown?
Projects and construction are in full swing right now; the pent-up demand from COVID has given the industry a massive boost, which will go up even further.
for more info visit : http://www.drythanewaterproofing.com/
55