Achieving net zero by all accounts is a long-term commitment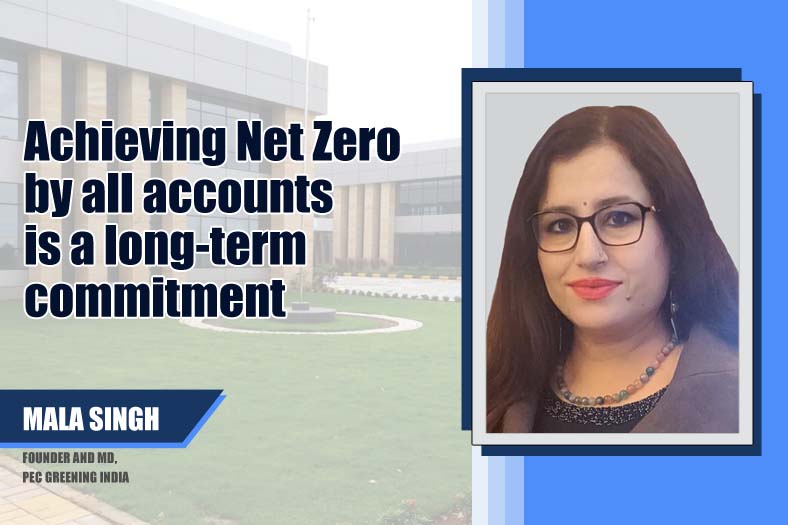 But given the current situation we as a nation need to work towards it, says Mala Singh, Founder and MD, PEC Greening India.
Why is net zero building a big deal in contemporary times?
Human induced global warming had already reached approximately 1 degree celsius  in 2017. The Paris agreement's goal is to limit global warming to well below two and preferably to 1.5 degree celsius. Net Zero buildings have the potential to transform our environment drastically to meet this target of 1.5 degree Celsius  and  align it with the Sustainable Development Goals set by the United Nations. Our honourable Prime Minister Narendra Modi has also given a commitment of net zero by 2070 during COP26 summit.
Achieving net zero by all accounts is a long-term commitment and hence a long term goal has been set by the Indian Government to follow this net zero approach. But given the current situation we as a nation need to work towards it, unless we do so, the results will be catastrophic. Hence the Net Zero Building approach is a vital solution to ensure that we have access to a clean environment and our future remains secure and sustainable.Net zero buildings are "must haves" in the contemporary built environment, so yes net zero buildings are a big deal in contemporary times
What are some of the smart ways to make buildings net zero carbon buildings?
We need to understand net zero can be defined in various ways. Net Zero is directly related to resource efficiency, meaning the total amount of energy used by the building on an annual basis is equal to the amount of renewable energy created on the site by using various green and sustainable technologies. In the case of energy efficient and net zero carbon building, a holistic approach towards energy management and fossil fuel consumption will also help set the benchmark of the Net Zero approach in a smarter way.
Life cycle assessment approach in a building is necessary to achieve the set energy goals as it helps in making the building Net Zero considering carbon emissions right from the phase of construction to the commissioning phase of the project and post occupancy maintenance as well. Much of the understanding and interpretation of Net Zero in India is at a very nascent stage. We have not even understood the consequences or the benefits of green buildings, which are the basic fundamental principles in Net Zero buildings. We need to apply these in any project development, then only we can talk about Net Zero, because Net Zero is the next step.The Government of India can play a very big role in this scenario by designing a policy mechanism which will allow developers to adopt the fundamental principles of green building first and then move towards net zero.
What kind of products can help a building become a net zero carbon building?
Green products are available in the market, so we can set up the basic foundation of our project by using such products. It will assist us in achieving efficiency, in terms of efficient use of energy, water, it will also help in reduction of waste. The Indian market has more than 3000 certified products available in the market for the construction sector, the utility (usage of green building) of these products in the development by any organisation will help to achieve the net zero goal. In India we have BEE star rated products and technology available as well.
Environmentally Preferable Purchasing (EPP) or Green Purchasing should be the norm. EPP refers to the procurement of products and services that have a lesser or reduced effect on human health and the environment when compared with competing products or services that serve the same purpose. This in turn will boost demand for green products, generate jobs and  impact the green economy in a positive way 
To what extent can traditional Indian architecture help us in designing net zero buildings?
Most of our ancient architecture was green. They were sustainable. Use of natural and local materials was given priority. Apt attention was given to the local climate and likewise the design of the local architecture in response to the climate. Lifestyle of the people back then was simple hence they didn't have to address challenges like population and overuse of resources. But in an urban context, we can't do that now, because if we have to make high rise buildings, we can't employ the same strategies. There are a lot of contradictions. So, we need to adopt those strategies which are holistic yet adaptable in the contemporary context. We cannot have a standard operating procedure in India because our climatology too is different.
Can you cite some well-known examples of net zero buildings which have been designed in India and abroad?
Our journey towards Net Zero has just begun and like Rome was not built in a day, the propagation of Net Zero Buildings will also take time. Having said that, few Net Zero Buildings which are there in India include Indira Paryavaran Bhawan New Delhi, CII Sohrabji  Godrej Building, then there is Globicon Terminal which is  India's first net Zero Platinum Building etc. When IGBC and CII formulated the green building codes for India there was an impact on the built environment. From 2001 onwards till date we have more than 8 billion sq.ft. green building footprint in the country. That in itself is a case study. In most of my projects, we prefer to use the Green Tariff Policy initiated by the Government of India. In accordance with this policy  we take green energy from the government electricity body itself. We implemented this while working on Synergy, SBI's office building in the Bandra Kurla Complex. In doing so, we managed to reduce the energy performance index. 67% load is on the wind energy for which we have a proper power purchase agreement. It also allows deduction of this load from the electricity bills.
14