Green buildings are environmentally responsible through their life cycle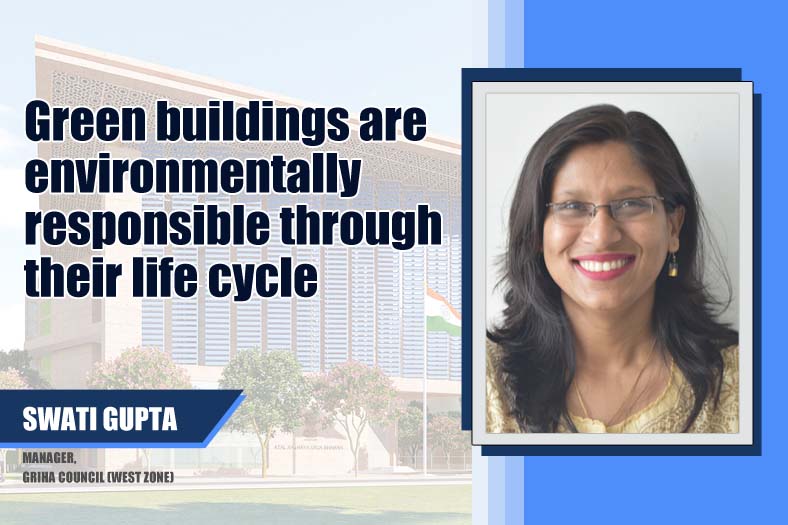 There are numerous factors which make a building a green buildings and energy efficiency is one such factor says Swati Gupta, Manager, GRIHA Council (West Zone)
Why is net zero building a big deal in contemporary times?
In a world with ever depleting resources and one that depends on non-renewable sources, the requirement of net zero buildings cannot be disregarded. Simply put a net zero building is one where input equals output. For example, a building that meets its energy demands by producing all energy required on-site is termed as net zero energy building. Similarly, buildings can be net zero for other aspects such as net zero water or net zero waste, or they can be a holistic net zero carbon. The climate change crisis today is so critical that we need to move beyond net zero and implement net positive strategies in development. This can close the gaps and challenges in development and growth versus resource availability and only then can development be truly sustainable.
What are some of the smart ways to make buildings net zero carbon buildings?
Green buildings are environmentally responsible through their life cycle- design, construction and operation. There are numerous factors which make a building a green building and energy efficiency is one such factor. The other parameters include sustainable site planning, water and waste management, use of low energy and environment-friendly materials, use of renewable energy systems and several other aspects contribute significantly to making a building net zero carbon. 
To what extent can traditional Indian architecture and design principles help us in designing net zero carbon buildings?
Traditional Indian architecture is renowned for being sustainable. Traditionally, building design has been responsive to local requirements (climate and contextual) and is drawn from ecological knowledge. Courtyard planning, verandas as buffer spaces, use of jaalis and split level windows to optimize wind flow, chajjas and chabutras, and thermal massing are some of the passive design strategies, which are evident in any traditional building for creating comfort to the occupants. Use of natural elements like daylight, water and landscape elements also contributed to microclimate on site. 
Traditional architecture has not just less embodied energy because of the use of abundant local materials and local techniques and craftsmanship but also less construction waste. Water related structures like bawdi and tanks which emphasized on water neutrality of the settlements in earlier times have a special place in Indian architecture.
Can you cite some well-known examples of net zero buildings which have been designed in India and abroad?
Indira Paryavaran Bhawan, New Delhi is India's first on site net positive building built by the adoption of solar passive design and energy efficient building material. This has been designated as the highest-green rated building i.e., GRIHA 5-Star which was awarded in January 2014. The requirements of the rating have been achieved by adopting various measures some of which are as follows:
Effective ventilation has been achieved by orienting the building in an East-West direction, separating different blocks with connecting corridors and having a large central courtyard.

The design is such that 75% of natural daylight is utilised to reduce energy consumption.

The entire building has an access friendly design for differently-abled persons.

With an Installed capacity of 930 KW peak power, the building has the largest rooftop solar system among multi-storied buildings in India.

Total energy savings of about 40% has been achieved by adoption of the Energy Efficient Chilled Beam system of Air Conditioning. This is an innovative air conditioning system, where air conditioning is done by convection currents rather than air flow through diffusers and chilled water is circulated right up to the diffuser points unlike the conventional systems.

Green materials have been used like fly ash bricks, regional building materials, materials with high recycled content, high reflectance terrace tiles and rock wool Insulation of outer walls.

Rapidly renewable bamboo jute composite material has been used for door frames & shutters.

UPVC windows with hermetically sealed double glass, calcium silicate ceiling tiles having high recycled content and grass paver blocks in pavements and roads.

Reduction in water consumption has been achieved by use of low discharge water fixtures, recycling of waste water through sewage treatment plants, use of plants with low water demand in landscaping, use of geothermal cooling for HVAC systems, rain water harvesting and use of curing compounds during construction.
Akshay Urja Bhawan, HAREDA, Panchkula, Haryana
Akshay Urja Bhawan, Panchkula is another GRIHA 5 star rated project which has achieved net zero energy status. The requirements of the rating have been achieved by adopting various measures some of which are as follows:
Site planning – Since the site is a square plot, the building is oriented to have maximum usable spaces in Northern and Southern directions, and the less favourable East- West directions are occupied by buffer spaces like staircase and toilet.

All windows are angled at 45 degrees in the East and West direction to avoid heat gain.

Solar chimneys are provided to exhaust warm air and in turn create a wind draft from the central shaded courtyard.

Mist cooling has been designed for the central court to induce latent heat reduction.

The design is such that more than 75% of the building area is daylight.

The entire building has an access friendly design for differently-abled persons.
18