Anti-carbonation coating solutions for concrete building and Bridge structures
Fairmate's FAIRCOAT, is a highly flexible, ready-to-use anti-carbonation solution to shield concrete bridges against environmental impacts.
To protect concrete structures like Flyovers, Bridges, Parking areas, and Big Commercial and Residential Buildings, the normal decorative exterior paint will not serve the purpose as these paints are not vapour permeable; so, the paint will peel off in humid weather. I Concretestructures need an anti carbonation coating that has special properties. For example, Fairmate's 'FAIRCOAT' is well known and protects several renowned structures in India.
Properties of FAIRCOAT Anti- Carbonation Coatings
This ready-to-use aliphatic elastomeric based coating contains special polymers and fillers. It provides an extremely tough protective decorative coating that allows the surface to breathe. It has been specially designed for the decoration and protection of concrete against attack from atmospheric carbon dioxide, airborne chlorides, acid rain, weathering etc.
Properties include the following:
• High flexibility with crack bridging capabilities up to 2mm
• Breathable in nature
• UV resistant
• Very good bonding characteristics with the substrate
• Chloride ion diffusion is zero as per ASTM C 1202
• Resistance to carbon dioxide diffusion is >50mm thickness of equivalent air layer as per EN 1062
• Non-toxic and non-flammable
• Good weathering properties (antialgal and anti-fungal)
A wide range of exposure conditions, such as atmospheric carbonation, polluted urban/industrial environment, and marine and chemical atmosphere, can damage concrete and its embedded steel reinforcement. A significant factor in concrete decay is carbonation, caused by carbon dioxide (CO2) in the atmosphere. Carbonation occurs when carbon dioxide reacts with the calcium hydroxide of concrete and deposits as calcium carbonate, which reduces the protection of embedded steel reinforcement. This, in turn, results in reinforcing steel becoming susceptible to attack by water and oxygen, causing corrosion of the steel and eventually spalling the concrete.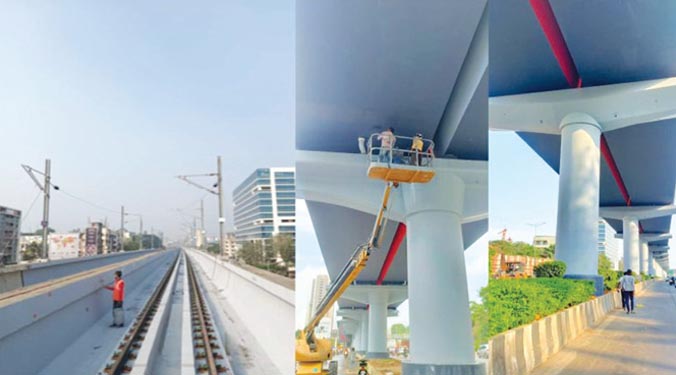 Chloride ingress, in which chloride ions from the de-icing salts or salt water, can penetrate the concrete structure and cause fast pitting corrosion of the reinforcement bars. The faster CO2 and chlorides penetrate the concrete, the more severe the aggression. This aggression is faster in coastal areas (due to chloride ions in seawater) and areas with a very high density of vehicles as the increased carbon monoxide from vehicles converts into carbon dioxide.
Application areas
New buildings and bridges: FAIRCOAT can be applied as an anti carbonation coating in new buildings and bridges, enabling it to resist attack by carbon dioxide, airborne chloride, and rain.
Existing buildings and bridges: It can be applied as a protective coating in existing buildings and bridges to protect them from carbon dioxide, airborne chloride, and rain.
Interior Decoration of Buildings: As FAIRCOAT is non-flammable and has excellent waterproof characteristics, it can be used in interior decoration.
To achieve effective anti-carbonation coating, a two-coat application is recommended. FAIRCOAT covers 3-4 m2 per kg with a recommendation of two coats for a dark shade. The surface texture and porosity must be taken into account while estimating quantities.
For more details, visit: www.fairmate.com or email: sales@fairmate.com
113