Appropriate formwork installation determines the project's dependability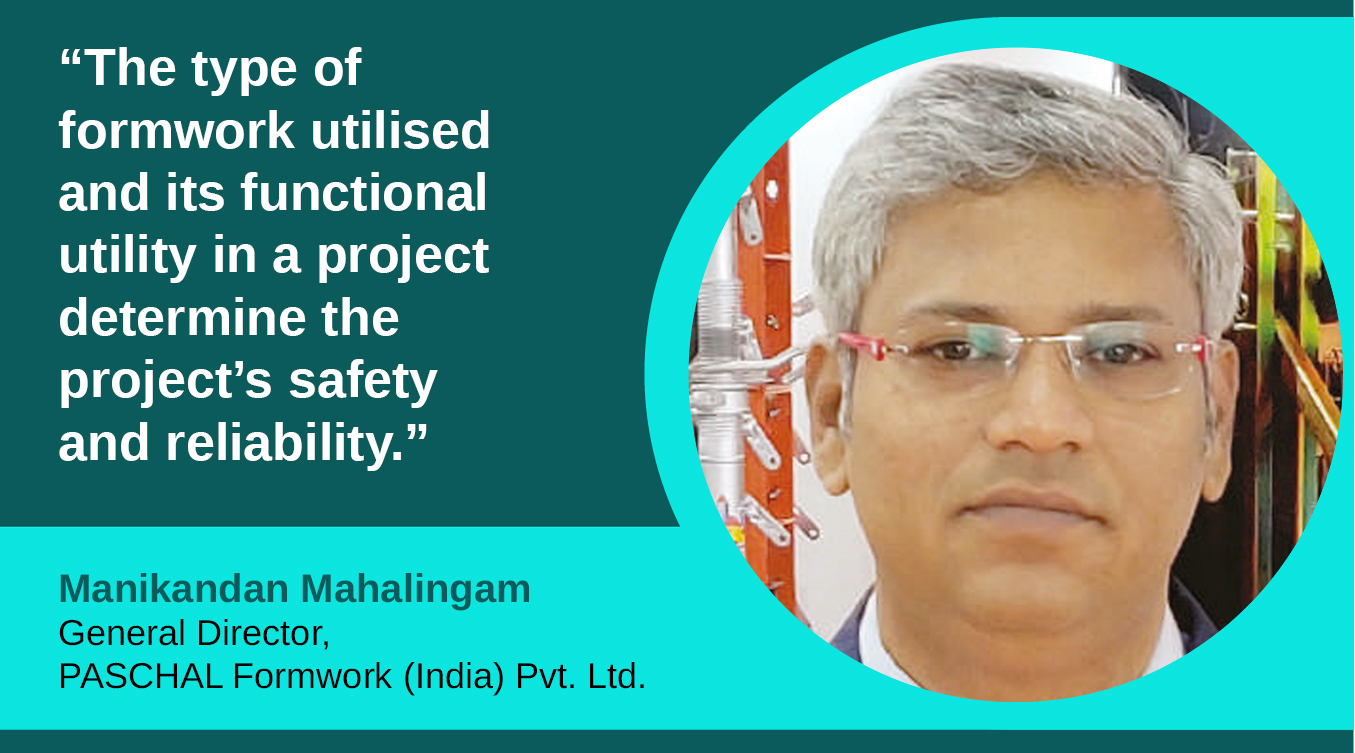 PASCHAL is always at its best in helping our clients with our best technical services even after the supply of material was moved from another by providing a material movement plan. "This is why our product sustains for 300 repetitions and the FRAME was built to give a life for 20 years of service, which adds more value to the product's reliability, which in turn helps in the quick execution of the projects", says Manikandan Mahalingam, General Director, Paschal Formwork (India) Pvt. Ltd.

How do sustainable scaffolding and formwork designs add quality to construction projects?
Our Modular Formworks fit well for all kinds of structures. These structures are designed based on the premonitions and combinations that enable us to accommodate them into structures with all panel sizes. With this, we can accomplish more repetitions within the minimal quantity of formwork. Being one of the global leaders in formwork designs we have been thoroughly offering best-in-class formwork solutions to meet global construction requirements. The proper application and utilisation of our Formworks improve the overall quality and dependability of the construction project.


What are your thoughts on digitising construction operations and digital procurement platforms for projects and scaffolding/formwork?
We appreciate the innovative thought process of setting up the process flow of material management by digitising them and bringing them to one platform. It allows our end-users to have a clear database of available resources. Digitalising operations is vital in efficient inventory management. This further leads to the effective reduction of resource wastage to great extent. It also helps our clients in determining the exact quantum of material required for their project procurement processes.
How are we addressing project safety and project management requirements with the enormous increase in infrastructure projects?
PASCHAL consistently insists on the highest safety standards, which are always a top concern in using our products and solutions globally and providing an upfront activity plan to guarantee that project site executions go successfully. There is a wide acceptance of advanced formwork products and solutions that help construction companies and users evaluate and uphold the quality of their ongoing and upcoming projects. There was a lot of space for advanced formwork methods to be utilised in terms of the magnitude of future projects. Moreover, the right form selection and implementation of required safety measures during formwork installation determine the strength of any construction structure. PASCHAL always advises execution teams to follow proper safety guidelines for a better work environment and faster completion. We prioritise safety as a critical aspect of project management and use safety-embedded formwork solutions to reduce instances of rework in infrastructure projects.
For more details: https://www.paschalindia.com/
8