The development of Metro Rail in India has evolved at a good pace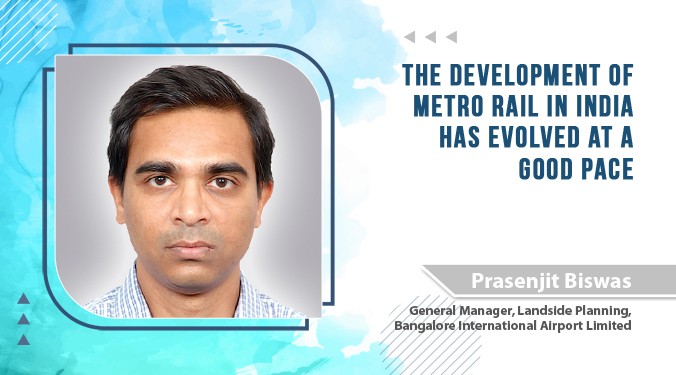 From the 90's to now we have come up a long way and build-up our capacity in the planning, design, construction and operations of metro systems in the country says Prasenjit Biswas, General Manager, Landside Planning, Bangalore International Airport Limited
In an interview with Ace Update Prasenjit Biswas says Metro in existing developed areas tends to re-densify those areas over the course of time, bringing better rentals and valuation in real estate sector
How in your opinion has metros in particular evolved as a popular mass transit medium?
In India, we have been planning for a metro system from the 20s. Finally, Kolkata came out with the first Metro of the country in 1984. However, it was a very small length – approx. 16 km and took 2 decades to operationalise. The implementing agency was Metro Division of the Eastern Railway. Post Kolkata the next metro to come up was Delhi Metro which was constructed in a war footing and took considerably less time to execute for approximately 384+ km. The executing agency was a SPV of Central and Delhi Govt – Delhi Metro Rail Corporation.
Thus, the development of metro rail in the country has rapidly evolved from a slow-paced construction activity to a rapidly expanding one, earlier covering few kms to covering the entire city, helping commuters migrate from a road based intracity travel to rail based travel. Metro construction evolved from being only a state funded activity to a private funded activity in the country with the Hyderabad coming out with the longest private partnership project (approximately 66 km).
Now we are a point where we find that the 2nd tier and 3rd tier cities of the country either constructing or planning for a metro system, and it is gradually becoming a transport medium of choice for the commuters, being a fast, reliable, and comparatively cheaper mode of transport (Compared to cars etc).
What are some of the challenges when it comes to designing a metro railway station?
Today we have a lot of expertise in designing metro systems in the country, but this was not the case 20 years back when DMRC was still constructing their first 2 lines in the late 90's. However, this was not the case in the 90's, when we were still deciding on the merits of a broad-gauge system versus a standard gauge system, with lack of local codes, impacts of the system not very well known and mostly importing most of the equipment of the system. Initially the first mile and last mile connectivity was not given enough importance.
From the 90's to now we have come up a long way and build-up our capacity in the planning, design, construction and operations of metro systems in the country. We have manufacturing bases for most of the standard equipment and only look forward to importing very niche equipment. We have in fact developed enough to export rolling stocks to countries like Australia etc.
On the design side the current challenges are correct sizing the stations for optimum utilization – most stations are either over utilised or underutilised. However, this is not just related to the station design but also through where the alignment is planned and how we are adapting to the existing or proposed land use of an area to support the station loading. Also, we have not been giving enough emphasis to multi modal integration in the stations and transit-oriented development in the corridor to make the system self-sustainable in terms of financing the project. A major problem is also designing for green field areas as it is difficult to predict the initial capacity of the system etc.
Our current challenges on the planning side is adopting and rightsizing the system for various cities as we try to fit in metro systems in every possible places in the country without realizing that this is not a magic system to solve all out transportation problems, and without understanding the importance of the existing public transportation systems like the buses and jitneys/para transits which have a big role to play where the densities do not support an expensive system like the metro. We should aim to have a multi modal approach in tackling the urban transportation problem by also upgrading the propulsion and other technology/design related to existing systems apart from metros (like electric propulsion, digital payments, seamless efficient transfer between transportation systems.
As we are fitting metros in most of the existing cities which have developed organically, its difficult to get land for the system in a congested city where the system is needed the most and difficult to demolish existing flyovers which were built without considering for a metro system.
Also, most of the technologies are from the developed countries which come at a premium, we cannot think of lowering the system cost unless we have R&D in our country.
We also have issues financing metros as these are heavy infra projects and need huge investments.
What are some of the key materials and technology which play an important role in designing them?
Resources well versed in the design of metro systems and adopted to use new designing tools like computer aided design software, BIM and other simulation software for planning, design and operations play an important role in designing the metro systems in India.
Apart from the soft design skills, India already has a very good manufacturing base and most of the metro components are available in the country. Rolling stock, signal and telecom, fare gates, power systems, ventilation systems play an important role in making a metro system.
Considering these infra utilities consume a lot of energy, what are some of the efficient techniques to make them energy efficient?
The best way to make them efficient would be to make them compact, follow the shortest possible path, connect high-density areas and carry maximum people.
To what extent can metros and railways together help India in achieving a robust multi-modal transport system?
Metros and railways integrated with other modes of transit and paratransit acting as a multi-modal transport system can play an important role in making our cities commuter friendly, pollution free, low energy use per capita, efficient, clean (less GHG's), car free, liveable and healthy. It will also ensure that we emphasize on building more pedestrian friendly quality public places rather than car-oriented road infrastructure.
What impact will it have on real estate, likewise do you see this development as a pathway to building and construction of newer cities?
Metro in existing developed areas tends to re-densify those areas over the course of time, bringing better rentals and valuation in real estate sector, emphasising the fact that an efficient transportation system would always add value to a real estate development, given all other parameters are kept same.
Similarly, metros can also be a tool for Urban Planners/ City Administrators to plan and construct newer cities by connecting to existing cities efficiently. Although the first aim would be to plan for compact and high-density cities limiting the spread and then provided efficient transport connections between such cities to ensure the cities have optimum densities and are not overpopulated.
Note – The above written paragraphs are views of the author and does not represent views of any particular organisation.
36