Dedicated parking is one of the key factors determining success of the metro system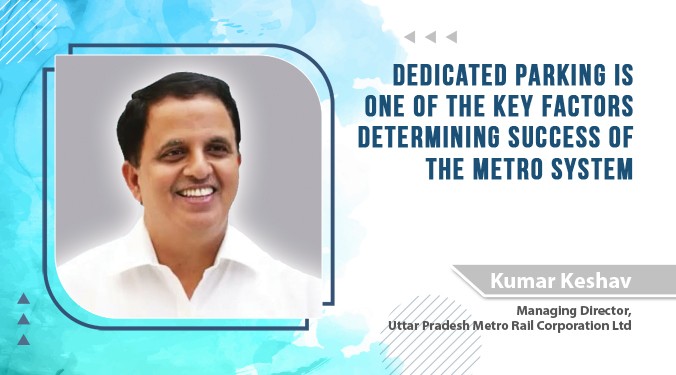 Parking provisions along with priority to pedestrians through foot over bridges and feeder bus services would encourage more commuters to use the metro system says Kumar Keshav, Managing Director · Uttar Pradesh Metro Rail Corporation Ltd
To what extent is the process of building metro networks indigenous in nature and to what degree do we have to depend on imported technologies?
Uttar Pradesh Metro Rail Corporation has left no stone unturned to provide a world class metro system to its commuters, which matches the class, technology, design, aesthetics and efficiency of some of the most advanced metro systems in the world. It is a matter of immense pride that with the vision of 'Atmanirbhar Bharat', the trains of Kanpur Metro are completely 'Made in India' and are being manufactured at Savli plant (near Vadodara) in Gujarat. Local procurement of train subsystems whose design and production facilities are available in India also supports the 'Vocal for Local' call of Government of India. Apart from manufacturing, Kanpur metro's Train Control Monitoring System is developed in Chhani and Atladara; Propulsion System is developed in Maneja; Design and Engineering in Hyderabad and Signalling in Gurugram.
Along similar lines many innovations were done during construction work of Kanpur and Agra Metro Project where many important landmarks have been achieved. For example, use of Double T girders for concourse areas of all metro stations in the Kanpur Metro Project was indeed a revolutionary decision in itself, which proved to be more efficient and more cost effective as compared to the usual shuttering method. Similarly, the civil construction work of Agra metro project is also being carried out smoothly and we would complete our targets well before time with consistent efforts. We are also one of the first metro systems in the country to follow the third rail system which is a proof of better technology for providing energy to the metro cars and is much more convenient as compared to OHE supply.
We will also introduce Metro Lite services in some cities where there is a proposition for Metro rail in the coming time, which will use advanced technology with a lesser number of cars and sleeker and thoughtful design of Metro Stations.
To what extent can Metros help Kanpur in achieving a robust multi-modal transport system?
Multi-modal transport system is based on co-ordinated use of two or more modes of transport for efficient, speedy, safe, pleasant and comfortable movement of passengers in urban areas. The MoHUA has also laid down policy guidelines to include this important aspect of last mile connectivity in all the metro systems.
The inter-modal integration with existing modes have been planned at Kanpur metro stations for efficient passenger movement. Major interchange stations have been planned with other existing bus/rail terminals which serve as complementary/ feeder for the passengers from their respective origins to destinations and vice versa. For interchange station planning many factors such as nature of the station, its catchment, availability of access/dispersal modes, and interchange with other public transport modes, distance from station, trip length and destinations etc. have been considered. It provides convenient and economical connection of various modes to make a complete journey from origin to destination.
Besides, parking provisions have also been made at various metro stations. Dedicated parking provision for metro commuters is one of the key factors determining success of the metro system. Parking provisions along with priority to pedestrians through foot over bridges and feeder bus services would encourage more commuters to use the metro system. Passengers can safely park their vehicles at the nearest station, walk to the station or rely on feeder connectivity.
What impact will it have on real estate, likewise do you see this development as a pathway to building and construction of newer towns in Kanpur?
With the construction of the metro, the cost of property/ land along the corridor increases manifolds due to improved connectivity. National Transit Oriented Development (TOD) Policy provides guidelines on development along transit corridors. TOD integrates land use and transport planning and aims to develop planned sustainable urban growth centres, having walkable and liveable communes with high density mixed land-use. Citizens have access to open green and public spaces and at the same time transit facilities are efficiently utilized.
Some land parcels along both the metro corridors have been identified after joint site visits with KDA for property development. Property development shall be taken up on the upper floors, depending upon the FAR (upto 4) and permitted ground coverage of 50% as notified by the government in the year 2015. A total of about 16 lakh Sqm of property development having Residential, Institutional and Commercial facilities has been proposed. Apart from the property development of 8.16 Lakh Sqm floor space along both corridors, Samaj Kalyan Vibhag land has been considered for the balance 8 Lakh Sqm floor space requirement. In addition, some land has been reserved to take care of future requirements for the Kanpur Metro project.
It may be decided to capture the value of real estate along the corridor to fund the project. On the basis of UP Government TOD guidelines, about 60% of total area available for property development has been used for commercial activity development and the balance 40% has been used for residential activity development.
25