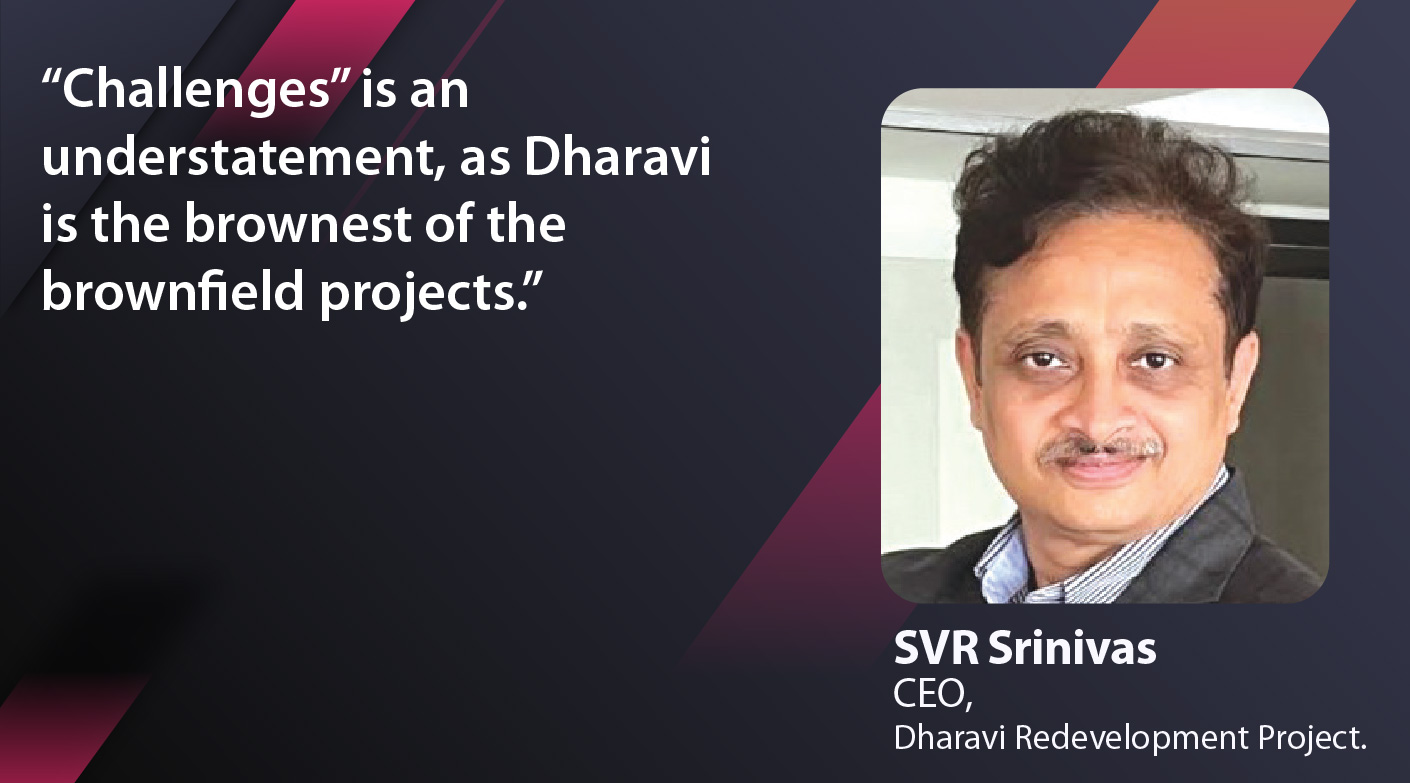 Dharavi is one of the world's largest slums & the largest urban renewal project in the world. The timeline of the Dharavi Redevelopment Project is seven years (Rehab Component). There are significant hurdles, one of which is the bid process, but now we are in the pre-planning phases states SVR Srinivas, CEO & OSD Dharavi Redevelopment Project. 
What kind of strategies will be implemented? 
Firstly, having an appropriate administrative structure is our focus. This is our first time experimenting with an SPB model or special-purpose building. As a result, the company's organisational strategy includes the government as a partner; that is one thing we will have with time, this organisational approach.
The second is a proper financial strategy, which includes onboarding the slum dwellers, who are the major stakeholders, and successfully interacting with them. Everything is clear, planned, and strategised. When the project is completed, people can live in the new homes with cast-iron toilets and beds.
The third strategy will be to avoid as much transit as possible. In most slums, there is a transit housing arrangement where we do temporary housing first and then permanent housing, which causes a lot of disruption, which we are attempting to prevent. So that's one, and finally, the operation's rehabilitation and resettlement strategy.
How is your team planning to engineer this project's design and architecture, as this will change the entire outlook of the Indian urban landscape?
It is simply not engineering or architecture because it will be constructing a city within a city, and as I have already stated, it is the Brownest of the Brownfield schemes. As a result, a proper urban master plan is required. Engineering and design are crucial, but they must be preceded by a solid master plan for the area, which is more than 600 acres and is the world's densest slam. Creating a master plan that considers the best feasible solutions, anticipates them, and considers the best global practices that fit into our own local and ethnic. As a result, engineering and architecture will follow.
So, what will be the tentative timeframe for the commencement and completion of this project?
First Data, once the government order is obtained, we will issue the letter to the bidder. Then, the SPV will be incorporated. It's a pleasure for me that we could complete such an extensive, complex process. The schedule is critical, Rehabilitation portion must be finished within seven years after receiving the DS start certificate. The entire project must be completed within the next 10 to 15 years. The most crucial aspect, however, is the rehabilitation of slum people, which must be completed in seven years.
There will undoubtedly be a lengthy schedule because there are about a lakh of houses, and I know that even the smaller SRA developments take much longer to complete. For example, as you may recall, our flat government has cancelled over 500 SRA projects recently in Mumbai, because they have been stuck for more than15-20 years, and there are small schemes, each project involving 300 families, whereas in Dharavi there are lakhs of people. So, we are targeting it, even though a seven-year timeline is challenging.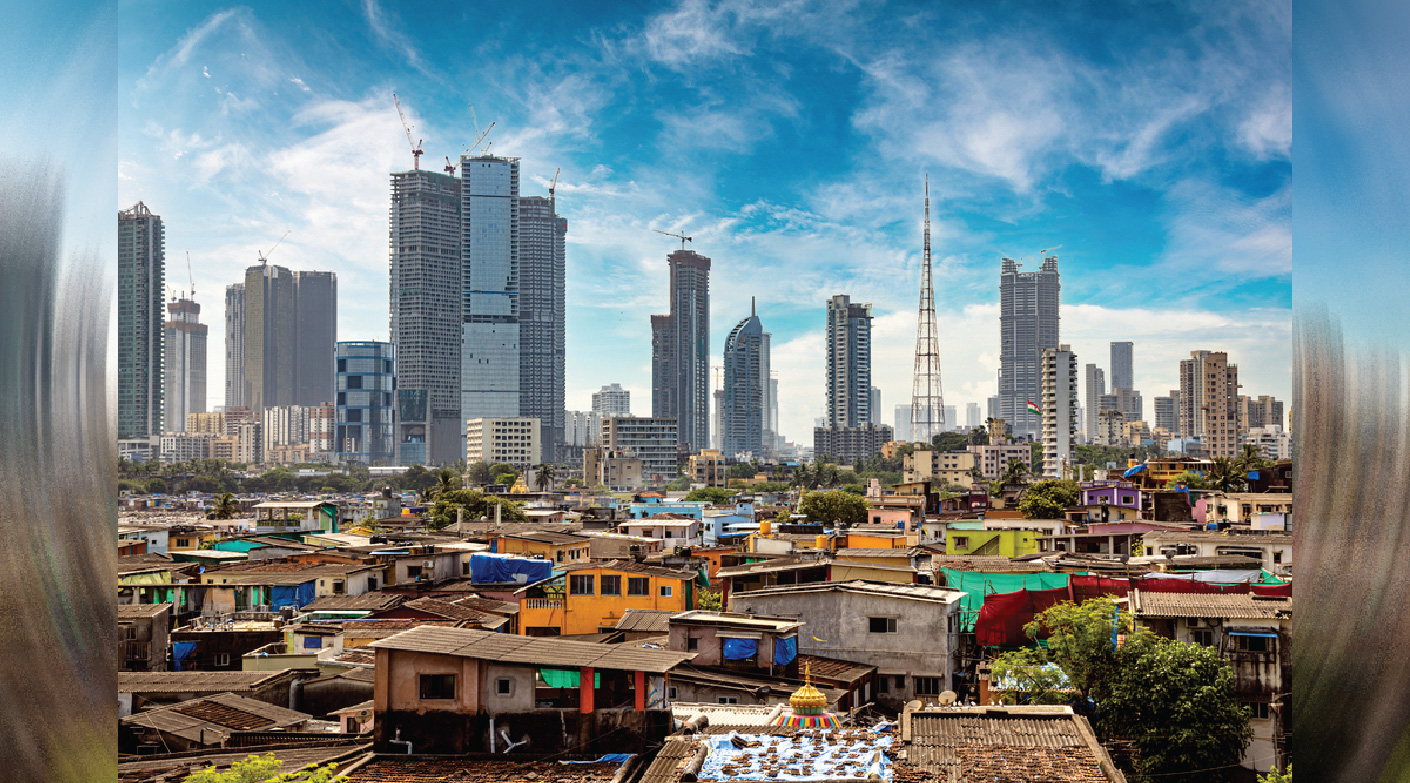 How is the state's administrative department assisting you in organising this temporary rehabilitation process for around 50,000 families?
It will not be transient; we will make it permanent. But we needed some land for it. So, that land was eventually obtained as an upswing, which means that a definitive agreement from the railway ministry is signed upon arrival, for which we had already spent approximately 800 crores of rupees. So, Hon'ble Deputy Chief Minister, Mr. Devendraji Fadnavis, went, and they completed the land purchase, which was the most critical aspect of the entire process. So, the state government's support is complete; the execution is now our responsibility. We are targeting to avoid transit accommodation as much as possible or keep it to the minimum to avoid disturbance to the households.
What about provisioning other basic infrastructural amenities along with rehabilitation?
It is more than just constructing tenements or buildings; it creates a city within a metropolis. This project consists of three parts. First is building construction, which you mentioned. However, there are two more crucial ones. The Second component is physical infrastructure, which includes sewerage water supplies, stormwater, street lighting, and roads, among other things. The Third component is social infrastructure, which includes community buildings, hospitals, schools, and colleges, among other things.
What are the challenges in creating and implementing the architecture plan for sustainable mobility and efficient project execution?
As I previously stated, the project is so complex; So, the obstacles are as follows: One is the density. Dharavi's population density is between 2.5 and 3 lakh per square kilometre. Mumbai has a higher density than Dubai, and India's density ranges between 500 and 600. As a result, lakhs of people are crammed into one square kilometre, making life difficult. Then, of course, there is the issue of civilisational height restrictions, which prevent us from going beyond the structures. F.S.I. consumption becomes challenging as well, and accommodating everyone becomes quite difficult. We are constantly hearing about the expansion of open spaces, but living space in Mumbai is also quite limited. So, accommodating both becomes a complex operation, which we will strive to optimise eventually. We are trying to optimise everything as much as possible.
28