Celebrating the Underrated Spirit of Architects
Presenting projects across different architectural verticals and typologies, including urban design, landscape, hospitality, public utilities, high-rise and commercial.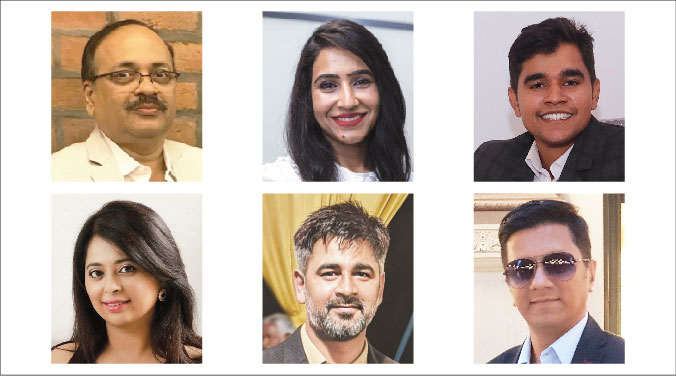 Sculpting Beautiful Landscapes
At Ace Update, we celebrate professionals who have completed projects on time despite all odds. Taking the initiative, Mr. Kapak.Y.Bhave says, "Any space can be turned into an excellent outdoor experience – if the space is complex, we make sure to design it so that it can be inhabited without obstructions. On the one hand, clients had specific functional requirements we needed to fulfil by offering their users better visual and physical experiences. A large terrace which was 12000 plus square feet, was covered, and we need to create spaces within it which are usable and aesthetically pleasing.
When space is available, you can build a beautiful and awesome landscape. However, in an urban environment, where space is limited, you should consider developing each part of the building as a possible landscape. If you have some balconies and projections, you could convert them into greeneries. Similarly, you could do the same thing if you have a terrace, maybe 100 square feet. Therefore, landscaping architects can make a project greener and more sustainable. It won't just affect you; it will affect everyone on earth.
Marriage of Beauty and Functionality
Talking about making the space aesthetically pleasing, Mrs. Aashita Chadha The KariGhars says, "Since clients are so used to looking at social media, making it aesthetically pleasing is the most important thing. In addition to how it looks, designers have been in this industry for a long time, so we also understand the importance of functionality. For example, I can buy a beautiful shoe which looks gorgeous. Even though it looks lovely, if I cannot wear it for a long time, it cannot solve its function, and my feet start hurting, so I won't be able to wear it. We try to explain this to the client when we are designing. By marrying them together, we make sure that whatever aesthetic the client is looking for is met and that it also serves their functional needs.
As far as the personality aspect is concerned, furniture plays a critical role. For instance, I need a wardrobe to store my things, a bed to sleep on, and a couch to watch whatever cereals I like or Netflix. What we need to do is, tie everything together through interior styling. It all comes together, in my opinion, with the proper interior styling. It doesn't even seem as if it is placed there for functionality. It all comes together as if it is all part of one big art piece and then fits into place. Nowadays, furniture is no longer viewed as furniture; we are currently building wardrobes, which are 10 feet tall, and we call them infinity wardrobes.
Adding to the same, Ms. Smriti Raheja Sawhney Design Ex says, "The statement also struck a chord with me, because beauty is not superficial or derogatory in a different connotation, natural beauty must always come from within. The functionality is the core, the soul of the project; the idea, the concept, the reason it is made, and the way it is made all contribute to the project's beauty. Mr. Ravi R. Pathak Unirchitect says about material sizes, "It has to be considered when designing a product because furniture affects how well the product will perform, its function and how it will work with other spaces and systems. Interior design is dependent on furniture, which provides comfort to aesthetics and functionality, defends the space, and creates a sense of belongingness."
Technology Complementing Evolution
Ar. Abu Saleh Vastulinear Consultant Pvt Ltd. says, "technology has been an integral part of architecture for many years. As the technology evolved, things changed, and now we are using technology in our construction, planning, and architecture. When we are planning something as an architect, it evolves various aspects to be considered, starting right from aesthetics, when we realize that we need a cantilever and a space to interact. Moreover, architecture has evolved; today, we build buildings like the Burj Khalifa and the highest skyscrapers. Innovation generally relates to human behaviour and all sorts of other things, but there is a misconception that if we build something based on Vastu Shastra, we'll end up all wrong.
Elucidating on the technology aspect, Ms. Smriti adds, "Technology plays a huge role now not just in aesthetics but also in how lighting is incorporated into a project. Now that there are voice commands, people are becoming lazier. Not sure if that's a good thing since you can say turn on the morning scene, the curtains will open, the lights will turn off, and your favourite music will play."
Discussing the rise of technology and agreeing with what Ms Smriti told Ar. Ravi says, "We are just seeing the rise of new architectural fields like computational design and technology. Instead, we need to see this as an opportunity for architects to explore new fields and get more creative with their work."
Sustainability: The Core Strength of Buildings
Regarding architecture, Ms. Smriti states, "Sustainability is more prevalent in interior design, but not so much in the last few years, apart from the things I mentioned, where you can use technology to help save energy. We are using wasteful materials nowadays, but we can try to use things with a smaller carbon footprint. It is a good idea to use insulated glasses, so there are no temperature losses. Try to use materials and fabrics that are more natural and local and not try to import everything. India has reached a point where we are exporting a lot of materials, a lot of luxury materials these days. It just has to be a good design, with good materials and a good sense of aesthetics, and it can be sustainable. Therefore, it is also essential to be open to changing clients' mindsets. We can teach them, and we can show them options.
With this, Mr. Divyankant Mistry, Divyakant Mistry and Associates, concludes, "In designing the key, we always consider sustainability as the core strength and the core sector. We designed it with the material in mind because only a few materials have been used since ancient times. And there are only a few that are a product of technology.  Agreeing with what Ms. Smriti said on sustainability about carbon footprints, I have always considered using materials that can be recycled or perhaps have the smallest footprint from that chain. As part of our design process, we always consider sustainability and materials that can be recycled."
23