Dextra's Innovative Products Support Safety and Sustainability in Railway and Metro Projects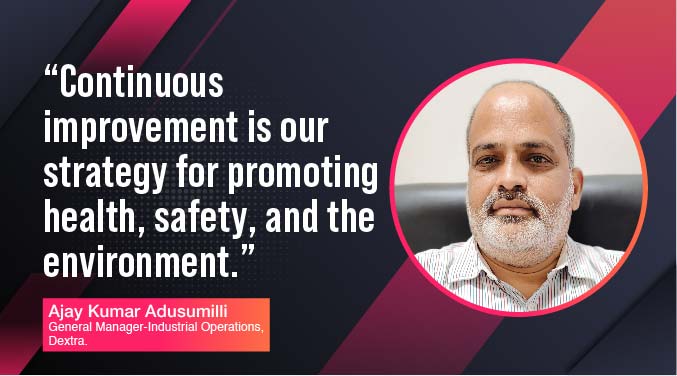 We offer a range of steel and FRP components that contribute to sustainable measures and support the construction of new metro and HSR projects, says Mr. Ajay Kumar Adusumilli, General Manager of Industrial Operations of Dextra.
Could you share your thoughts on the potential of the railway and metro sectors and how your recent budget has affected your business?
We have seen the highest-ever outlay for railways, amounting to 2.4 L cr, which has dramatically motivated 100 percent of our innovative products that cater to the needs of major infrastructure projects, such as HSR, S-HSR, metros, and more.
Several new metro projects, both elevated and underground, are in the pipeline, and at least two more HSRs are expected to be operational by 2030. Our range of steel and FRP components, which contribute to sustainable measures, will be increasingly valued in the days to come.
Which of your product lines are utilised in metro and railway building projects?
We offer a range of products that add techno-commercial value to our esteemed clients, especially for metros, SHSR, and HSR projects. These include steel mechanical splices, which connect two rebar systems and are available for both in situ and precast construction methods. We also offer steel Sonic Tubes for conducting cross-sonic logging testing of pile foundations, steel high tensile bars used in the temporary lifting of segments, post-tensioning, and as a shear key, as well as GFRP anchors to support retaining walls in the bottom-up construction of UG Metro stations. Additionally, our GFRP soft eyes and rock bolts are used in TBM and NATM tunnels.
How is the manufacturing industry adapting to support safety in major infrastructure projects?
We have implemented various measures to ensure the safety of our employees and the products we manufacture. These include embracing automation to reduce the likelihood of accidents, deploying data analytics and sensors to detect problems before they occur, adhering to stricter safety standards such as ISO 45001 and OHSAS, and providing training programs to cultivate a strong safety culture among our workforce. 
How do Dextra's products support sustainability and green initiatives?
Dextra is committed to reducing our environmental impact and promoting sustainability. We have implemented measures such as reducing waste and developing sustainable construction solutions. Our products, such as headed bars and mechanical couplers, help reduce the consumption and waste of steel. Additionally, our GFRP components eliminate the use of steel in certain applications and can reduce the thickness of concrete when used for reinforcement, resulting in a lower carbon footprint.
For more info visit : https://www.dextragroup.com/
37