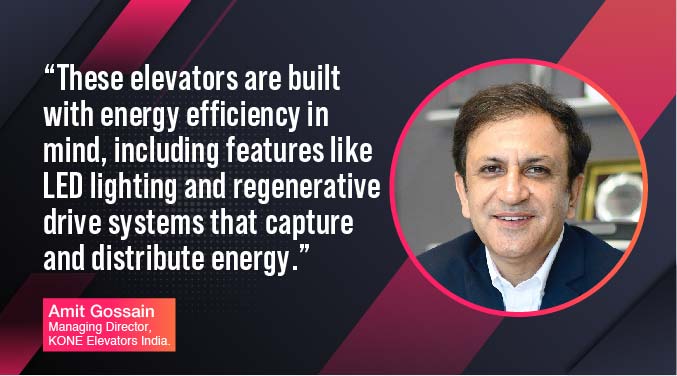 Amit Gossain, Managing Director, KONE Elevator India, talks about innovations and safety audits for public transport.
What kind of market potential do you see for lifts and elevators in the transport sector?
With the rising number of high-rise buildings and the growth of the construction industry in India, the demand for lifts and elevators is expected to increase significantly. KONE India is well-placed to benefit from the growing market potential, which is projected to grow at a CAGR of 4.5 percent during the period 2022-2029, according to Market Research company – Data Bridge.
The increasing pace of urbanisation has led to a rapid expansion of the transportation sector, with a particular focus on the development of infrastructure for road, rail, and air transport. Vertical transportation, such as lifts and elevators, has become essential in easing passenger movements across multi-level transportation hubs. In this context, KONE India has emerged as a key player in supporting the transport sector in metro cities across the country, particularly through our involvement in one of major projects like the Delhi Metro Rail project.
How are metros evolving as safe mass transport services?
Metros are taking steps to become safer mass transit options. Increased sanitization, improved ventilation, contactless payment options, crowd management, and public education are some of the measures that are being implemented to ensure the safety of passengers. Apart from that fire safety systems, emergency preparedness plans, crime prevention measures, platform and train safety features, and security personnel are a few additional measures that ensure passenger safety in different scenarios, such as medical emergencies, natural disasters, and accidents on platforms or trains. Metros implement a combination of measures to ensure passenger safety and improve their reliability as a mode of transportation.
In India, the metro system has seen significant growth over the past decade. According to a report by the Ministry of Housing and Urban Affairs, the number of operational metro systems in India increased from 1 to 18 between 2002 and 2020. The total operational length of these metro systems is now more than 702 km, and it is expected to reach 1,600 km by 2025. The metro systems in India carry an average of 8.2 million passengers daily. The metro system will continue to expand as a secure mass transportation option, owing to its crucial role in urbanisation.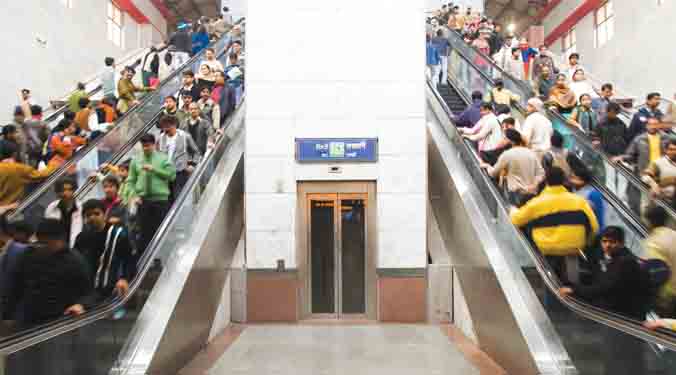 Can you talk about recent advances and innovations in lifts and elevators for public transportation?
In recent years, India has witnessed remarkable advancements and innovations in lifts and elevators for public transport. These developments are aimed at providing safe, efficient, and reliable transportation to the masses, particularly in crowded cities.
The Machine Room-Less (MRL) elevator system and Destination Control Systems (DCS) are significant advances in lift technology in India, providing space-saving, cost-effective, and efficient public transportation. Integration of digital technologies like sensors and cameras has improved safety, security, and real-time data on elevator performance.
KONE India's innovative lift and elevator solutions, such as the UltraRope, EcoDisc, and 24/7 Connected Services, are transforming public transportation infrastructure in India.
Which of your product lines are used for metro station projects?
KONE's People Flow solutions are commonly used for metro station projects in India. These solutions include elevators, escalators, autowalks, and other passenger flow solutions that are designed to meet the unique needs of metro stations. KONE MonoSpace elevators, KONE TransitMasterTM escalators, and KONE TravelMaster™ autowalks are a few KONE products used in metro stations. These products are known for their high performance, reliability, and safety, and are designed to provide efficient and smooth transportation for commuters.
KONE India has supplied more than 800 elevators and escalators for the Delhi Metro and over 300 elevators and escalators for the Bangalore Metro.
KONE has been a part of major metro rail projects worldwide, including the Dubai Metro, Singapore's Mass Rapid Transit (MRT), and the London Underground. KONE has provided a range of People Flow solutions for these projects, including elevators, escalators, and moving walks, with a focus on safety, reliability, and energy efficiency. 
How can lifts and elevators aesthetically install at metro projects? Do you have any example projects to share?
KONE India offers a range of innovative lift and elevator designs that can be aesthetically installed in metro projects to enhance the overall look and feel of the station. Our lifts and elevators feature modern designs, materials, and finishes that blend seamlessly with the surrounding architecture.
For example, KONE India's glass elevators offer passengers an unobstructed view of the surrounding areas as they travel between different levels of the metro station. These elevators are designed to be energy-efficient, with features such as LED lighting and regenerative drive systems that capture and reuse energy that would otherwise be lost.
What are your recommendations for doing regular lift/elevator safety audits?
Regular safety audits are essential for maintaining the safe and efficient operation of lifts and elevators. To conduct a thorough safety audit, it is important to establish a schedule for regular inspections and review all documentation related to the lift/elevator, including service and maintenance records, inspection reports, and repair logs.
A visual check should be done for any signs of damage or wear and tear. Emergency features such as stop buttons, alarms, and backup power systems should also be tested. Compliance with safety standards and regulations should be checked, and potential hazards should be identified and documented with corrective action taken.
For more info visit : https://www.kone.com/en/
25