Efficient modular metro stations with innovative designs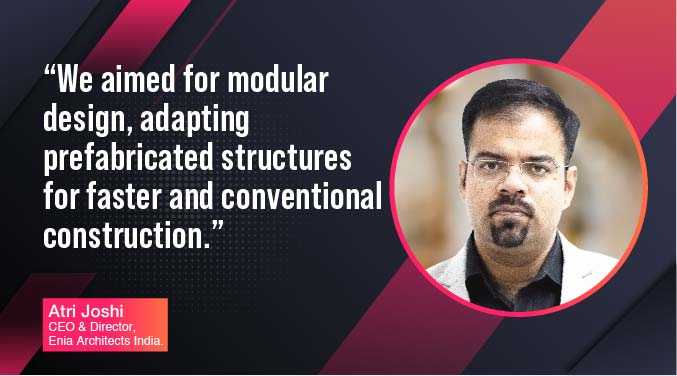 Atri Joshi CEO & Director at Enia Architects India discusses the design trends for metro projects and talks about the safety and investment aspects of the Nagpur Metro Station.
What are the current design trends in railway and metro construction?
Railway and metro construction currently focuses on providing passengers with a modern, world-class experience while maintaining a connection to the regional context and cultural heritage. This approach involves a careful design process that respects historical contexts while creating modern infrastructure for the future.
One example of this approach can be seen in the design of Nagpur Railway Station, which was created by Enia. The station's main building, constructed in 1925 is a protected Grade II heritage building, is surrounded by various other buildings built in different eras, resulting in a chaotic design. To resolve this issue, the new design focused on demolishing the unorganised buildings and placing new station buildings on either side of the heritage building in a way that respects its central location and creates new vistas and views. The new buildings are modern, providing a contrast that enhances the value of the heritage building. In contrast, the second-entry buildings on the eastern side are higher and integrated with the metro station to improve the intermodality.
A trend in metro construction is creating sleeker and thinner stations. Stations are now often supported by a single central pillar, with a concourse and platform cantilevered from it. Compared to earlier construction methods, this design approach makes the station more airy and well-lit. Facades of elevated stations are designed with breathing skin to allow air to pass through while protecting from the sun and rain. This has led to experimentation with various porous facade materials that can create interesting facade designs.
Overall, the design trend in railway and metro construction is to provide a modern, world-class experience for passengers while still connecting them to India's rich cultural heritage through the use of façade, interiors, and landscape elements.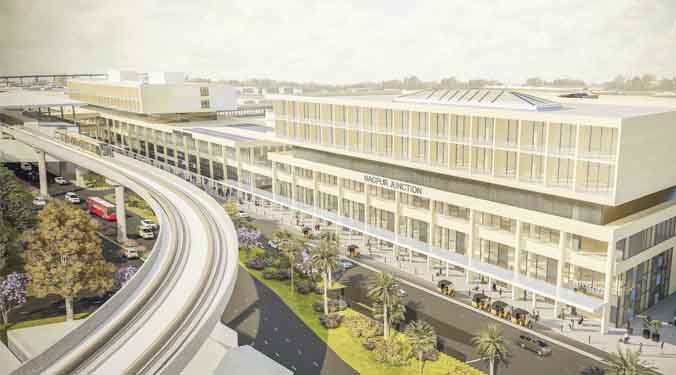 What design innovations have been implemented in this transportation project to enhance user comfort, design efficiency, and aesthetics?
Modularity has been a key focus in this project to achieve repetitions and efficiency. Prefabricated structural elements have been adopted for the roof plaza, including metal columns, girders, and beams, which can be erected with minimal passenger disruption and faster construction than conventional RCC construction. The design has prioritised selecting a modular dimension that can be multiplied to achieve a 108-meter-wide roof plaza that spans over the platforms and tracks. Since the roof plaza is a naturally ventilated space, the façade and roof have been designed with elements that allow for ventilation while also providing a comfortable and safe interior space for passenger facilities such as retail, food court, waiting areas, toilets, drinking water, and more.
What investments and safety factors have been considered for this project?
The Indian Railways has allocated an ambitious budget for this station development project, making it the largest investment program for station development projects currently underway. The project is also designed to accommodate 20 lakhs square feet of commercial development that will be developed separately on a PPP basis to fund the initial investment by Indian Railways and ensure a return on investment in the future. 
Since the project is being designed for construction in an EPC mode, the contractor focuses on construction detailing to select construction machinery and methodology carefully. Authority engineers, which are large infrastructure engineering firms with experience in construction safety, will be managing the entire construction program.
The station is designed with safety in mind, adhering to NFPA norms for fire safety. This allows for emergency evacuation in case of fire and focuses on selecting fire-rated construction materials for safety. Structural safety has also been considered in the design according to relevant seismic codes in the region.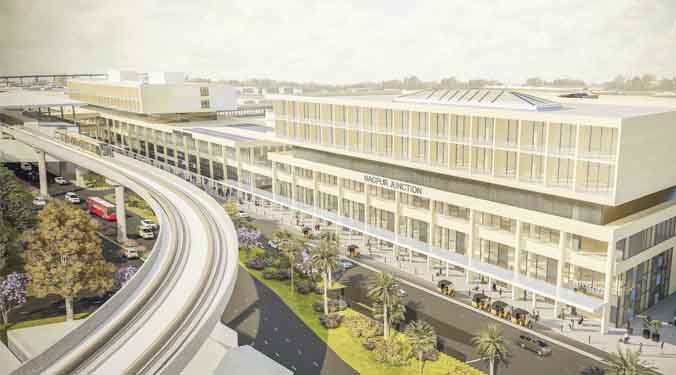 In what ways have advanced technologies like 3D modelling and BIM contributed to creating an environmentally sustainable building?
The project has utilised advanced 3D software to facilitate the integration of engineering and aesthetic design. Ventilation and air conditioning were important engineering considerations. The façade and roof were designed with specialised ventilation elements such as louvres and skylights of specific shapes and sizes, resulting in a well-ventilated and well-lit interior space that enhances passenger comfort even in Nagpur's hot climate.
Can you discuss the challenges faced during the project's final delivery stage?
The design process was lengthy and challenging, with many technical stakeholders involved. However, Enia was able to address all design challenges and successfully initiate the project's construction phase. The extended design period facilitated careful consideration of all design options presented to the authorities for informed decision-making. Ultimately, all stakeholders appreciated the designs produced by Enia. Enia also participated in design workshops to share the knowledge with other stakeholders.
For more info visit : https://www.enia.fr/
99