West to east Bengaluru now in just 80 minutes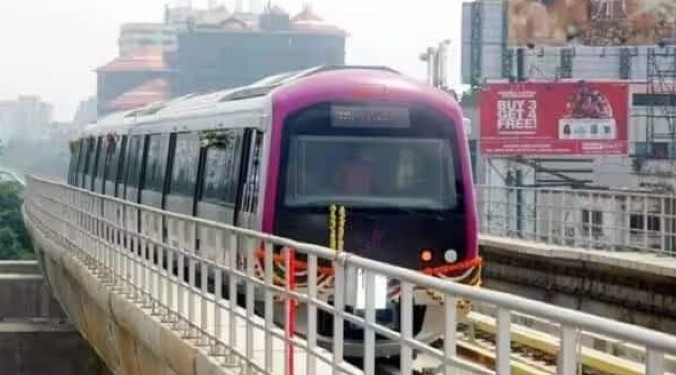 The Bengaluru metro finally bridges the gaps on the purple line, resulting in the seamless connection of Challaghatta on the west with Whitefield (Kadugodi) on the east.
In a significant development for Bengaluru's metro system, the long-standing gaps on the purple line have finally been bridged, allowing for a seamless connection from Challaghatta in the west to Whitefield (Kadugodi) in the east. The missing links between Baiyappanahalli and KR Pura, as well as the extension to Challaghatta from Kengeri, were key demands of the Bengaluru community.
The full operations of the purple line stretch commenced, marking a historic moment as the first metro train departed from KR Pura towards Baiyappanahalli at 5:33 am. A journey that typically takes over two hours by road was completed in just 86 minutes, showcasing the transformative impact of the metro.
Traffic police reported a significant reduction in vehicle count towards KR Puram railway station, leading to smoother traffic flow. Commuters expressed their satisfaction with the improved connectivity, highlighting the reduction in travel time and the positive effect on work productivity.
The opening of these vital metro sections completed the east-west corridor, extending the purple line from Whitefield (Kadugodi) to Challaghatta, covering a total length of 43.49 km and comprising 37 metro stations. The operational metro network expanded to 73.81 km with a total of 66 stations. The last trains departing from Whitefield (Kadugodi) and other terminal stations were scheduled at 10:45 pm and 11:05 pm, respectively.
The new stretches were built at a cost of ₹ 363.48 crore for the KR Pura-Baiyappahanalli stretch and ₹ 167.97 crore for the Kengeri-Challaghatta stretch. The fare for the entire stretch from Challaghatta to Whitefield was set at ₹ 60, providing commuters with an affordable and efficient transportation option. Overall, the seamless connectivity achieved through these metro extensions signifies a major milestone in Bengaluru's urban transportation network, greatly benefiting its residents and commuters.
29