Enjoying a leading position in insulation – Macmillan Insulations India Pvt Ltd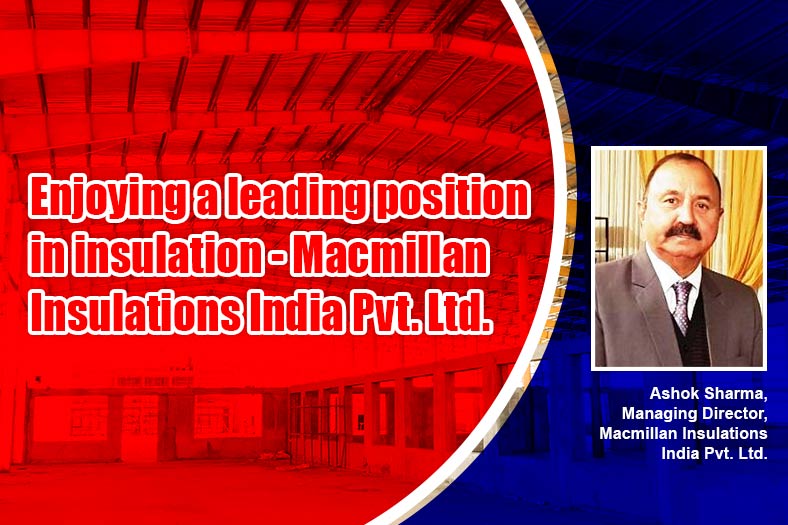 Our heat insulation products have a plethora of advantages. They are technically superior to many of the other insulating products in the market, says Ashok Sharma, Managing Director, Macmillan Insulations India Pvt. Ltd.
Macmillan Insulation is a top tier in the insulation market. What are the business activities that you indulge in?
Yes, Macmillan is a leading heat insulation name not only in India but also in South East Asia, Australia and New Zealand. This is a premium product and the only product that is guaranteed for temperature reduction of minimum 5°C and performance of over 10 years. We have a distribution network in India and our products have been installed all over India including Kargil. Our flagship insulation product Flamestop 138 is approved by the Department of Defense and installed in Army, Airforce, and Navy warehouses, factories, aircraft hangers and other buildings. Traditionally, heat absorbing materials have been used, but from the start of the century heat absorption materials have become more common due to their improved efficiency, ease of installation and lesser cost.
What areas do your products cater to?
Our products cater for a wide variety of segments including a plethora of industries from automotive, electronics, shipping, manufacturing, defense and logistics.
What are the ways in which you plan to tackle your customers' concerns?
We provide heat insulation solutions for roofs and walls of buildings. It is our experience that manufacturing sectors are the highest gainers when they opt for insulating their factory buildings. A lower working temperature reduces searing and fatigue. The dehydration of the body reduces considerably resulting in long term health benefits. We have also noticed a marked reduction in absentees since the working environment gets conducive due to heat insulation. All types of roofs from traditional asbestos/ AC sheets, galvanized sheets to gal volume sheets, concrete and false roofing can be insulated. We enjoy a leading position in insulating. One of the unique selling points is 'FIRE RETARDANT' capabilities due to which it is preferred over other contemporary insulating products in the market.
Macmillan has a wide range of distribution networks. How do they work in sync?
Macmillan is the Authorized Sole Distributor in India for the last 20 years for Fletcher Insulation Products, Australia. Our reach is PAN India and also expanding to the Middle East and North Africa. We have a storage facility in the North and South namely Chandigarh and Bangalore respectively. Supply time is about 7 days. In case of urgency material can be sent by air cargo also. We have our sales offices in Delhi Chandigarh, Mumbai and Bangalore. The installation is carried by our own teams as well as approved installation contracts. We have a number of satisfied customers who are greatly benefitted by installing our installation. We have also received repeat orders from most of our clients
7