Jindal Aluminium Limited extruded products are used extensively in building and construction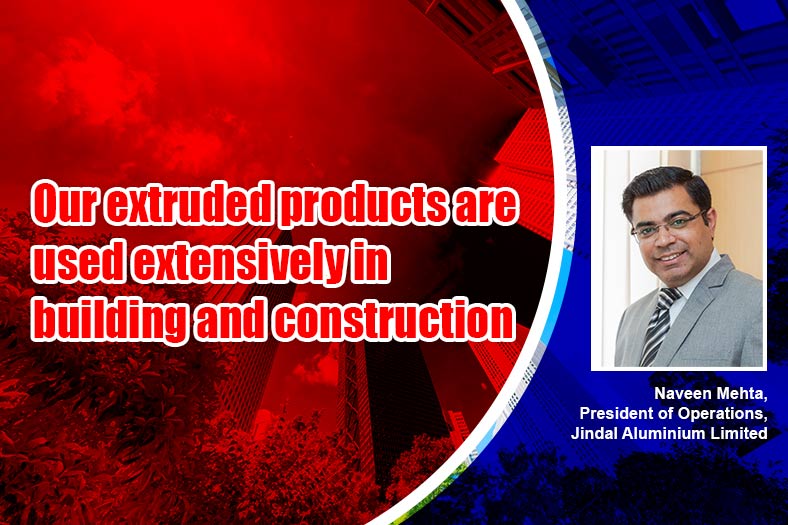 We offer unified curtain walls that have increasingly become the preferred way that architects and contractors are using to enclose buildings. It helps speed up the entire construction process and allows for faster occupancy says Naveen Mehta, President of Operations at Jindal Aluminium Limited.
What makes Aluminium a good choice when it comes to designing and building green buildings?
Aluminium is a 100 percent recyclable metal; once you put in a loop, it can be used repeatedly without losing its inherent properties. In addition to this, it takes only about 5 percent of the energy to recycle it than to produce primary Aluminium. Thus, it is energy-efficient, besides having the smallest total carbon footprint among other competing materials.
It is light in weight, corrosion-resistant, reflective, non-toxic, and allows the color coating to match the décor of the building. Moreover, architects and engineers are always looking for a more robust structural framework, and Aluminium offers that strength and flexibility for intricate designing. Besides, it also enhances solar efficiency making it a preferred choice for design and use in constructing LEED-certified green buildings.
What can be said about the durability of recycled Aluminium when it is reused in another project?
Many studies and reports signify that recycled Aluminium possesses the same mechanical, chemical, and physical properties as virgin Aluminium. Globally, Aluminium sees the highest material recycling rate for the end-of-life products. In some developed countries, it is up to 90 percent, while 75 percent of all Aluminium ever produced around the globe is still in use. Some of these have been over multiple loops of the lifecycle. Therefore, the end of a lifespan of a product or project does not mean the end for the metal. On the contrary, it is a perfect metal balancing sustainability to industrial & infrastructural development for a circular economy. Aluminium has a long life, and its reuse in another project only makes it a truly durable metal.
What kind of products does Jindal Aluminium offer for the design and construction of green buildings?
We offer various alloys meeting the intricate designing parameters and their functional properties for the building and construction sector. We also develop new dies on demand or if the sections are not already available. Jindal Aluminium Limited extruded products are used widely for building fenestration, curtain walls, façade systems, roofing scaffolding, glazing, doors, windows, and more. In addition, we offer unified curtain walls that have increasingly become the preferred way that architects and contractors are using to enclose buildings. It helps speed up the entire construction process and allows
16