Sudhakar uPVC profiles are well suited for the Indian tropical conditions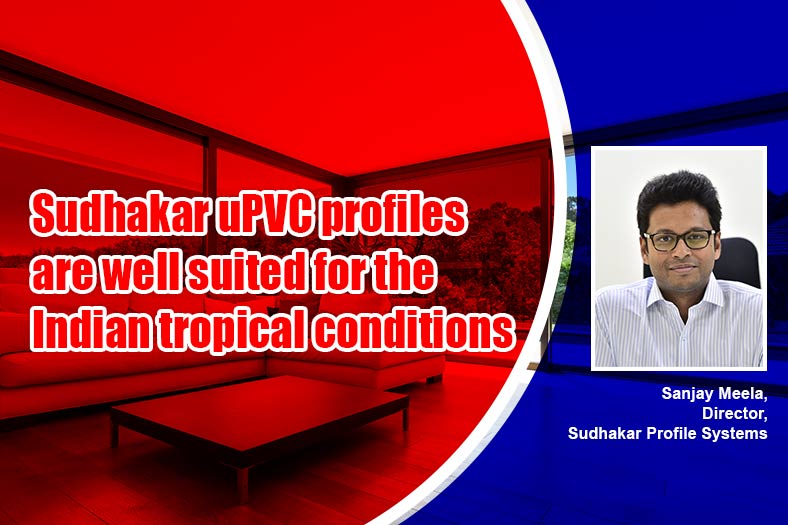 We use high quality raw materials to ensure our products last longer besides which we offer top of the class installation and after sales service says Sanjay Meela, Director, Sudhakar Group
What are some of the qualities which makes Sudhakar uPVC profiles one of the most preferred choices?
Sudhakar profiles are made to suit all weather conditions, especially the Indian tropical conditions very well. If you ask about our USP we use high quality raw materials in our profiles to last for long,without discoloration in long run. Additionally, our installation and service quality is definitely one more factor.Being a budding brand from Sudhakar Group our focus is also on post sales service and customer support. Our profiles are lead free and environmental free, we follow eco-friendly manufacturing procedures and as you know uPVC as a material is recyclable.
What kind of evolution are you witnessing in the doors and windows industry in terms of technological advancements and market dynamics?
Yes, definitely the technology has really advanced in recent years and if you consider windows doors business, we are seeing many new possibilities. The good things about this product is customizing it as per customer requirement. We at Sudhakar Profile Systems are marching towards continuousresearch and development, to develop new profiles, addressing the changing industry dynamics and costumer requirements. We are using complete end-to-end European Technology and imported machineries.
What makes the offerings of Sudhakar Group a reliable choice?
Sudhakar Group as you know is a 50-year conglomerate with diversified product range manufacturing pipes and fittings, wires and cables and uPVC profiles for windows and doors. Quality and trust have always been our primary pillars since the very inception of our business from 1971. Continuing that legacy, we have launched uPVC profiles business unit in 2017 and we are one of the fastest growing brand in India for uPVC windows and doors profiles.
Going forward, what will be your future plans?
Real-estate, construction as such has seen both good and bad in this pandemic, low interest rates from banks have encouraged buyers to buy homes. And there are positives for us to with opportunities opening up in both retail and commercial projects. Sudhakar Profile Systems aim is to double our production in the next two years while unlocking new design capabilities for our business partners and customers.
21