The demand for good quality windows and doors has not diminished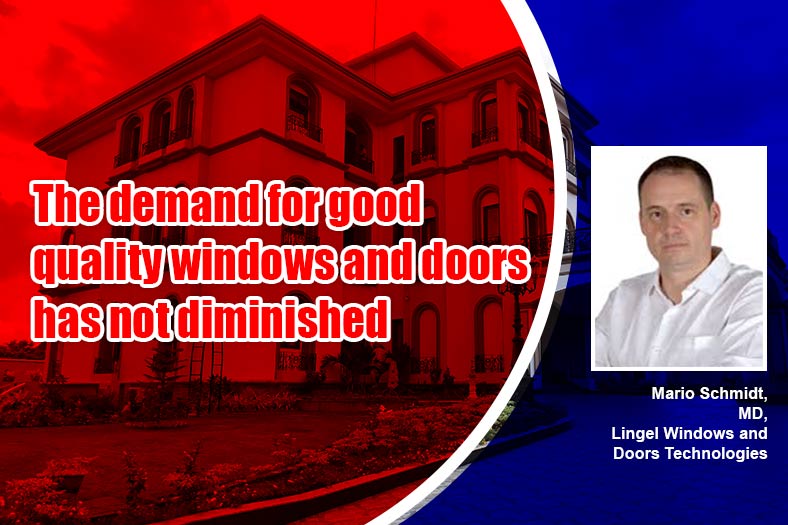 We are also witnessing a rise in demand for our new products that is Lingel's security window solutions which is a perfect combination of hardware and glazing. says Mario Schmidt, MD, Lingel Windows and Doors Technologies
What kind of doors and windows are the best choice for a green and healthy home?
When it comes to windows and doors it is just not the material but other factors too that one has to consider before one makes a choice. From choosing the right window material to perfect installation all factors need to be considered. uPVC and aluminium both are sustainable products. uPVC is an ideal material as it is eco-friendlyand each component or part can be completely recycled.
Also, aluminium is very sustainable. It is recyclable and we can get virgin material again. uPVC when recycled we cannot create the same grade of material. Whereas, in aluminium when we melt it, we get the pure aluminium back and therefore we can reuse it to make an aluminium window profile. The core remains that both uPVC and aluminium are ideal for the environment andcompletely recyclable.
Demand for doors and windows for building medical infrastructure has witnessed a rise, what kind of products do you offer for this segment?
The demand for good quality windows and doors has not diminished. If it is a medical infrastructure then keeping in mind the well-being of the patients one has to ensure that safe and secure solutions are provided. Besides thi, noise reduction is also desired if the hospital is situated in a noisy place. The windows will also need proper ventilation. One can even consider having options like venetian blinds.
What kind of demand are you witnessing for your other products which are utilized in individual, as also, mass consumption properties?
uPVC and Lingel 6.0, a high-end aluminium window system fabricated in India are in high demand. Off late we have seen arise in the demand for aluminium windows. We are also witnessing a rise in demand for our new products that is Lingel's security window solutions which is a perfect combination of hardware and glazing. Many customers are also considering having a glass conservation on the rooftop or in their garden area.
Has the pandemic situation given impetus to newer innovations in your product range to make them safe to use? If yes, what kind of innovations are these?
Yes, the pandemic has given an impetus to new innovations. What we would suggest to our customer's keeping in the current scenario is that the focus has to be on letting fresh air come in the house through proper ventilation. For this we need to have fresh air devices, which allows a predefined amount of air to enter per hour. A centralised air purifier system is the need of the hour. A person needs 300 cubic feet of fresh air per person, per hour and per room. Also one must not forget the office spaces- air circulation is required at least 6 times in one hour. Amidst the pandemic, security too has become a concern and the security windows are also gaining popularity due to covid.
Security became a big concern and so many customers were looking for solutions to keep their family safe. Keeping in tune with such market needs, we introduced the Lingel safety box (LSB) and Lingel Panzer Glazing (LPG) This ensures complete safety for property owners.
For glazing the following security glazing systems can be opted for:
LPG 14 Lingel Panzer Glazing 14mm is a multilayer security glass
LPG 18 Lingel Panzer Glazing 18 mm superior performance of glass
The second option is Lingel Safety box 2 (LBS 2). It is Lingel's highest point of locking security. RC2 and RC3 as per ENI627-30 it means resistant glass to hardware.
The introduction of the mortise locking system is an additional feature that can be provided to customers. We have upgraded many more options in the last few months.
What kind of measures have you taken to meet your production and delivery times lines in a safe and productive manner?
We have been in touch with our customers during the pandemic. The supply of raw material was affected because of the lockdown so things were a bit slow. The customers are ready to purchase again. Howeverthe availability of all the raw materials is still very low leading to a significant price increase. uPVC raw material, steel, glass, EPDM gasket, for each part of the window the price of the input material has shot up whereas at the other end the consumer is expecting a price cut post pandemic.
But now the situation is under control and we have over 3000 windows under production. We have streamlined everything keeping in mind all our customers and worked on the logistics.Keeping in mind the safety of our team and also the customers we have ensured that our team is vaccinated and insured. We are following all safety protocols.
What measures are you adopting to create brand engagement with your clients in current times?
During these tough times we have reached out to many customers in different ways. Our social media team has been very active creating awareness about our product and also the current situation. Once the situation eases out we will be all out with our marketing and PR activities to celebrate our 15 years of existence in India.
21