Envisaging a Metro Life for Maharashtra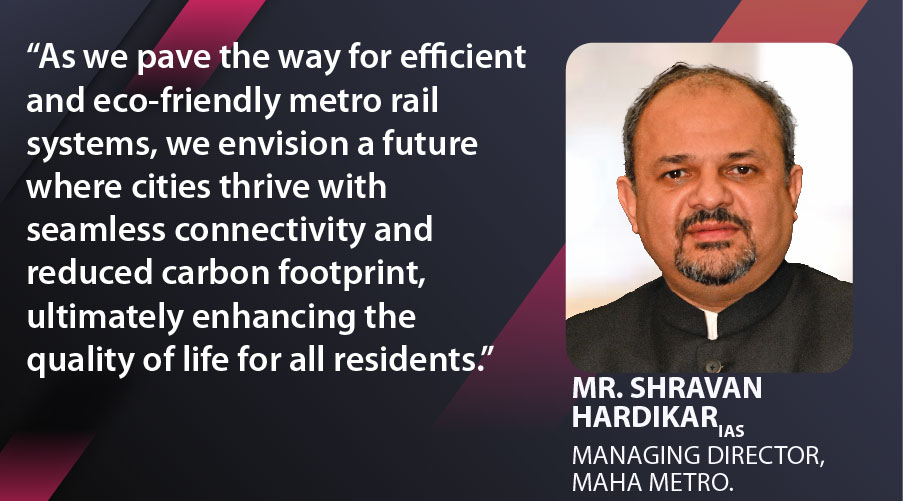 Mr. Shravan Hardikar, Managing Director, Maha Metro, strategically directs the development of modern metro networks that redefine urban mobility and contribute to the broader fabric of sustainable and inclusive urban living.
How does Maha Metro envision addressing the state's growing transportation needs concerning capacity, efficiency, and connectivity?
Nagpur is a fast-growing, centrally located city in India that serves the various needs of the people of Vidarbha in Maharashtra and the neighboring state of Madhya Pradesh, especially in the Medical/Healthcare and IT/ITES industries. Thus, it is evident that a Mass Rapid Transit System (MRTS) was essential to facilitate a fast, affordable, and safe commute for the public within and around the city.
Consequently, a rail-based MRTS was conceptualized in the early 2010s, with plans for execution in phases to align with commuter demands. The project envisioned that a rail-based metro system should be implemented through a Special Purpose Vehicle (SPV) comprising both the Central and State governments, with significant funding from foreign financial institutions.
The initial phase of the Nagpur Metro, comprising 40 km of routes across 2 corridors, commenced in 2015-16 and was completed and inaugurated in 2022 by the Honorable Prime Minister of India. It has been operational since then. Subsequently, the Nagpur Metro Project Phase-2, covering 43.8 km of route, was approved in December 2022. This phase includes extensions of all four terminals from the initial two corridors.
 Preparatory work, such as land acquisition, station location finalisation, design and drawings, and tender document preparation, is already underway. Physical construction is expected to commence in early 2024, and the entire Phase-2 Project is targeted for completion within four years.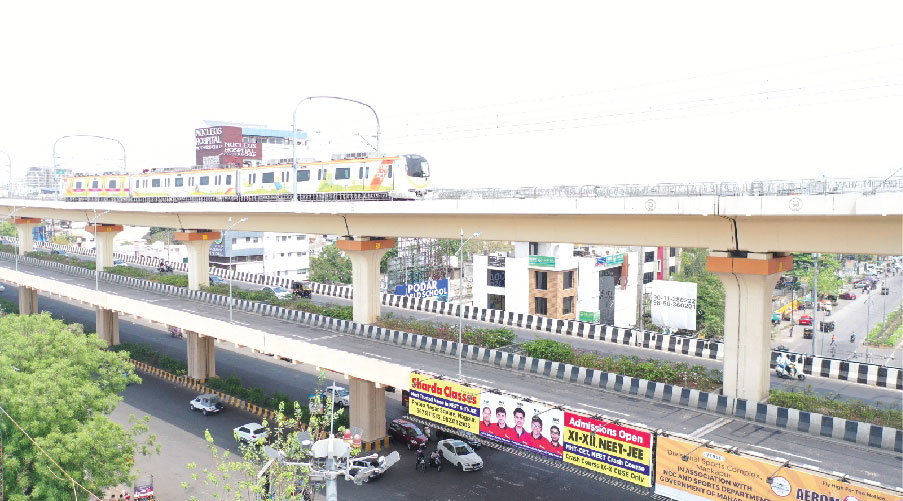 What measures is Maha Metro taking to reduce its carbon footprint and promote eco-friendly practices?
 Project Phase:
During the execution of the Nagpur Metro Rail Project Phase-1, several eco-friendly measures were implemented, which will be further enhanced in Phase-2. These measures are anticipated to significantly reduce the carbon footprint while also yielding economic benefits.
Station lengths have been reduced from 6-coach lengths to 3-coach lengths (140m to 70m). As traffic volume increases, the plan is to gradually increase train frequency from the current 15-minute intervals to around 5-minute intervals, facilitated by the state-of-the-art Communication Based Train Control (CBTC) signaling system.
This reduction in the size of viaducts and stations has led to substantial savings in concrete quantities. Additionally, the use of Fly Ash and Ground Granulated Blast Furnace Slag in concrete mix design (excluding Pile and Viaduct Segments) has resulted in a 20 percent reduction in cement consumption.
Solar panels (photovoltaic cells) have been installed at various station locations and in the Metro Bhawan, generating around 10 lakh KwH of energy since their inception in 2018. This has significantly reduced reliance on conventional Thermal Power sources, thereby lowering the carbon footprint.
 The creation of an artificial forest called "Little Woods" with tree plantations contributes to increased oxygen levels in the city and further reduces the carbon footprint by absorbing CO2. Similarly, in Pune, around 18 thousand trees have been planted and approximately 2500 have been transplanted in PMC and PCMC areas. 
Building Management Systems (BMS) with automated control have been adopted in O&M (Operations and Maintenance) at Metro Stations. These systems curtail excess and irrelevant power wastage, conserving conventional energy sources and indirectly reducing the carbon footprint.
Approximately 22 stations, including Metro Bhawan, in Nagpur have been awarded the Indian Green Building Council (IGBC) platinum rating, with ongoing efforts for others. Similarly, all stations, administration buildings, and depots of Pune Metro have been designed to similar green standards. Pune Metro's "Kanchan Se Kachra Tak" program has garnered accolades for transforming a municipal garbage site into the NEW HILL PARK CAR DEPOT, reusing 2 lakh cubic meters of screened plastic waste for backfilling in accordance with IS 2720 Specifications.
O&M Phase: During the project phase, the installation and operation of Biodigesters based on DRDO design at various stations have enabled water recycling for restroom use and utilization of sludge for plantations and vertical gardens. This approach has reduced the demand for municipal water and lowered thermal power consumption, contributing to a more environmentally friendly approach. Moreover, the presence of the Metro system has led to a significant shift in commuter preferences. The reliability and convenience of the Metro have encouraged widespread adoption, reducing the number of fossil fuel-driven vehicles on the roads and subsequently cutting down emissions while increasing carbon credits.

What steps is Maha Metro taking to incorporate smart technologies and digital innovations to enhance the overall efficiency and reliability of the mass transit system?
We integrate a comprehensive 6DBIM solution, including Operations and Maintenance (O&M), with SAP on a DOT Net platform to ensure a seamless Management Information System (MIS) experience. Additionally, the upcoming Bharat Ride app will revolutionise ticketless commuting. Our initiatives extend to digital kiosks and the ongoing implementation of an Incident Management System. Adopting the CBTC signalling system (GOA-2) has notably enhanced safety and efficiency in commuting. As our efforts continue, we are poised to introduce the DOT Net platform and establish a stakeholder board comprising representatives from railway, metro railway, and urban transport organisations.

Could you shed light on any initiatives to enhance safety and security measures for passengers?
Nagpur Metro has incorporated cutting-edge fire and safety systems in line with global standards. Measures such as AFC gates and baggage scanner systems are in place to ensure passenger safety. Regular checks, managed by the dedicated O&M section, cover various areas including station assets, technical systems, operational processes, client amenities, and viaduct bearings. Rolling stock undergoes scheduled inspections, with standby units ready for emergencies. To promote inclusivity, a dedicated coach for female commuters is provided within the three-coach metro train.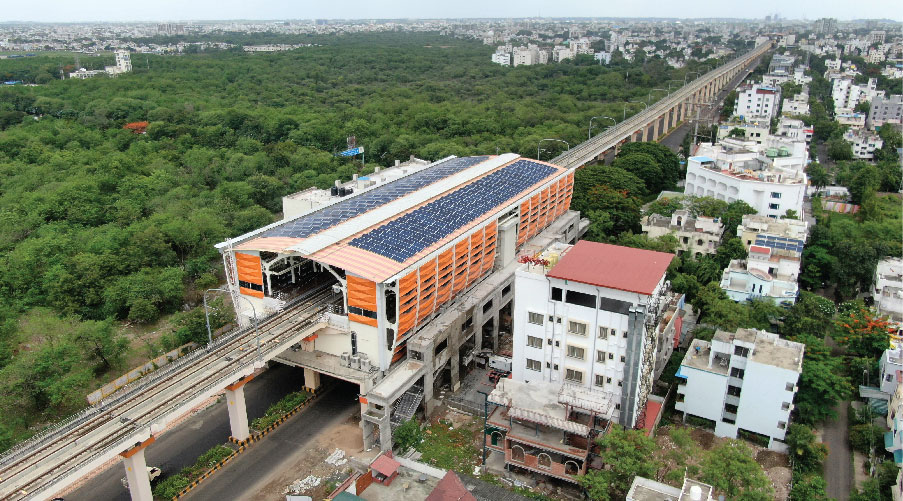 Could you share details about the upcoming projects and expansions for Maha Metro?
The approval for Phase-2 of the Nagpur Metro Railway has been received, and initial activities such as soil and geotechnical investigations are currently underway. Tender announcements are imminent, marking the initiation of construction for Phase-2.
Nashik Metro: The Detailed Project Report (DPR) has been revised and resubmitted following meetings with the Prime Minister's Office (PMO). Approval from the Aurangabad Smart City Development Corporation (ASCDCL) for the Aurangabad Metro Neo project is pending.
Thane Metro: The DPR for the Thane integral Ring Metro, approved by the State Government in August 2021, is awaiting approval from the Central Government.
Pune Metro Future Plans: Plans are advanced for extending Pune Metro Phase-1, covering about 10 km and 6 stations from PCMC to Nigdi, as well as from Swargate to Kathraj.
The 11km-long Navi Mumbai Metro Project (Line No-1), comprising 11 elevated stations, initially undertaken by CIDCO, faced considerable delays due to technical and contractual challenges. Contract terminations and claims from contractors further complicated the situation. Subsequently, Mahametro took charge to address the pending issues and complete the remaining tasks. Remarkably, within a span of just 2 years, Mahametro resolved these challenges and obtained CMRS clearance, rendering the section ready for inauguration.
for more info visit : https://www.mahametro.org/
40