Unveiling the secrets for efficient and secure metro station design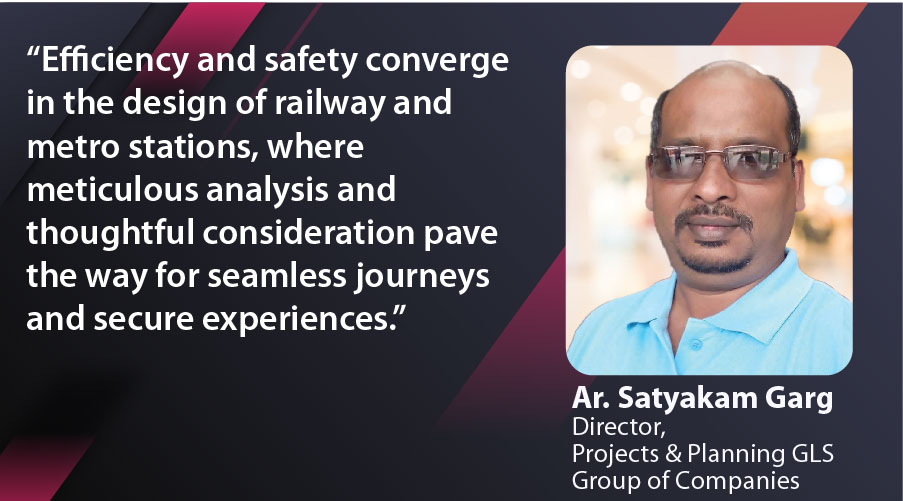 Ar. Satyakam Garg, Director – Projects & Planning GLS Group of Companies, discusses integrating designs for sustainable metro and railway stations.
When designing a railway or metro station, what factors do you consider essential for ensuring efficient and smooth passenger flow?
Key considerations include analysing ridership forecasts and accounting for boarding and alighting rates per minute during peak hours and in peak directions. Evaluating passenger travel times, including waiting times at AFC gates, is crucial. Factoring in vertical travel durations, encompassing movement from platforms to concourses and from concourses to ground levels via escalators and stairs is also essential. Additionally, adherence to evacuation time limits outlined by NBC/NFPA codes is important, and validation through simulations and computational methods further ensures preparedness.
How do you prioritise safety and security in the design of railway and metro stations? 
Yes, there are specific design elements for the safety and security of stations. It starts with kinematic envelope safety distances and minimum platform widths, ensuring safe distances from electrical overhead or third rail systems. Adequate widths of stairs and passages are maintained for evacuation, fire and life safety by codal provisions. This includes alarms, CCTV monitoring, public address systems, and security scanning of passengers. Restricted entry to non-public areas, the use of platform screen gates, and the deployment of staff at strategic locations are measures taken for safety and security.
How do you approach the integration of sustainability principles in the design of railway and metro stations? 
Sustainability principles align closely with those seen in modern green building projects. When it comes to stations, the use of performance-based materials for durability and minimal upkeep is essential. This involves creating stations and services that can withstand climate challenges, integrating energy-efficient technologies into MEP components, maximising natural light and ventilation, employing recycled materials, using modular construction methods, reducing heat retention, enhancing passenger comfort, ensuring accessibility, harnessing alternative power sources connected to the grid, refining acoustics for clear communication, and addressing vibrations and noise. Additionally, rainwater harvesting is another focal point.
What are your key challenges when designing railway and metro stations, and how do you overcome them? 
Metro stations often arise in existing roads and densely populated areas, posing challenges in securing the needed land for entrances and traffic integration. Handling existing utilities and managing traffic diversions during construction further adds to the complexity. To tackle these issues, designers must craft suitable solutions for permanent and temporary structures during construction.
Diverse technological approaches in construction methods and phases significantly shape the final design. For example, underground stations can be created through cut-and-cover, top-down construction with diaphragm walls or the New Austrian Tunnelling Method (NATM). The chosen construction method directly shapes design elements, demonstrating the intrinsic link between station design and construction methodology.
In your opinion, what role does aesthetics play in the design of railway and metro stations? 
Aesthetics are pivotal; stations serve as landmarks, and their aesthetics confer an iconic status. Visual treatments must create a comforting, enjoyable passenger experience while maintaining functionality and safety. Aesthetic considerations should harmonise with local architecture and culture. Stations also represent a nation's identity to international tourists, reflecting its history and ambitions.
Designers must select materials that meet functional needs and offer visual allure. For instance, a station's false ceiling design should excel visually while serving acoustical treatment, service integration, and easy maintenance. 
for more info visit : https://gls-group.com/GROUP/en/home
50