Sustainability and smart efficiency in high-rise buildings with 75F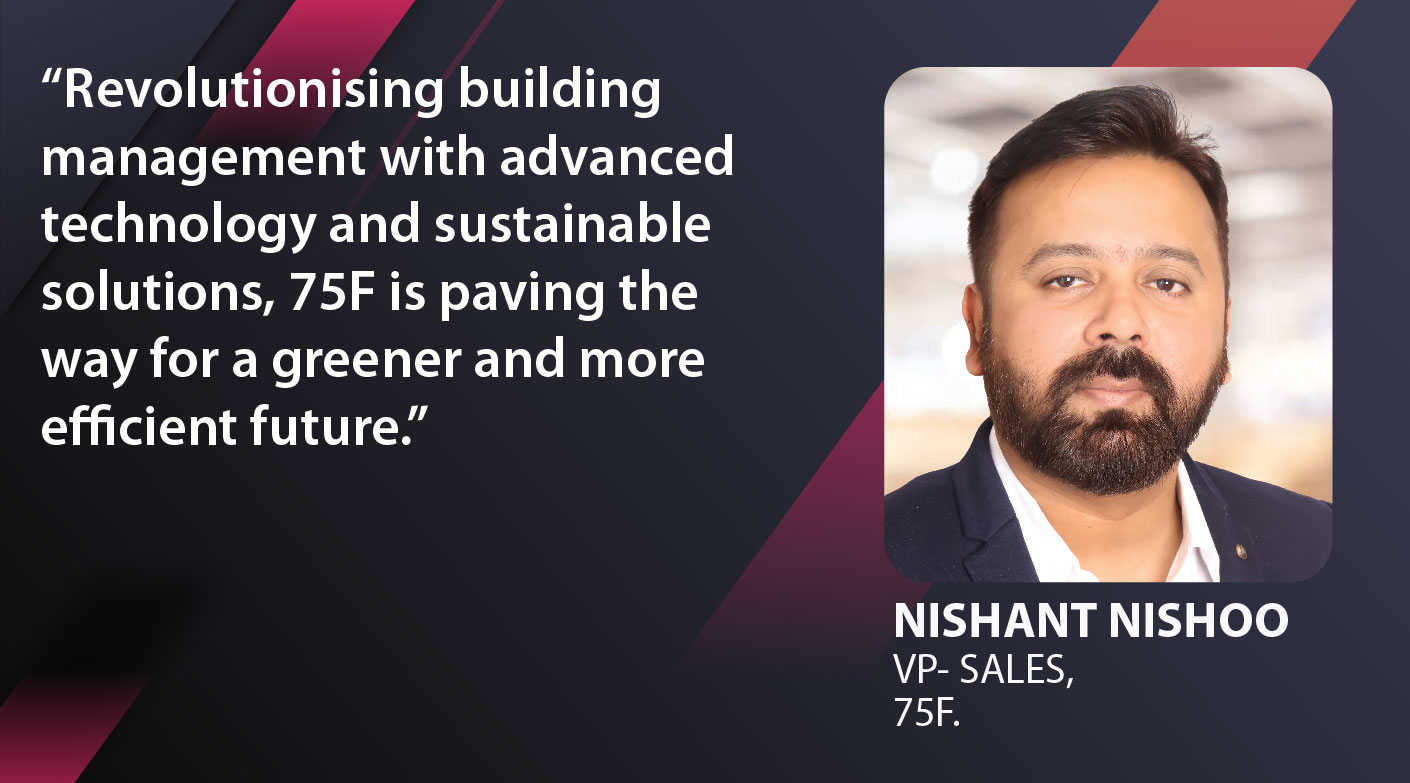 Nishant Nishoo VP- Sales of 75F, talks about how cutting-edge technologies, like those developed by 75F, empower high-rise buildings with sustainable energy solutions, shaping a greener, more efficient future for us all.
How does 75F integrate sustainable practices into its systems and solutions for high-rise buildings?
At 75F, we prioritise sustainability by focusing on the 3 P's – Planet, People, and Profits. Our full-stack hardware and software solution delivers industry-leading energy efficiency to building portfolios, helping customers meet carbon and ESG goals, improve sustainability ratings, and create long-term value for building owners, shareholders, and tenants.
Heating, cooling, and ventilating account for a significant portion of a commercial building's energy consumption. With smart HVAC controls, this process can be highly efficient. 75F addresses this issue by utilising cloud-based sensors and controls, allowing us to account for hot and cold spots before they occur. This leads to reduced CO₂ emissions; on average, a 75F installation in a 50,000 square feet space is equivalent to planting 161 trees. Nationally deployed, our system could save 564 trillion BTUs annually, equivalent to shutting down 29 coal-fired power plants or keeping 22.4 million cars off the road.
Can you elaborate on how 75F's technology contributes to energy efficiency and resource conservation in high-rise buildings?
75F's technology significantly enhances energy efficiency and resource conservation in high-rise buildings, providing numerous customer benefits. Our focus on social, environmental, and economic success leads to increased employee productivity, reduced energy consumption, lower operational expenses, higher property value, and improved profits. This commitment to improved OE2 is at the core of our approach.
By utilising continuous commissioning supported by sensor data, our solution becomes predictive and proactive, delivering up to 50 percent energy savings in HVAC and Lighting through IoT and Cloud Computing, significantly reducing utility bills. Additionally, our smart sensors consider indoor air quality and smart lighting, enhancing occupant comfort and indirectly boosting employee productivity, positively impacting the company's triple bottom line.
Our energy cost savings strategies include targeted cooling (12-26 percent), support for Variable Frequency Drive Fan, Enthalpy Economisers, Demand-based Ventilation (24-35 percent), and active energy cost control through time-of-day usage.
Notably, real-world examples demonstrate our approach's effectiveness. A leading co-working firm achieved up to 30 percent energy savings at their Bangalore facility compared to the projected baseline consumption, spanning their five facilities in India. Similarly, a global automotive company's Bangalore site saved up to 38 percent on HVAC energy and 27 percent on Lighting energy, significantly enhancing occupant experience and operational efficiencies. Moreover, one of the largest petrochemical enterprises experienced average monthly savings of 20-36 percent on AHU and Chilled Water energy consumption, amounting to 39,000 kWh saved per month. These accomplishments solidify 75F's leadership in promoting sustainable building practices and delivering tangible benefits to our esteemed clients.
Please provide an overview of the data security measures implemented by 75F to protect the information collected from high-rise buildings.
With O.R.A.N.G.E., you can have complete peace of mind, knowing that your data, applications, and networks are fully safeguarded against potential threats. Let's explore the key components of our security protocols:
Organisational Security: We implement comprehensive security policies and procedures across the organisation. Our regular training and awareness programs also educate employees about the best security practices.
Role-Based Access: Our platform utilises role-based access control, restricting system access based on users' roles and responsibilities. Furthermore, we employ multi-factor authentication for enhanced user authentication and verification.
Application Security: We adhere to secure coding practices, ensuring the development of robust and resilient software applications. Regular vulnerability assessments are conducted to identify and address potential weaknesses.
Network Security: Our platform employs intrusion detection systems to monitor and protect the network from unauthorised access. We have also designed a secure network architecture with load-balancing capabilities to support critical systems and data.
Gateway Security: To protect entry points into the network, we use secure gateway devices and applications. Application-level gateways are implemented to filter and inspect incoming and outgoing network traffic.
Encryption: We employ cryptographic solid algorithms to encrypt sensitive data at rest, ensuring its safety. Additionally, transport layer encryption is used to establish secure communication between systems.
In the context of data security, which specific certifications or standards 75F adheres to for high-rise buildings?
75F recently achieved SOC 2 Type 1 compliance, signifying our IoT-based Building Management System (BMS) meets the highest security and data protection standards. This is vital for organisations handling sensitive data like financial and medical records. Additionally, in June, we passed rigorous Vulnerability Assessment & Penetration Testing (VAPT), solidifying our position as the industry's Most Secure IoT-Based Building Management System. The VAPT, conducted by a reputable third-party firm, examined our network, applications, and cloud platforms, demonstrating zero critical vulnerabilities. At 75F, we prioritise providing smart and safe solutions to our valued customers and partners. 
for more info visit : https://www.75f.io/en-in/
55