Escorts CE targets double-digit growth in next 4 years on a CAGR basis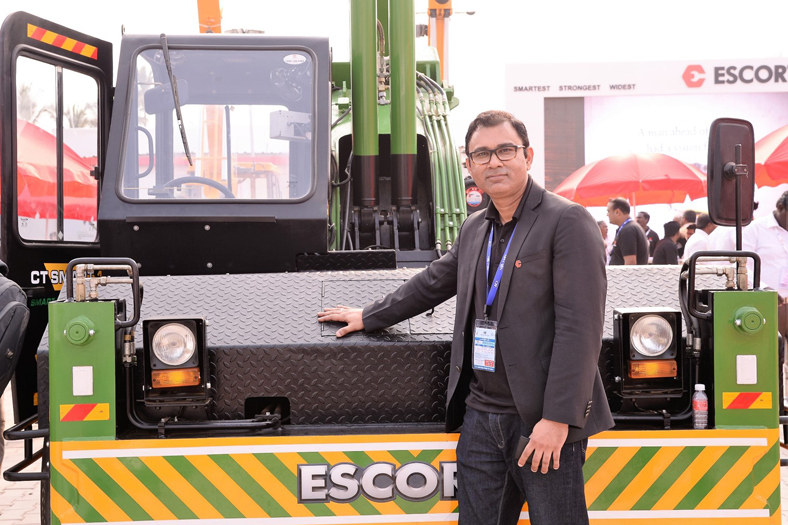 Escorts Construction Equipment (ECE), the construction and material handling equipment manufacturing arm of Escorts Limited, announced high growth targets for the next four years. The company will grow in double digits in the next four years, said Escorts Construction Equipment CEO Ajay Mandahr while talking to the media on the sidelines of EXCON 2017.
He said, "We are targeting double-digit growth in next four years. We are in the business of providing practical and comprehensive solutions to our customers in material handling, earthmoving and road construction space. Escorts currently enjoys over 40 per cent market share in the Pick-n-Carry Crane segment and is growing. Within Compaction Equipment segment, the target is to increase our market share to 15 per cent. In Earthmoving Segment our products viz Digmax-II and Jungli are well differentiated and offer several advantages over the competing products. Jungli is positioned as heavy-duty machine for hard strata application and caters to the niche segment where we are going strong."
Escorts Unveils India's 'safest' Pick-n-Carry Crane
Commenting on the newly launched products at EXCON, Rajinder Raina, GM – Marketing, Escorts Construction Equipment said, "We have unveiled India's safest-compact crane, ESCORTS CT Smart 15 and best-in-weight class Soil Compactor ESCORTS 3212"
He adds, "CT Smart 15 has the highest safety on minimum foot print/area with auto derating 'load chart in articulation'. The newly launched CT Smart 15 Crane, has unique anti-lifting features that provides enhanced safety on the site. Developed with indigenous R&D, in sync with Make in India, CT Smart 15 Crane has turning radius of just 6 metres that competes with today's SUVs. This crane has the lowest boom overhang of 3.33-metre; 3-part,1.5-metre fully powered boom with a lifting capacity of 14-tonne at snatch block. Multiple other standard features make it the most suitable crane for the brown field Smart cities with restricted space for manoeuvrability."
Participating in the 9th international construction equipment and construction technology trade fair at Bengaluru, Escorts showcased its robust product portfolio in material handling, soil compaction and earthmoving equipment. All construction and material handling equipment from the Escorts comform to the current emission norms. Escorts 3212 is the top of the line compactor with the best specifications and performance characteristics. It has been designed particularly for expressways, highways and urban roads on the application front. It will target corporates and fleet owners who look for compactors that can work 24X7 with night lighting provisions. This compactor will take production to the next level, adds Mr Raina.
Future roadmap
The Escorts Group is among India's leading engineering conglomerates, operating in the high-growth sectors of agri machinery, material handling, construction equipment and railway equipment. The Group has earned the trust of over 5 million customers by way of product and process innovations over seven decades of its existence. Escorts endeavours to transform lives in rural and urban India by leading the revolution in agricultural mechanisation, modernisation of railway technology and transformation of Indian construction.
"Our USP is value innovation and most competitive operating costs. The demand for safer and more productive solutions has brought a zing to the construction and material handling equipment manufacturing industry and we at Escorts are fully equipped to cater to the same," asserts Mandahr.
Brand Escorts has credible footprints in the SAARC, Middle East, Latin America and Africa and exports therefore would be a key driver for the company's overall growth strategy. The company is also exploring other opportunities in complementing product segments to further expand its portfolio.
CT Smart 15 has the highest safety on minimum foot print/area with auto derating 'load chart in articulation.
Rajinder Raina, GM – Marketing, Escorts Construction Equipment Ltd
14