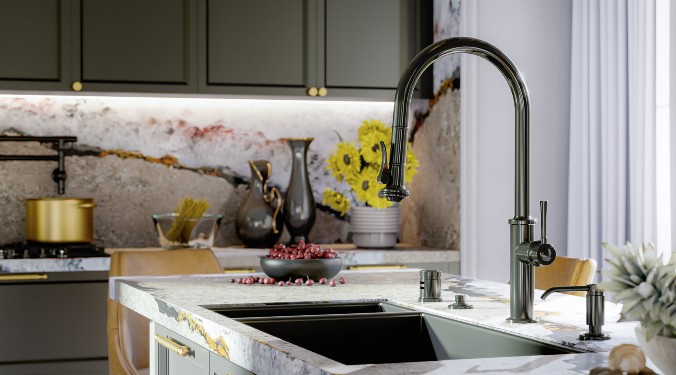 GRAFF, a renowned global leader in luxury bath and kitchen fixtures, proudly introduces the Segovia Collection, a masterpiece inspired by the iconic Segovia Aqueduct in Spain.
This exceptional collection seamlessly blends form and function, drawing inspiration from the aqueduct's architectural brilliance that has withstood the test of time for close to two thousand years. The Segovia Collection offers a diverse palette to complement various kitchen aesthetics, available in a range of luxurious finishes, including Steelnox® Satin Nickel, Onyx, Polished Chrome, and Polished Brass. Each finish is meticulously crafted to enhance durability and maintain a flawless appearance over time.
The Segovia Collection is a testament to GRAFF's commitment to excellence, combining strength, style, and a timeless silhouette. Mirroring the Segovia Aqueduct's 167 arches, the collection's graceful arc and flowing lines pay homage to the historical structure, creating a kitchen ensemble that exudes elegance and sophistication.
Ziggy Kulig, CEO and President of GRAFF, expresses his enthusiasm for the Segovia Collection, stating, "The aqueduct of Segovia transported water for close to two thousand years. Its brilliant engineering and design make it a compelling symbol of functionality, durability, and aesthetics, embodying GRAFF's standards of excellence and our Art of Kitchen philosophy."
The precision-engineered features of the Segovia Collection enhance functionality, ease, and versatility in the culinary space. GRAFF's dedication to innovation is evident in every detail, ensuring that this collection not only meets but exceeds the demands of modern kitchen design. The thoughtful incorporation of Segovia's architectural elements brings a touch of history and artistry to the heart of the home.
As GRAFF continues to push the boundaries of kitchen design, the Segovia Collection stands as a testament to the brand's commitment to merging art and functionality. Transform your kitchen into a timeless space that echoes the enduring legacy of the Segovia Aqueduct with GRAFF's Segovia Collection.
For more info visit : www.graff-designs.com
19