Greenlam's products meet a range of environmental standards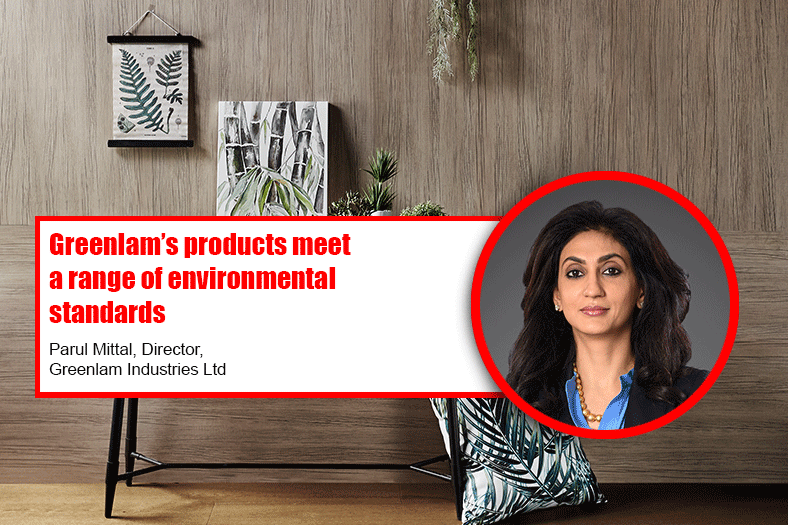 The firm has also invested in responsible processes as a result of which not a single day's production has been lost on account of environmental non-compliance says Parul Mittal, Director, Greenlam Industries Ltd.
What makes laminates sustainable and eco-friendly?
Healthy living has become a priority for people as they have become more cognizant about the impact of their surroundings on their health. Therefore, eco-friendly laminates are topping the preference chart for many people.
At Greenlam Industries, our objective is to reduce the carbon footprints and consumption of natural resources through clean technologies. Our products also meet a range of environmental standards including ISO 14001, OHSAS 18001, FSC and Greenlabel Singapore. Additionally, Greenlam does not employ toxic inputs or materials that may be considered unhealthy for ecology, employees, society or users. The firm has invested in responsible processes as a result of which not a single day's production has been lost on account of environmental non-compliance. In addition to that, all the emissions and wastes have been within statutory guidelines.
What are some of the spaces in contemporary home and commercial interiors where laminates can be used effectively?
Laminates are multipurpose and versatile and can be used in both residential as well as commercial areas. Moreover, laminates' durability and easy maintenance allows them to withstand the regular usage for a longer period. When it comes to residential areas, laminates can be used for kitchen shutters, wall paneling, furniture pieces, wardrobes and doors. However, it is important to know that there are certain laminates which are better suited for specific spaces.
For kitchen area, Anti-fingerprint laminates (AFX) are perfect as they make the surface non-porous and hydro-repellent which makes it easy to clean impurities and grease marks. For living rooms and bedrooms, VRB laminates are textured laminates and come in an assortment of wood patterns that give a cozy and comfortable essence to your area.
Greenlam laminates come with anti-bacterial properties which retards the growth of bacteria upto 99.99 per cent you can be rest assured with a healthy and protected lifestyle. For a sector like healthcare which majorly includes spaces like hospitals and laboratories, safety and wellbeing highly depends on the kind of sterility that is being maintained. Here, Greenlam's Lab Guardian Compacts which are resistant to harmful chemicals and organic solvents come into play.
When it comes to commercial spaces like shopping malls, we suggest opting for superior gloss level laminates like HD Gloss laminates which are resistant to MAR, bacteria, abrasion, stain, scuffs, scratch, impact and heat.
Talking about dynamic hospitality establishments, the company's focus remains on customer service, experience and care. In hotels, the reception or waiting area always witnesses high traffic and contact with surfaces. Here, Greenlam AFX Anti-bacterial laminates and compacts can withstand the harsh treatment as table tops, wall paneling or seating area. It is specially designed under high temperature to create a non-porous and impression-free surface making it easy to clean impurities or grease marks.
Coming to Greenlam Sturdo, it is an incredible assortment of restroom products, comprising of aesthetically designed restroom cubicles, specially adapted hand holds for physically disabled and impressive Privy Divider Panels which are extensively used for commercial applications and in public areas. However, restroom cubicles are also widely used in hotels as they are easy to install and take very limited space. Moreover, Greenlam Sturdo provides installation in just 24 hours with excellent hygiene properties. It is brilliantly designed and widely durable, New Age Locker Systems are suitable for Indian climatic conditions that work ideal for high humidity areas such as fitness clubs, sauna rooms, swimming pools, retail environments and sports centers, spa and gyms.
How can digital laminates be used to good effect in home interiors?
Digital laminates are customized printed laminates for interior décor which not only look great but are highly durable when it comes to surfacing solution. You can explore from artistic expression, family collage to your love for music, as digital laminates allow homeowners and business owners to get their favorite photos or graphic designs digitally printed on the surfaces.
For home interiors, digital laminates can offer endless aesthetic possibilities that hold the power to transform the look, feel and utility of your home and whether it is your wardrobe, living room, bedroom or kitchen. With exceptional durability and superior print quality, Greenlam's Reflection collection of digital/custom laminates offers a wide variety of colors and patterns. Most importantly, these digital laminates are easy to install maintain with resilience to stains and damage.
What kind of laminates are best suited for restaurants and kitchens?
Since we spend a considerable amount of time in our kitchen, looking at the current times, this area needs to be antibacterial and hygienic. Here, a laminate with wholesome properties like antibacterial, antifungal, impact and stain resistant can prove to be highly valuable.
For kitchen shutters, it is ideal to go for specialty laminates like HD Gloss as they are abrasion as well as MAR resistant and come in a glossy finish which looks classy and refined. Even, anti-fingerprint laminates (AFX) are perfect for kitchen spaces when applied to doors, wall panels, shutters or table-top, as they make the surface non-porous, hydro-repellent and comes with superior scratch resistance which makes it easy to clean impurities, and grease marks. You can also use wood pattern laminates from Greenlam's extensive range of wood grain laminates for cabinets which will invoke warmth in your space.
Talking about restaurants, there are various interior elements that are used daily. When it comes to doors, storage and pantry, it is again advised to use Anti-fingerprint laminates which makes the surface impression free. Moreover, these laminates are heat, stain and scratch resistant which makes it durable for daily heavy use like in a restaurant. Furthermore, Unicore laminates are ideal for premium furniture pieces as these are unicolour with no visible dark edges. They blend flawlessly with the rest of the décor and aesthetically look very premium and upscale to the eyes.
16