High-performance concrete is critical for construction and roofing today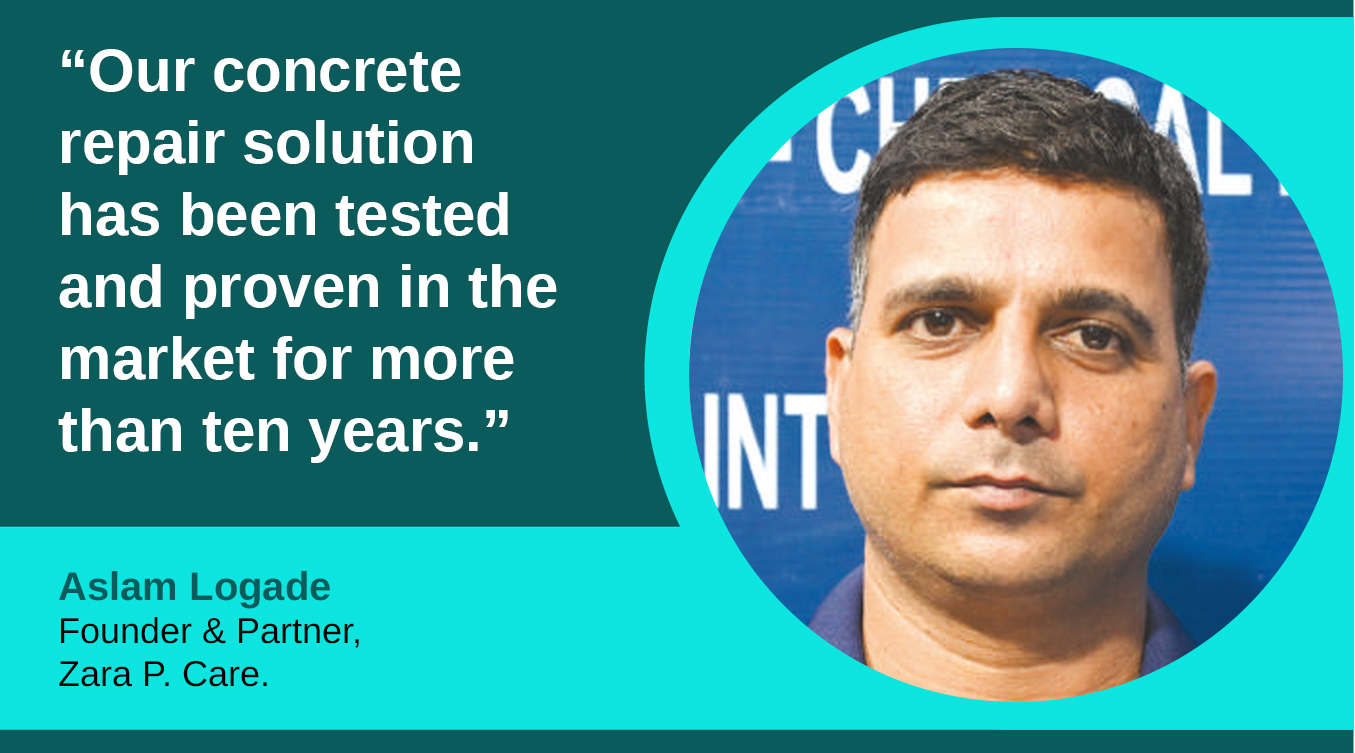 Zara P. Care showcased its chemical-resistant roof sheet, high-performance coatings designed to withstand explosive substances, chemical-resistant flooring, and fast flooring repair solutions at the exhibition.
Participation and focus during the Roof India Expo
At the Roof India Expo 2023, we seized the opportunity to address two specific segments as exhibitors. We looked into the user concerns of typically neglected market areas, including chemical fertiliser, battery, and steel manufacturing pickling units, which have roof sheets that can be damaged within one to two years. We have introduced CRP-FLR, an innovative solution with chemical-resistant sheets with three to five years of warranty. We also provided a consolidated solution for chemical resistance with our roof sheet, offering a more economical alternative to the costly ASI or aluminium roof sheets. Additionally, we showcased our fast concrete repair solution, which has been proven in the market for over a decade. It is chemical-resistant and temperature-resistant and allows traffic within four hours of application. The event provided us with opportunities in both roofing and flooring solutions.
Products and solutions highlighted during the Roof India Expo
We exhibited our chemical-resistant roof sheet, designed to withstand highly explosive substances like bromine and chlorine. We also offer high-performance coatings for this segment. In terms of flooring, we provide chemical-resistant flooring and fast flooring repair solutions. These are the main products we are showcasing at this exhibition.
Target market and their pricing factors
The market is vast and open. Despite exploring the entire exhibition, one would not find a specific company offering a solution to safeguard roof chips from fluoride, sulphide, flooring, hydrochloric acids, or alkaline. From an industrial perspective, our markets are all green areas of the industry, such as chemical fertilisers, pickling lines, flooring for housing, and the JNPT port area.
Durability and weatherability characteristics of these solutions
From a flooring standpoint, we have been in the market for over a decade and have established our credibility. We are confident that our product will last for at least ten more years. Regarding roofing, we have conducted laboratory and client trials to repair existing roof sheets and apply a new roof coating to new sheets. The duration of the solution ranges from three to five years. In terms of cost-effectiveness, our solution proves to be more economical when compared to SS and aluminium roof chips, especially when considering the economy of scale.
Capital investments in product development in the coming years
While finances certainly hold importance, the most significant investment lies in an individual's time and patience. Concerning our upcoming endeavours, our primary focus is on insulative coatings. The alarming CFCs and global warming surge have prompted us to devise cooling solutions. Furthermore, we are proud to have developed a coating for glassline reactors and a radar absorption coating. These are the three cutting-edge fields that we are currently exploring.
For more details: http://www.zaracare.in/
27