Integrating electrical safety into construction sites: Best practices and challenges in India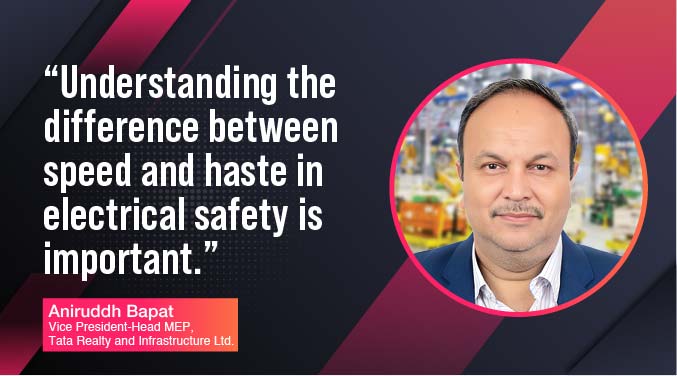 Aniruddh Bapat, Vice President-Head MEP Tata Realty and Infrastructure Ltd, discusses the importance of electrical safety awareness and practices.
How can electrical safety be integrated into construction site safety plans?
To integrate electrical safety into the overall safety plan for construction sites, it is important to include electrical safety and personal protective equipment (PPE) as fundamental aspects of the safety plan. This can be achieved by obtaining work permits that provide all concerned parties with the necessary information to ensure safe work practices are being followed. Additionally, it is essential to regularly inspect and maintain all electrical equipment, provide training on safe electrical work practices.
What are some best practices for promoting a culture of safety awareness?
Deploying and inducting a qualified and licensed workforce, such as supervisors and electricians, is required for electrical work. As specified by Electrical Inspectors, authorised persons should be allowed to work on EHV, HT, and LT lines and have all necessary personal protective equipment (PPE), including hand gloves, earth rods, and test pods, to carry out the electrical work. Before starting work, live lines must be isolated and switched off to avoid accidentally switching on deadlines and having localised control of power can further prevent accidents.
What are the challenges in implementing construction safety guidelines and regulations in India, and how can these challenges be overcome?
The challenges are primarily a need for more awareness about the risks of unsafe work practices. If people know the risks involved, they will do the work safely. We must understand the difference between speed and haste. Speed never asks you to compromise on safety, but haste certainly will.
I propose allocating sufficient time and resources to tackle these obstacles and ensuring the program is effectively communicated to all relevant parties. We have obtained their approval to proceed with HT and LT lines' shutdown to prevent electrical accidents. During construction projects, it is crucial to avoid unsafe practices such as using poorly maintained equipment, working with loose wiring or open connections, and failing to ground electrical connections properly. Adopting a safety-first culture will go a long way in establishing construction sites as secure working environments.
What are the causes and consequences of electrical accidents in industrial and construction sites in India?
Electrical-related incidents are responsible for a significant proportion of workplace accidents in India. Faulty electric wiring and appliances cause 20 percent of non-residential accidental fires, accounting for 5,000-6,000 incidents. The Central Electricity Authority attributes almost 40 percent of workplace deaths to electrical issues. On average, 13 electrocution deaths occur in India each day, the highest in the world. In the construction industry, electrocution is a leading cause of worker fatalities, accounting for 15 percent of fatal accidents. Construction sites are particularly hazardous due to exposed wiring, power lines, and unfinished electrical systems. Workers can be electrocuted while using hand tools or carrying out electrical work.
For more info visit : https://www.tatarealty.in/
107