MagicLite ALC Wall Panels: Helping you build better and affordable homes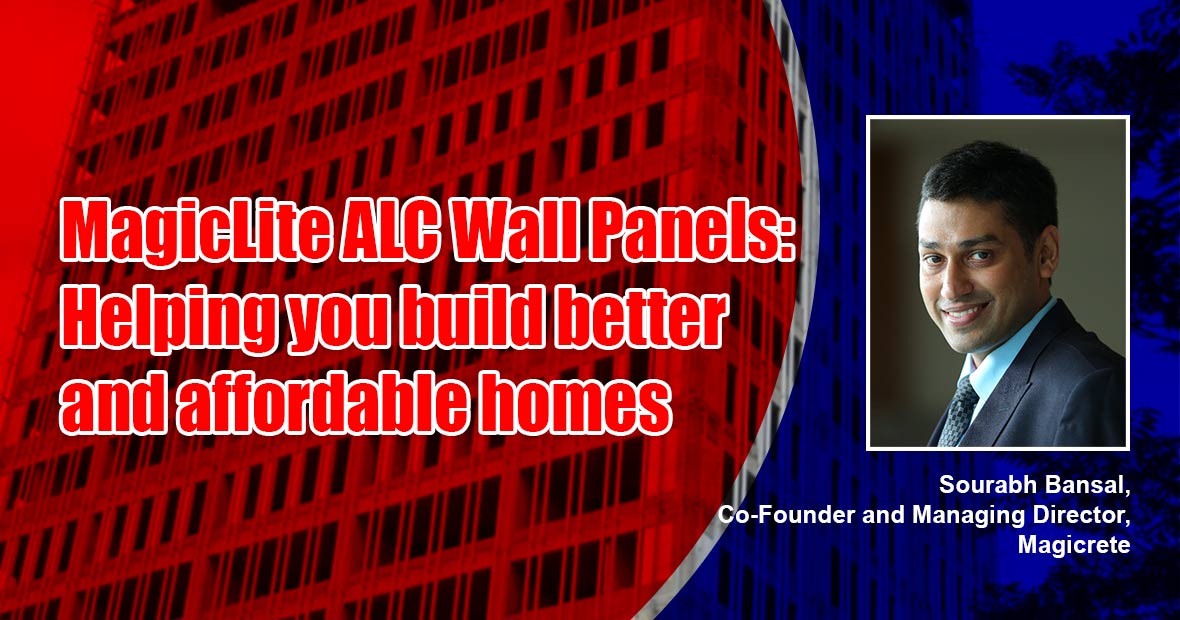 Magiclite ALC Wall Panels are full height wall panels, steel reinforced, lightweight yet heavy duty product which have been long desired by builders, engineers, architects and consumers.
Magicrete is considered to be one of the most innovative building materials companies in India. What according to you has Magicrete achieved in its 10+ years journey in the building material space and what's new and innovative in the bucket list?
Today, Magicrete is one of India's most well known new age building materials companies. With the immense success of our flagship product, AAC Blocks, Magicrete has, over the years, ventured into a wide range of construction solutions, including ALC Wall Panels, construction chemicals (tile adhesives & waterproofing solutions) & Modular Buildings.
Magicrete products over the past decade have been used to build over 5 lacs+ homes. Already among the top 3 players in the AAC Blocks industry (an industry with over 100 players) and an installed capacity of 8,00,000 CBM per annum, we intend to double our capacity over the next 5 years to become India's largest block/brick manufacturer. We are currently present in 14 states, top 30 Indian Cities through more than 2000 retail outlets.
In 2019, we launched MagicPOD 3D Modular Precast Technology, with which we have been able to achieve 90% industrialization in house construction. Recently, our technology won the Global Housing Technology Challenge (GHTC) organized by the Ministry of Urban Affairs (saw participation from more than 150 construction technology providers from across the globe) to build 1008 dwellings in Ranchi.
Innovation runs in our veins, and with the recent launch of MagicLite ALC Panels, we are disrupting the walling industry once again. The product is a major advancement of our AAC block and is expected to speed up wall construction by 4x as compared to AAC Blocks.
Tell us about the MagicLite ALC Wall panels offered by Magicrete?
With the launch of MagicLite ALC Wall Panels, Magicrete again stands true to its vision of 'helping people build their homes better, faster & cheaper by using innovative construction technologies.'
Magiclite ALC Wall Panels are full height wall panels, steel reinforced, lightweight yet heavy duty product and incorporate features that have been long desired by builders, engineers and architects in the building construction industry. Its benefits surpass traditional wall construction methods like clay bricks & concrete blocks in terms of strength, acoustics, thermal insulation, fire resistance and installation time.
The need for speedy construction, global housing shortage and high safety standards for fire & natural disasters have been instrumental in its fast global acceptance. It is prominently used in countries like Germany, Singapore, China and many more, with 30% share in the Global AAC market. In addition, the rise in demand for prefabricated construction material will help ALC panels to gain a larger market share.
The pre-launch of MagicLite ALC Panels saw massive product acceptance by some of the most prominent developers & architects in Delhi & Mumbai and is currently being used in a premium residential project of a Tier-1 developer in Mumbai.
Hopefully, with MagicLite ALC Panels, we will be able to bring the same revolution we brought a decade ago with our MagicBlox AAC Blocks by disrupting the Red Clay Bricks industry.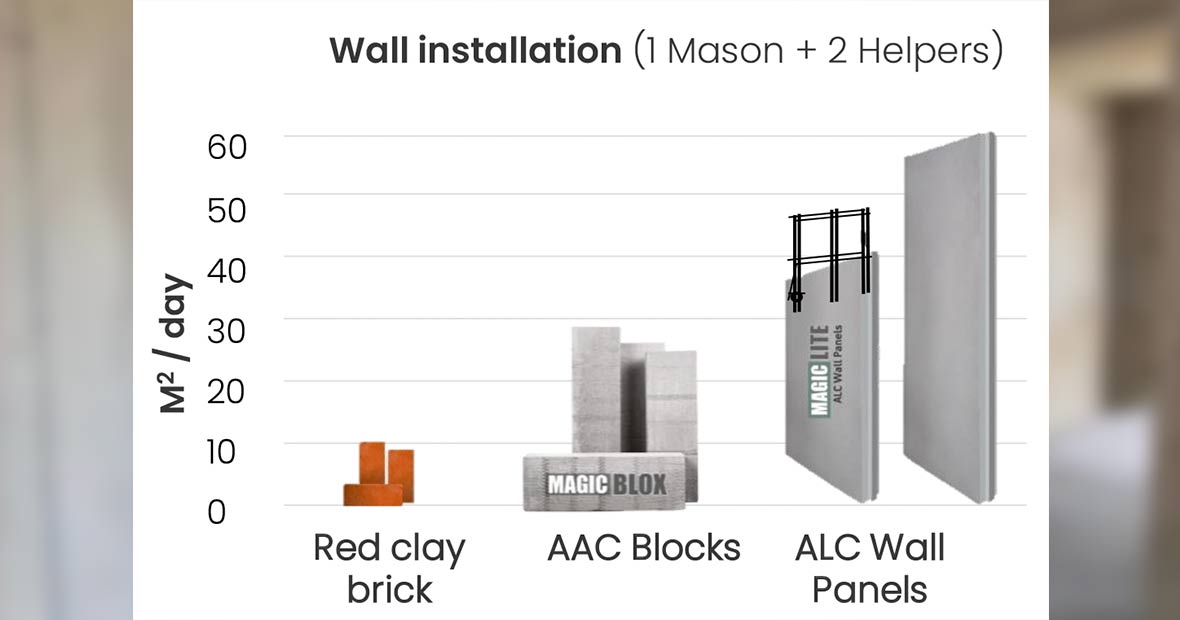 How can MagicLite ALC panels offer energy savings in both hot & cold climates?
Thermal Performance of a building system is concerned with retention of energy and reduction of greenhouse gas emission.
MagicLite ALC Panels have a unique cellular structure that constitutes about 75% to 80% air pores. These air pores are responsible for their low thermal conductivity (highest in the industry; K value: 0.16).
The low thermal conductivity helps MagicLite ALC Panels in maintaining and retaining indoor temperatures. Thus, the indoors will be cool during summers and warm in winters. As a result, these panels can reduce substantial energy loads and generate energy bill savings of around 25-30%.
To achieve the desired level of sound insulation in homes and office spaces, what should be the thickness of the MagicLite ALC wall panel?
MagicLite ALC Wall Panels possess natural sound insulation qualities. Noise insulation of these panels varies between 40-60Db depending on the thickness of the panels and surface treatments. They can work as sound absorption and a sound resistance material simultaneously, which is unlikely to be present in other building materials. An excellent STC rating of around 43 (for a thickness of 100 mm & skim coat of 3-4 mm) making MagicLite ALC Wall Panels an ideal choice for areas requiring high acoustic performance (ideal for hotels, industrial, hospitals, commercials, schools and residential uses).
To further enhance the acoustic performance of ALC panels, install a gypsum board with stud framing on both sides.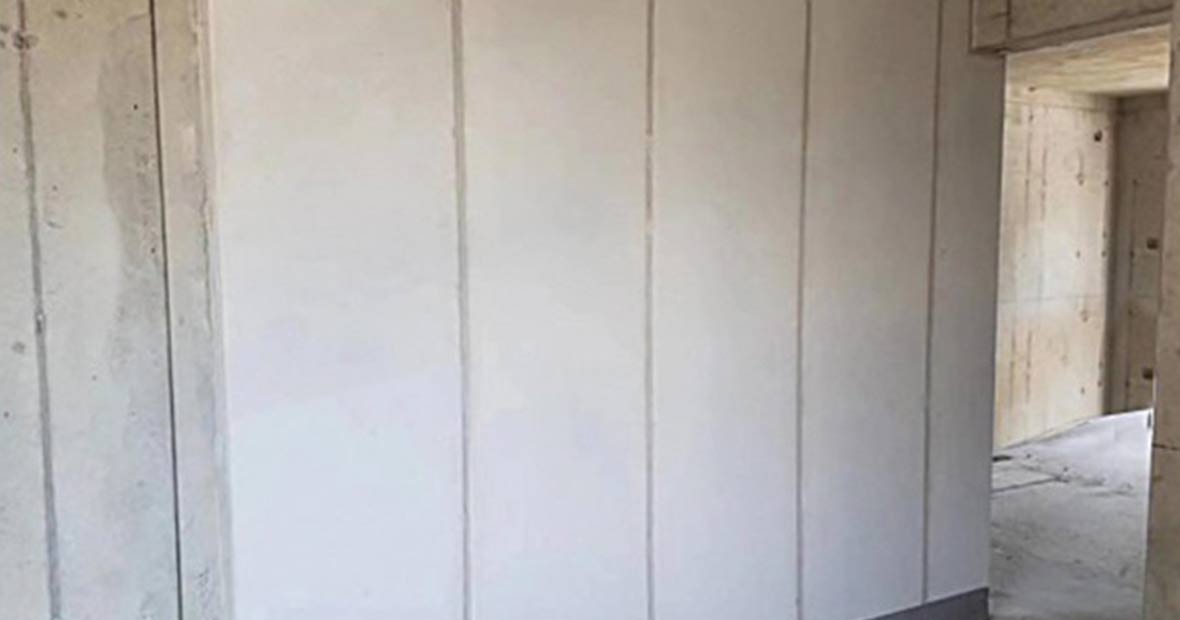 How do MagicLite ALC panels catalyze the speed of construction and thus help the designer/contractor meet deadlines effectively?
With great success in global markets, the ALC Wall Panel technology offers durable & high quality construction in the shortest possible time.
MagicLite ALC Wall Panels is a dry walling technique and a step in the direction of modular construction which involves manufacturing of large elements in a factory & installing at site.
We at Magicrete are promoting AAC Blocks, ALC Panels and precast products, which increase the speed of construction from 4 times to 16 times more than brick masonry. A team of 1 mason + 2 helpers can construct up to 400 sq.ft of wall per day. Its tongue and groove fixing arrangements are quick and simple and uses only thin joining mortar and putty. These panels can be cut & chased easily making conduit and openings easier.
What can be said about the fire safety protection MagicLite ALC panels offer?
What kind of projects does this quality make it suitable for? MagicLite ALC Wall Panels has a unique cellular structure that provides a superior fire rating of around 4 hrs. for a 100 mm. The melting point of these panels is over 1600°C, which is much higher than the typical building temperature of 650°C. As a result, they do not release smoke or toxic gas during a fire incident. This is the most recommended product for fire safety walls.
Apart from fire safety wall construction, MagicLite ALC Wall Panels are suitable and certified to be an excellent building material for residential, hotels, commercial, industrial, and warehouse buildings, schools, hospitals, etc., in any terrain and all climatic conditions. It is used for both external and walls, load-bearing or non-load bearing walls, basement walls, infill walls to framed structures, partition walls, fire exit walls, etc.
76