Making India's Roads Safer and Greener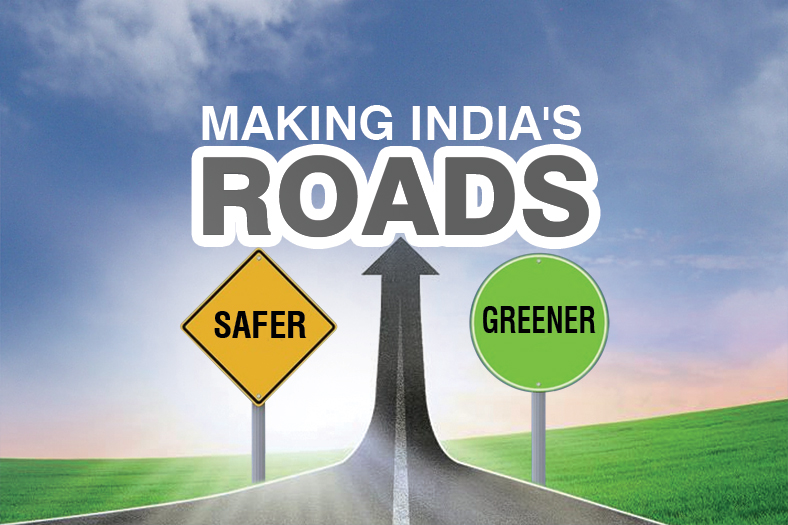 The road sector in India is rapidly scaling new heights with the highest-ever project-awarding of 17,055km,and road construction touching 9,829km in FY18.Here, industry experts delve in to the details of how to make India's roads safe and green.
Indian companies should collaborate with global manufacturers
India has huge road network and a greater potential to build more. However, much is required to be done in this direction. Explaining the ways to make our roads safe as well as green, Ajay Aneja, Brand Leader, CASE India, said, "We need to keep a check on the quality of the roads being built. There should be an incident management system in place with both medical as well as emergency services available. The highways need to be intelligent where the traffic can be constantly under surveillance."
It is often seen that in order to curtail the prices of the road construction equipment, Indian manufacturers take an easy approach towards safety and quality parameters. Hence, Aneja believes, "for future, they will have to understand that better quality equipment gives extra output from the same equipment than those without such features. Indian companies need to form joint ventures with the global manufacturers and give the right technology to Indian customers."
Equipment like motor graders, loader backhoes and vibratory compactors are important equipment for constructing roads. CASE has a full line of powerful and robust equipment for road construction and general construction. CASE India has been one of the leaders in the compactor segment which forms the lifeline of any road construction activity.
CASE launched its 752 EX Vibratory Tandem Compactor in EXCON 2017. CASE has 1107EX, 1107 EX-D, 1107EX-PD (11 T Class) Vibratory Soil Compactors and CASE 450 DX Vibratory mini Tandem Compactor (3T Class) in the compactor's segment.
CASE in its motor grader's segment have two models, 865B model with triple horsepower and 845B with dual horsepower to match the power requirements of various applications and deliver optimum fuel efficiency.
According to Aneja, the backhoe loader is the most popular construction equipment sold in India. CASE which is among the top players in this segment has a wide offering for its customers ranging from 76HP to 96 HP. The company recently upgraded its offering to PRO series LB with higher productivity and better fuel efficiency. These machines were launched during EXCON 2017 along with only loader – OL which is customised for the Indian market. Customers can choose upon what suits them the best according to the specifications.
Move towards more sophisticated road building materials
Roads are the lifeline of India. As per one of the recent studies, around 60 per cent of goods and passenger traffic in the country moves on road. This is much higher as compared to developed nations like the US where only about 30 per cent of traffic moves on road.
"Road safety has many aspects to it. It can be broadly classified as – technological and behavioural," observes Ashish Tandon, MD, Egis in India. He said, "Technologically, India needs to move towards more sophisticated materials in the construction of roads; materials that prevent skidding on the roads and prevent tyre bursts due to heating at high speeds." He also added that, there are lots of technological advancements in the traffic management and signalling which can be deployed to make roads safer.
However, Tandon points out: "The bigger challenge lies in the behavioural aspect. Traffic rules need to be followed more strictly, speed limits need to be adhered to. Also, there needs to be a culture of avoiding the use of vehicles and using alternative means like battery-operated vehicles, mechanical devices like the bicycle or walking. The government needs to promote public transportation and ensure the last mile connectivity more robust."
Leverage the benefits of technology
"In today's 'e-age', leveraging the benefits of technology to scale up our effort in making our roads safer and greener is no more a choice but a 'must do' activity," acknowledges Sharwan Agnihotri, Head – Marketing & Business Development, Hyundai Construction Equipment India. He adds, "Government's initiative of integrated traffic management system is a welcome step and we would like to see its early implementation on our roads. I would like to emphasise upon the fact that road safety should be an inbuilt feature of design and construction of road, not only for national and state highways but also for rural roads. The construction standards for rural roads under PMGSY also need to be defined to ensure quality of construction."
Effective communication matter
Construction of roads both rural and urban is a priority for the government and is doing everything in its power to ensure faster construction of roads across the nation. "While many road construction machines are available, they are better suited to the needs of the bigger companies that dealing large long-term projects that span over years," observes Manish Arora, Business Head, Mahindra Construction Equipment. He further points out: "When it comes to the small and medium players, the huge machines are not only expensive but also ill-suited for most parts of rural India and the small size of projects at hand. Customised solutions are required to suit the fast changing and varied requirements of a developing nation."
He acknowledges that it is no longer enough to create one machine and expect to suit the needs of all. Buyers have become more educated and demanding in terms of wanting machines suited to the kind of work and environment that they work in. The biggest example of this is the motor grader of international brands being obsolete for use in construction of narrow rural roads due to its size despite the technology being more advanced and quality of machines being superior, reveals Arora.
Customisation in the key
For most developed countries, there is only one single language that is used for communication across the country. But with a country like India where there is no unifying language and different language is spoken in every district and state, it becomes counterproductive to have all instructions about the machine in a single language. According to Arora, this simple customisation helps interact better with the operator.
Machine abuse and fuel theft are a major issue across the country. Uncertified operators tend to work the machines inappropriately. Simple software customisations help keep a log of the machine's data for future reference. It also helps keep track of the machine's numbers in terms of efficiency and fuel consumption. The customised software help run trouble shooting and diagnostic measures to ensure safety and efficiency of the machines.
The operator friendly console of the Mahindra RoadMaster provides SMS service so that the owner can keep track of the machine's location and fuel consumption amongst other things. The console sends the owner a SMS when the machine is running low on fuller when there is something wrong with the machine and requires repair. The console provides instructions to troubleshoot the issues with the machine to reduce the down time of the machine and catch trouble in its initial stages.
Internet of Things (IoT) is becoming increasingly popular with construction equipment too. This kind of technology integrated with the machine lets the operator get a better picture of the jobsite anyhow to get it done best and fastest, said Arora. Software have been developed to bring down the time required to get a certain job at hand done. Small customisations go a long way with a developing nation on the fast track.
Communication between machines will most likely change the way humans are required to operate the machine. Machine-to-machine (M2M) communication will reduce the onsite human interactions while increasing efficiency and safety on the sites. While it is already happening the developed nations, India still has to go a long way to be able to utilise this kind of technology to its helm given the current lack of connectivity infrastructure in rural parts of India, Arora points out.
He observes, "There is no doubt that customisation is now key when it comes to the world of development. Customisations have to be in sync with the market and the on-ground realities for making the most of it."
With the aim to provide customised solutions Mahindra Construction Equipment studied the road construction machinery. Their study revealed that the current road making machineries are dominated by imports and foreign manufacturer where the products are being made keeping in mind the needs of the developed worlds. "Whilst in the developed world 60 per cent of roads fall in our category of the multilane express and state and national highway, they constitute only 6 per cent of overall roads when it comes to India. The equipment currently available are too large and expensive hence grossly unutilised and non-viable for most village and unsurfaced road projects which constitute 58 per cent of total roads in developing countries like India. This also results in very low sales volume of equipment in spite of the large quantum of road work. Absence of tailor-made equipment suitable for our needs lead to sub-optimal methods with limited mechanisation and large labour force deployment. This leads to issues such as bad quality of roads and speed of road making apart from availability and control of labour force in large numbers," Arora said.
JCB enhances Compactor portfolio
The roads and highways are one of the key drivers for the growth of infrastructure industry in India but at the same time, road safety is one of the major concerns for which the government is taking several steps and has escalated its efforts to endorse awareness about it in all its aspects, said Jasmeet Singh, Head – Corp Comm and External Relations, JCB India Ltd.
In order to meet the needs of the Indian roads, JCB has made a new and innovative addition to its Compactor portfolio in 2016 with the launch of JCB 116 Soil Compactor. "JCB116 Soil Compactor is equipped with proven German Vibration Technology and is designed to give more compaction per litre. It guarantees desired compaction density in a minimum number of passes," claims Jasmeet.
JCB India claims to be the first manufacturer in the industry to offer an in-built Compaction Meter in its range of Compactors. Designed and developed in India, the Compaction Meter ensures uniform compaction as the operator exactly knows where to stop and the number of passes that are required to achieve the desired density. This leads to a uniform compaction density and savings in Fuel as well as time. It helps in reducing the number of passes and also avoids over compaction.
All JCB Compactors come with a revolutionary telematics technology – the JCB Livelink. Livelink technology in JCB machines would benefit customers in the better management of their machines which would lead to better expense management and timely completion of work. This state-of-the-art technology enables users to get SMS alerts on their mobile phones or smart devices regarding service alerts, operations, and security of their machines.
The information is available in real time regarding the health of the machine including engines and gives vital information to the customer in terms of no. of hours the machine has been
operational, service intervals, fuel levels, malfunctions if any, etc.
Lead a sustainable development
According to Gaurav Soni, General Manager, KKG Group, Udaipur, "The situation is problematic in India because of lack of proper infrastructure facilities, poor road designs, poor implementation of traffic rules and regulations and a high load of a range of vehicles on the roads." However, he believes, plantation of trees along the highway sides is essential to enhance the green cover of nation.
On the other hand, he adds, "By installing V2X communications (vehicle-to-vehicle and vehicle-to-infrastructure communications), CCTVs, GPS tracking and other real time mechanism can facilitate safer drive."
In today's 'e-age', leveraging the benefits of technology to scale up our effort in making our roads safer and greener is no more a choice but a 'must do' activity.
Sharwan Agnihotri, Head – Marketing & Business Development, Hyundai Construction Equipment India
JCB116 Soil Compactor is equipped with proven German Vibration Technology and is designed to give more compaction per litre.
Jasmeet Singh, Head – Corp Comm and External Relations, JCB India Ltd
By installing V2X communications, CCTVs, GPS tracking and other real time mechanism can facilitate safer drive.
Gaurav Soni, General Manager,KKG Group, Udaipur
Indian companies need to form joint ventures with the global manufacturers and give the right technology to Indian customers.
Ajay Aneja, Brand Leader, CASE India
Technologically, India needs to move towards more sophisticated materials in the construction of roads; materials that prevent skidding on the roads and prevent tyre bursts due to heating at high speeds.
Ashish Tandon, MD, Egis in India
Customised solutions are required to suit the fast changing and varied requirements of a developing nation.
Manish Arora, Business Head, Mahindra Construction Equipment
18