Nivasa Unfolds an Elegant Collection of Furniture—Beautés De La Campagne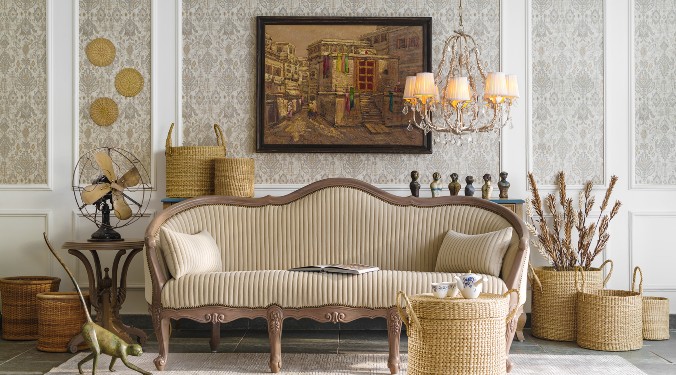 Luxury furniture brand Nivasa has unveiled its collection Beautés De La Campagne. The new range includes masterpieces that merge old-world forms with sumptuous materials.
Over the last two decades, interior design has seen a number of varied trends come and go. This is when people began returning to traditional decorating, as it is comfortable, simple, and beautiful. Nivasa's new collection showcases this 'neo-traditionalism' design aesthetic, which comprises a revival of traditional furniture design in a new avatar. This novel interpretation of the vintage trend includes furniture pieces that embody comfort, beauty, and timelessness. While crafting this collection, Nivasa was inspired by the French countryside. It is an earthy and refreshing take on classic French silhouettes – with the help of earthy polishes, colour tones and materials such as cane.
The silhouettes of each piece have a classic aesthetic to them. However, when we look a little closer, we find a lot of different varied, modern touches. One of them is the polish itself. If we look at the bedside setup, they have a beautiful polish that's especially been developed by Nivasa. You'd see the earthiness of the grains shining through that great tinge that has been coated in a polyester coating that adds an additional sheen. The polish celebrates not only the beauty of the natural material that's been used, which is the wood, but it also takes it to another color tone, which is something wood actually does not naturally have. Moreover, it adds a level of richness and luxury with that extra sheen.
Another highlight of the collection is that the fabric that has been used is anti-stain. Thus, if you spill anything on it, it's really easy to clean. So, although it's a classic collection, it has been made using fabric that is technologically forward. Hence adding that modern touch to it and making it a furniture range that's aesthetically beautiful as well as functional.
Furthermore, the quilting that's been used in these pieces of furniture has a modern design aesthetic as they have been quilted with a linear pattern, which is something that's really contemporary. Therefore, this collection is a blend of modernity and tradition—a range of beautiful neoclassic pieces of furniture, which is effortlessly magnificent and is a testament to the brand's focus on bringing soul to furniture.
Nivasa Website:  www.nivasa.com
11