Our elevators are designed to address the customer's specific needs and structure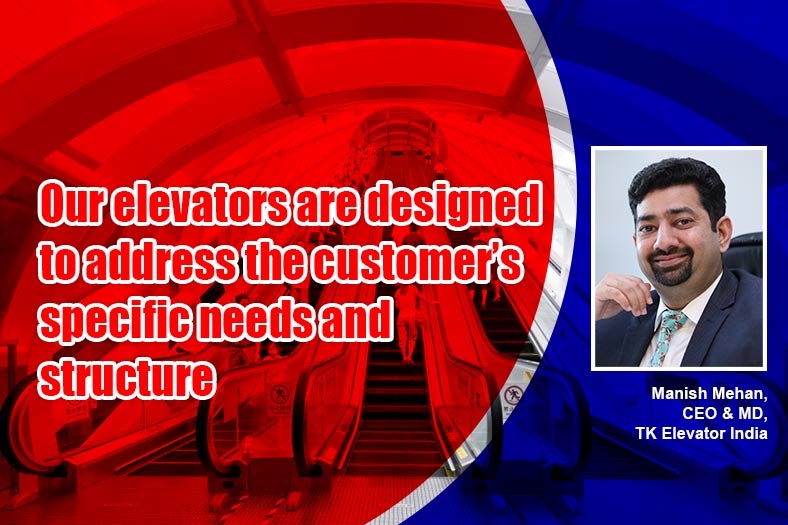 "TK Elevators offers heavy-duty escalators with more design features for modern airports, including under-handrail lighting, stainless steel or custom powder-coated finishes." says Manish Mehan, CEO & MD, TK Elevator India.
How do escalators make it easier for passengers to navigate huge airports?
Advanced, smart and heavy-duty escalators at airports give convenience, comfort and safety a whole new meaning. In today's time, escalators at airports are equipped with advanced technology, such as power saving features and safety features which ensure low noise, reliability, longer product life, low operating costs and enhanced safety. TK Elevator has an extensive experience and expertise in providing the right escalators, skillfully adapted to the customer's specific needs and structure. We offer heavy-duty escalators with more design features for modern airports, including under-handrail lighting, stainless steel or custom powder-coated finishes. All our models combine attractive design with the latest escalator technology for increased comfort and safety, available for both indoor and outdoor applications. The heavy-duty models aided with a glass or metal balustrade are designed to direct the traffic of tomorrow. These elevators which are specially designed to suit the modern airport's needs are not only economical but robust as well; moreover they also utilize the latest technologies which makes them a perfect fit for airports and other large infra installations.
What are some of the elements in the built environment which has elevated the role of escalators?
Public infrastructure projects such as airports, railway stations, and rapid transit systems handle a large number of passengers daily. In order to provide smooth and efficient movement of passengers in such projects, effective deployment of escalators becomes a necessity. Hence, the growth of public utilities across the globe is boosting the demand for escalators worldwide. Escalators optimize the flow of people in airports and metro and train stations around the globe. They also improve the use of every floor in shopping malls, departmental stores and convention centers worldwide.
What can be done to make escalators safe to use and also energy efficient?
Safety can be maximized if escalators are designed with user behavior in mind. For example step up-thrust device stops the unit if an object becomes trapped between steps which helps in preventing accidents involving buggies; Double shoe brake system with dual circuit-brake can pay an important role in the unlikely event of failures, thus ensuring a safe stop; skirt safety switch stops the unit if something gets trapped between the step and skirt thus helping in preventing accidents involving high friction footwear; safety curtains beside the balustrade, prevents people from falling over the balustrade etc. TK Elevator puts safety first and offers a wide range of escalators with best in class over 50 safety features.  Energy use of an escalator is dependent upon its step width (proportional to peak load carrying capacity), traffic patterns, control type, annual operating hours, and vertical rise.
Several energy saving approaches are available. With low traffic or long periods of no traffic, stop-and-go operation is a possibility.  The elevator stops running when not in use and re-starts when the passenger is detected by pressure mats, photocells or infra-red beams.  Soft-start capability is required so the elevator can gently accelerate to full-operating speed.  This method of operation may be precluded by building codes and is often not recommended as it involves liability issues. People who see a stopped escalator also tend to
assume it is broken.
An option that is popular in Europe and Asia is to slow the escalator down when no passengers are present.  Installing variable speed drives or use of variable voltage motor controllers can result in energy savings of 15% to 40%. This alternative is useful with medium traffic. Regenerative braking can be employed on escalators which are used frequently and finally, LED light sources can be installed for skirt guard, comb, and rail lighting. Lighting improvements alone can result in 1,600 to 2,000 kWh/year of energy savings.
Can you make a mention of some of the popular spaces where escalators have been utilized to good effect?
TK Elevator has installed one of the most stylish escalators in the London department store Harrods with its spectacular Art Nouveau cladding. We have even completed installations under water. At Shanghai's Ocean Aquarium, where visitors travel through a transparent underwater tunnel, two of our escalators have been used. It allows visitors to retain their focus on the underwater attractions and enjoy the view uninterrupted .
12