The harmonized design of an elevator combined with technology makes navigation easier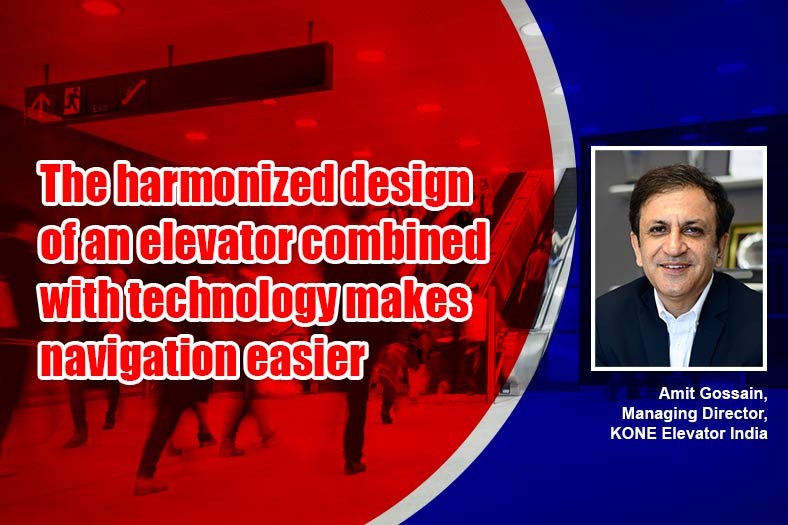 Technology and harmonized elevator design make navigation a lot easier says Amit Gossain, Managing Director, KONE Elevator India.
How do escalators make it easier for passengers to  navigate huge airports? 
For today's highly demanding and fast-paced public  areas, especially an airport, escalators are a must. In large  airports, the distance along with the rush is substantial  and passengers need to be able to move quickly and  conveniently. Escalators make that possible. They are  key to ensuring the smooth, efficient and safe flow of  people traveling within a building's environment. They  help to commute faster, reduce the trouble involved in  transitioning from one flight and terminal to another.  
Escalators can not only manage the movement of a large  number of people at once, but their harmonized design  combined with technology makes navigation easier.  Beyond this, it is also important to understand that an  airport is more than just a place to land or to take off.  It is a place offering a comprehensive experience with  connections to trains and metros, presence of shopping  centers and restaurants. Therefore, KONE supplies a  complete range of People Flow solutions for demanding  airport environments, including passenger and service  elevators, escalators, auto walks, and automatic building  doors – and keeps them running efficiently and reliably  for the lifetime of the airport. Our new traffic signalization solutions and audible alarms  provide clear guidance on escalator travel direction.  
We also offer high-quality visual design for the best  possible user experience, innovative and attractive  lighting solutions that improve passenger guidance and  safety. Additionally, our wide range of design options  creates stunning visual effects that perfectly match your  building's architecture. We have products designed to  appeal to your senses, enhance your comfort, and ease  your movement. 
Multi-modal integration is necessary for airports, railways  stations and bus stands, in this integrated highway what  role can escalators play? 
Within a multimodal integration, elevators and escalators  result in efficient and convenient movement. Strategically  positioned escalators along with mobility facilities  facilitate faster transfer between stations, reducing  overall traveling time. It also helps in effectively managing  passenger and vehicle flow while also providing user friendly wayfinding and information systems. Provisions  such as escalators, lifts, and moving walkways within a  multimodal transport hub also make the ease of traveling  inclusive and accessible, as it should be, for differently abled, elderly, and pregnant passengers.  
The development in technology, the evolved needs of the  consumers, and our quest for innovation have led us to  design and introduce services like KONE TransitMaster  120 and TransitMaster 140 that make multi-modal integration more efficient. With our highly  durable, eco-efficient escalators designed for  the most demanding public transportation  environments, we aim to optimize people  flow and provide a smooth, safe ride and a  pleasant passenger experience, even under  the most demanding traffic conditions.
What can be done to make escalators safe to  use and also energy efficient? 
At KONE, we take our commitment to eco efficiency very seriously. We believe in the  need for sustainable buildings and how the  requirements for new, more sustainable  materials, green building certifications,  and stricter emissions regulations are  going to rise. The increased integration of  Digitalization is enabling the creation of new  efficiencies and reduction in energy usage in  all types of buildings.  
With continuous effort, KONE has developed  numerous measures and innovations that  significantly cut the energy consumption  of escalators and auto walks while ensuring  utmost safety. Features like Smart operational  modes and an all-new inverter, optimize  energy consumption under different load  conditions. The safety technology and Fiber optic skirt monitoring provides peace of mind  by immediately stopping the escalator when  an obstruction is detected between the skirt  and steps. We offer new traffic signalization solutions, audible alarms, alarms for travel  direction, fall-prevention barriers among  many other solutions that make movement  in public places like airports more accessible,  inclusive, and safe.  
Additionally, we were the only elevator and  escalator company on CDP's prestigious A-List  for Climate Change, for our actions in reducing  greenhouse gas emissions, mitigating climate  risks, and contributing towards a low-carbon  economy. We are proud to be recognized  as one of the most sustainable companies  in the world by Corporate Knights again  – ranking 32nd in their 2020 Global 100  Most Sustainable Corporations in the World.  Globally we have 15 elevator models with  A-class ISO 25745 highest energy efficiency  rating, 4 escalators, and auto walks with the  best A+++ classification. Moving forward, we want to continue making  movement smart, safe, reliable, and efficient  for our customers. With this determination,  we will build today, the technology of  tomorrow.  
Can you make a mention of some of the  popular spaces where escalators have been  utilized to good effect? 
Today quality escalators are a part of all kinds  of buildings, be it airports, shopping malls,  hotels. Every building needs to integrate safety, ease, and experience. Some of the  popular places that KONE worked on include  the Beijing Daxing airport. Viewed from the  air, the first thing that anyone notices about  is its unique appearance. Designed to look  like a mythical phoenix bird in flight, the  building was inspired by traditional Chinese  architecture and blends classical and modern  elements. Being Beijing's second-largest  airport, it is capable of accommodating 45  million passengers by 2021 and 100 million  with planned expansions. The efficient radial  structure with KONE EcoMaster auto walks  and KONE EcoMaster escalators aims to  allow passengers to reach the flight gates  from entering the building in 30 minutes  maximum, and from the building's central  core in 8 minutes. Beijing airport is also  equipped with the KONE E-link monitoring  system. 
Madison Square Garden is another place  where KONE provided its solutions. The  indoor arena has been in its present  location since 1968. After years of high  traffic use, the arena needed a major  transformation to meet the expectations  of today's spectators and KONE's Eco3000 escalators, Ecomod escalators, hydraulic  elevators, modernized elevators, and KONE  Care Maintenance Service were part of  the transformation enabling easy access, faster movement and safety. 
20