PSP's pursuit of quality, aesthetics, and sustainability in doors and windows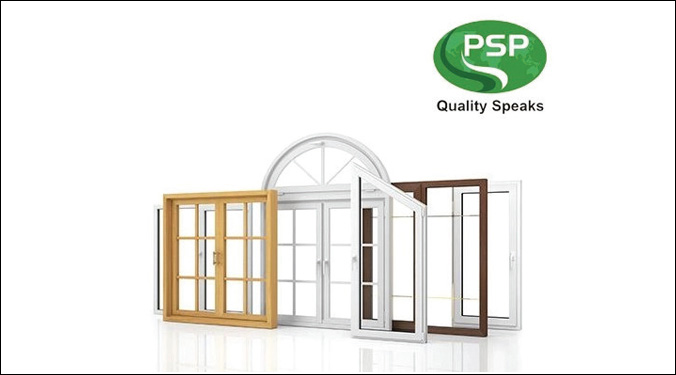 Within the framework of PSP's commitment to excellence, Kapil Dev Bali, Senior Manager (Production), highlights the company's unwavering dedication to ensuring impeccable products throughout the manufacturing process. This commitment translates into unmatched quality and exceptional durability. Furthermore, Sanket Sharma, Commercial Manager, showcases the expanding horizons of the uPVC industry. He introduces distinctive profile designs that enhance the aesthetics and infuse a unique charm into doors and windows. In tandem, Ravindra Choudhary, Senior Manager, Design & Costing, sheds light on PSP's innovative approach. He explains how the R&D team continually explores diverse design models to create products that are pioneering in innovation and fully recyclable.
PSP's Strengths and Core Values
PSP is a premium brand for doors and windows, excelling in superior product quality, seamless compatibility, and captivating designs. Our unwavering commitment to customer satisfaction is embedded in our core values, as we relentlessly seek solutions that align with diverse budgets and preferences.
Key Considerations
"When selecting uPVC doors and windows, PSP advises customers to weigh several pivotal factors. Opting for a reputable company with a robust presence across major cities ensures efficient and effective post-sales support. Furthermore, evaluating the breadth of product offerings to cater to diverse needs and meticulously assessing product quality and visual appeal are essential steps to guarantee enduring and visually appealing solutions."
Evolving Aesthetics in the Door and Window Industry
"The uPVC landscape has undergone a profound metamorphosis, witnessing a pronounced shift towards design aesthetics for doors and windows. As manufacturers develop various profile options, the industry is witnessing an influx of distinctive designs, including the increasingly favoured arch windows that imbue villas and penthouses with a timeless charm. The focus now extends to crafting products that blend comfort and resilience while showcasing captivating and unique aesthetic elements."
Innovative and Sustainable Designs
"PSP's R&D endeavours are centred on eco-friendly, energy-efficient design models for doors and windows. Our PSP profiles embody a commitment to sustainability, being entirely recyclable and boasting remarkable UV resistance that translates into energy-efficient windows for our discerning customers. To enhance energy efficiency further, we recommend utilising tinted or reflective glasses. Additionally, integrating DGU and laminated glasses minimises the impact of varying weather conditions, fortifying homes against the elements."
Advancing Sustainability
At PSP, we perceive durability as a multifaceted aspect beyond product quality. While our profiles embody superior quality, we acknowledge that durability hinges on meticulous fabrication, optimal hardware utilisation, strategic reinforcement, and user-centric design. Crucially, impeccable installation at the customer's site is pivotal in creating doors and windows that stand the test of time. Our commitment to perfection is underlined by rigorous inspection, guaranteeing the highest product quality and enduring sustainability.
28