Schwing Stetter offers SP8800 for high-rise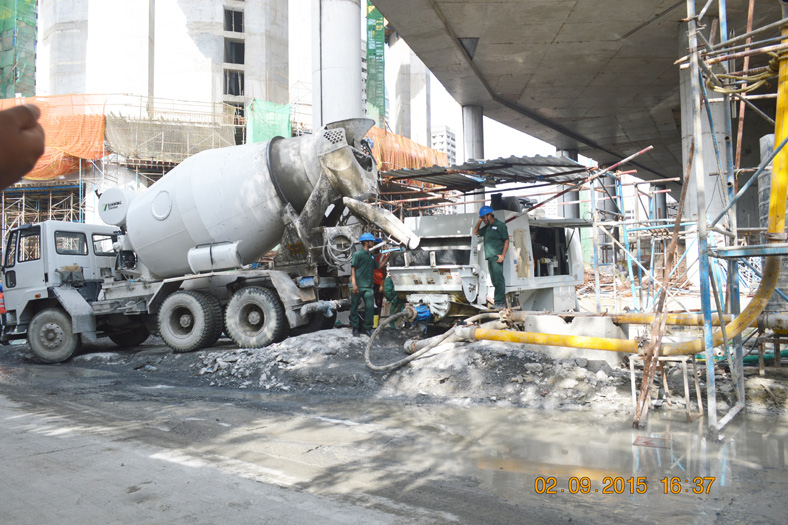 Schwing Stetter India has introduced path breaking products in the Indian concrete pumping industry such as SP8800 concrete pumps, CP 30 batching plants and the 10 M3 truck mixers which became synonymous within the RMC industry.
Today, with an unprecedented growth, Schwing Stetter India has successively dedicated manufacturing bases for its three core product range namely concrete batching plant, concrete pump and transit mixer.
High-rise rapid construction
Day to day, the deshuttering time of formwork is getting reduced and for upcoming new technologies in shuttering methods like formwork, we have to place concrete in within the time frame. V.G. Sakthikumar, Managing Director, Schwing Stetter Sales and Services Pvt Ltd says, "We have high volume concrete placing equipment like separate placing boom in the range of 25- metre boom length to 42-metre boom length, which give the optimum concrete placing output."
High compressive strength self-compacting concrete pumping- the pumping parameters of high grade concrete mix is very tough compared to normal grade concrete mix.
Key features of Schwing Stetter concrete equipment
• Schwing Stetter has high pressure concrete pumps capable of handling the vertical concrete back column pressure over 240 bar and these pumps are suitable to pump high grade concrete mix like M70 above 500 metre height also.
• Schwing Stetter offers high pressure concrete conveying pipeline and clamps in variable thicknesses and sizes for handling high concrete pressure.
Sakthikumar states, "We are the only company to offer Stetter batching plants with the capacities of 120 cu.m. – 140 cu.m. in mobile version. Our recently launched M3 batching plant has the flexibility of being offered in inline silo as well as compartment versions. We are the first and only company to have an in house electronics and automation department, being the crux of the entire ecosystem. There are different custom made control systems available and it is designed based on the capacity of the batching plant to adopt both commercial and feature wise benefits. We consistently work on delivering products that are user friendly and robust."
He adds, "We are the only company who offer 43-metre boom pumps on Indian trucks which is the biggest and the most efficient. Schwing Truck Mounted Concrete Boom Pump S43 is mounted on a 4-axle truck which comes with 5 boom section giving flexibility for the users. This is the biggest boom mounted on 4-axle truck in India."
Schwing Stetter also offers transit mixers in the capacities of 3 cu.m. to 12 cu.m. It is ergonomic, built to last, smooth pouring, high productivity are the key features of their equipment with a drum technology that solely drives on longevity.
24