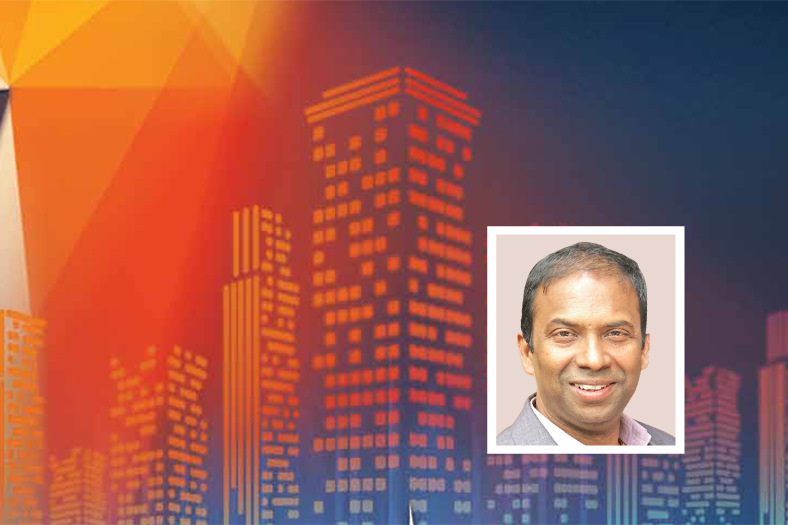 In the context of building design, sustainability seeks to diminish the negative environmental impact of buildings.
Ar. S.P. Anchuri, Chief Consultant, Anchuri & Anchuri
'Sustainable construction' for today's needs
"Sustainability is today's expression. It has the supernatural of attracting everybody's attention," says Ar. Er. S. P. Anchuri, Chief Consultant, Anchuri and Anchuri. Explaining it with an example, Anchuri adds that, behind every proposed project, there is an initial discussion explaining about the sustainability of the work as well as of the proposed budget of the same. The companies nowadays refer to sustainability in varied aspects such as development, energy, construction, pension reforms, taxation, and life-style.
The applicability of the term is so wide, and these days, the public read it so often – that it's meaning has become thinned or even twisted at times. Drawing a fine line between being sustainable and sustainability, Anchuri says, "To be sustainable means to be capable of being maintained, of continuing, in time, whereas to have sustainability means to assure today's needs whilst making sure that future needs of future generations could also be contented."
Building sustainable structures
The forms that the materials and the force resultants determined became an aesthetic in themselves. "The Engineer was, in this sense, the Master," says Anchuri. Nowadays, advanced IT tools give the industry the powers of analysis and of visualisation which are unparalleled. The present construction design industry is at the moment, as a result, mostly conquered by architects who can dream up any form or configuration of building, because the engineer can follow, and find ways of analysing and building anything in the present day, he adds.
"Today, sustainable construction is associated solely with energy efficiency," says Anchuri. If one looks at what is being built globally and being commended as laudable, admirable, and to be emulated, one finds a large number of iconic buildings – with all sorts of striking forms and exotic materials, which are then promoted as forms of sustainable construction merely because they have some photo-voltaic panels stuck to the roof, some holes dug into the ground to obtain cooling water or tempered air, or some wind turbines stuck to the roof, to generate renewable energy, he adds.
Apart from all the other aspects, structural design also plays vital role in sustainability as no reference is ever made to the choice of structural form, the choice of structural configuration, structural efficiency, or the choice of materials, structural or otherwise, remarks Anchuri. Some very exotic materials are being used in the interests of new "sustainable" technologies. And some very exotic end-of-life disposal problems are bound to crop up with these new materials.
In today's construction processes, the structural components are not essentially the most demanding of financial resources, or of finite material resources, or of energy consumption, or the components that give the utmost problems of waste disposal or recycling. The other components, internal and external finishes, services, fixtures, furnishings, taken together, often constitute a far larger use of financial, material and energy resources – not to say anything of the eventual operational stage of the building, he further adds.
"Space efficiency has become a key component in sustainable building design," says Anchuri. "Today, architects make every effort to make the most of interior day-lighting through the introduction of daylight and views into occupied areas of a building. This requires an open floor plan to avoid blocking areas off from exterior windows."
In the context of building design, sustainability seeks to diminish the negative environmental impact of buildings by enhancing efficiency and moderation in the use of energy, space and materials. In simple words, sustainable building design involves saving energy, using space efficiently and reducing waste over the life-cycle of a building, comments Anchuri.
Significant sustainable structures executed by Ar Anchuri
The Classic Convention Centre, Shamshabad, Hyderabad is one of the recent project by Anchuri designed based on eco-concepts. In this project, the firm has made use of local materials, day lighting, solar power generation, solar water heating systems, with structural steel system with required insulation, having good height clearance well ventilated with dining hall having no special false ceiling but everything is integrated with design with well composition having interiors, architecture and structure planned, designed and executed.
2