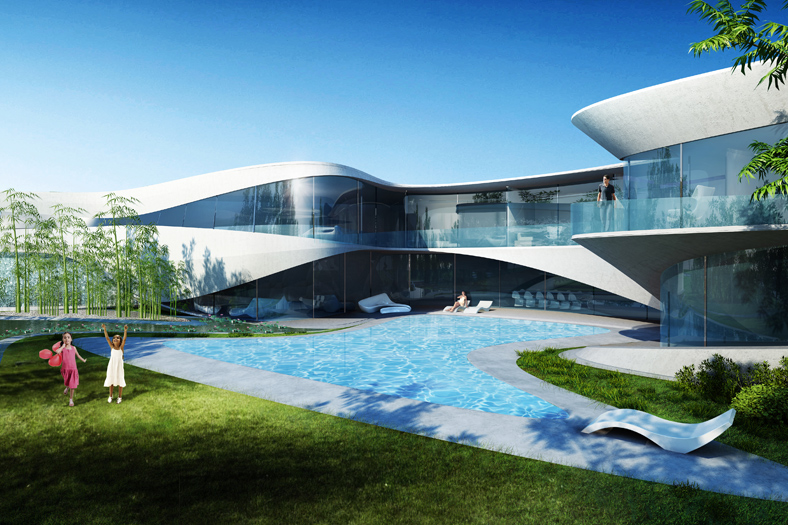 An understanding of the site, topography, materials, design brief, structure and services is essential to create sustainable architecture. It is the integration of all these elements that result in complete sustainable architecture
Amit Gupta, Founding Partners, Studio Symbiosis
The design philosophy at Studio Symbiosis is to create integrated design solutions imbibing amalgamated, efficient, robust and sustainable designs leading to performative architecture.
Britta Knobel Gupta, Founding Partners, Studio Symbiosis
Sustainable construction' for today's needs
"Sustainability is at the epicentre of designs at Studio Symbiosis. Sustainability is integrated in the designs at the design stage itself," says Amit Gupta, Founding Partners, Studio Symbiosis. He adds, "Using solar analysis, CFD and through digital simulations a comprehensive design is developed, informing the overall formal expression of the design. At material level, it is very vital to further the sustainable strategy."
Britta Knobel Gupta, Founding Partners, Studio Symbiosis said, "The design philosophy at Studio Symbiosis is to create integrated design solutions imbibing amalgamated, efficient, robust and sustainable designs leading to performative architecture. The research and goal of the practice is to create performance as a design driver, to achieve sustainable and smart buildings."
This integration of performance based aesthetics exists in nature everywhere around us. Nature has tested and evolved these systems through iterative process to create stout and elegant design solutions. The complexity of the various subsystems is selectively articulated to generate the final design solution. The practice believes that with computational tools it is possible to create elegant design solutions driven by performance. Performative ecologies can respond to various parameters integrated as design drivers, affirms Britta.
Building sustainable structures
An understanding of the site, topography, materials, design brief, structure and services is essential to create sustainable architecture. It is the integration of all these elements that result in complete sustainable architecture, states Amit.
Significant sustainable structure planned or executed
All our designs look at creating a sustainable piece of Architecture. The key projects with these strategies are; Double Tree by Hilton Ahmedabad, Double Tree by Hilton Kathmandu, Taj Ahmedabad, Taj Jodhpur, Trans Ganga Masterplan Kanpur, Allahabad Masterplan, Information Directorate Headquarters Lucknow, Punjab Kesari Headquarters Delhi, Design Hotel Rohtak, 50-acre net zero affordable housing in Jhansi to name a few, says Britta.
Located in Delhi NCR (India), Punjab Kesari Headquarters was commissioned in 2014 and went into construction in August 2015. The opening date for the project is January 2018. Currently, last slab is being casted. Punjab Kesari headquarters won the International property award for best office Architecture India 2016-17. It was presented at TedX talk in Bremen, Germany in 2015 by Britta Knobel Gupta as a part of the talk "Performative Aesthetics" and at Smart Geometry Hong Kong 2014, says Amit.
Punjab Kesari Headquarters is designed as "Fusion" of traditional Indian architecture and contemporary office space, the chief objective is to reduce heat gain and optimise facade opening ratio, ensuring no artificial lighting is necessary on a typical day. An animated facade is designed as an outcome of different facade opening ratio depending on the orientation, asserts Britta.
"The inspiration was to translate a traditional Indian facade pattern by using digital simulations into iterative processes to create a responsive built form," says Amit. This traditional Jali screen creates culturally a sense of belonging. Lux level of 500 has been achieved in the building at a workstation height from each floor plate, along with a daylight factor of 2 over 80 per cent of the floor plate; this is done to guarantee that artificial lighting is not required inside the building on a normal day, he adds.
A hexagonal pattern was used as a base and through iterative process various porosity patterns were generated from it to create different light conditions. This resulted in a variable opacity condition in the facade that had a dual purpose of creating performative architecture and also created variable openings on the facade in various orientations generating a design for the facade that is animating and has an inherent meaning. This resultant pattern morphs from 81 per cent opacity on the north facade to 27 per cent opacity on the south facade, with an intermediate opacity of 54 per cent on East and 62 per cent on west facade respectively, Amit explains.
The Jali facade is made of glass reinforced concrete panels. In terms of construction tolerances, a system has been adopted whereby through CNC milling, a mould will be created for the facade pattern and this mould will be used for casting the facade panels. The curvature of the entrance will be also casted using this process whereby by using digital fabrication of mould a higher accuracy in the design is achieved, says Amit.
"Sustainability is at the epicentre of the project embedded in form of, optimise natural lighting, cross ventilation and reduction of heat gain," Britta said.
The double jali screen reduces the outside air temperature in front of the glass. The colder air is going in and pulled into the atrium through the chimney effect of the atrium space and resulting in natural ventilation and plummeting the indoor air temperature naturally, so the cooling load for the air conditioning is reduced, asserts Britta.
6