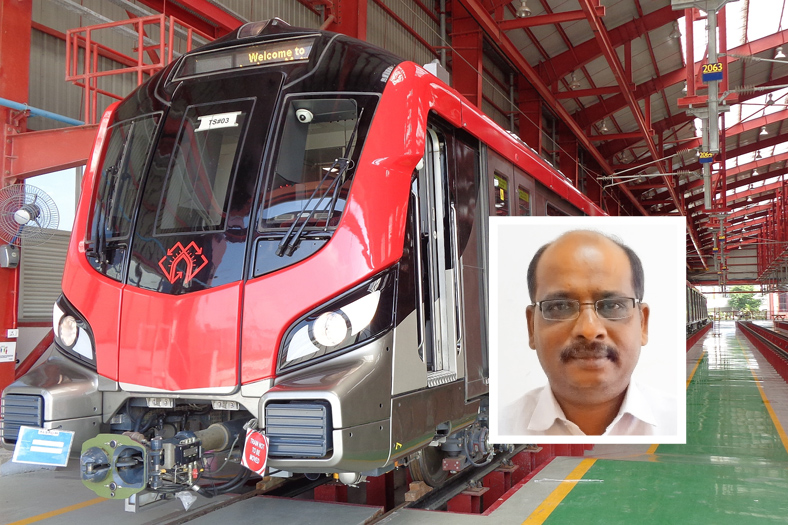 Metros need to practice sustainable construction to minimise environmental impact.
Ar Satyakam Garg
Initial one section of the project is complete with functioning eight numbers of the station and a depot. This first part of the project called as priority section is country's best and latest in terms of sustainable construction.
Our cities are witnessing a rapid increase in population and vehicular congestion. Most of the mega cities in India have inadequate transport infrastructure which is putting so much burden on the urban environment due to increased number of commuters and personal vehicles addition. The main problems faced are high pollution levels, unhealthy living, wastage of nation's resources and uneconomical mode of personal transport system. All this leads to non-sustainable and unplanned development of the cities. Metros or the MRTS system infrastructure development are the sustainable efforts going in the country to address the above mentioned concerns. However, Architect Satyakam Garg believes, even metros need to practice sustainable construction to minimise environmental impact. Ar. Garg, who is currently working as Chief Architectural Expert on Lucknow Metro, working for AYESA Ingenieria Y Arquitectura S.A. of Spain. He has worked on many metro projects internationally as expert MRTS Architect. He says that for metro sector in India's focus on following points is necessary to achieve a sustainable project in true sense to minimise the environmental, social and financial impacts:
1 Planning of the metro project
While deciding about a metro project at DPR (Detailed Project Report) level, assessment of impacts of the project needs to be done. The budgetary provisions in the DPR shall take into consideration mitigation measures to be taken to minimise the impacts.
2 Design of the metro project
Design of the metro project is the most crucial aspect when it comes to sustainability. The design shall be done with a long term goal to achieve overall betterment of the city due to the project. At design level it is important to see that metro structures are so designed that there is the energy demand is low, renewable energy based systems are used, the structures are kept naturally ventilated and lighted, lesser heat gain by the external envelope, use of environmentally friendly fire safe materials, efficient water use and recycling systems incorporation.
The design shall take into consideration future ridership for an urban area to be served and create multi-modal transport interchanges for effective functioning of the metro. The design shall also take into account features like noise barriers along viaduct in vicinity of populated zones, anti-vibration resilient pads in bored tunnels for underground sections and better reinstatement of affected zones. The design shall use technologies so that rain water is harvested, sewage treated and reused. Ventilation systems for the metro are to be so designed that city is not affected by the vents of the metro.
3 Construction of the metro project
Being the largest of mega projects construction in metros is a very typical difficult phase of the project. Metro projects tend to be constructed on the existing right of ways requiring very sensitive handling of the temporary and permanent works construction. As heavy construction equipment are used it is necessary that continuous noise and vibration monitoring is done through carefully planned instrumentation systems. During construction many trees need to be removed on a metro project, for which maximum effort shall be to carefully take out and replant these apart from compensatory necessary plantation of trees.
The construction professionals must prepare a site utilisation plan in a way that during the construction debris, waste water, construction residues are managed and recycled in an effective manner without affecting the life of the city. Safety features implementations during the construction are of the utmost importance as many lives are working for metros in hazardous conditions. Underground tunnels need to be ventilated and monitored for air quality during the construction. It is to be noted that metro sector in India has actually brought sustainable practices in construction and the same needs to be further updated with new technologies.
4 Operation and maintenance facilities of the metro
While the operation and maintenance of the metro project mainly involves running and upkeep of the trains and facilities management of stations and depot area, a successful metro project will implement a sustainable system of checks, inspections, testing and repairs. During the operation and maintenance of the metro system again focus shall be on minimising energy usage, waste water management, waste disposal and recycling systems, rain water harvesting and upgrading to new technologies to reduce impacts.
Ar. Garg tells that initial one section of the project is complete with functioning eight numbers of the station and a depot. He adds, "This first part of the project called as priority section is country's best and latest in terms of sustainable construction. All the eight stations and depot have been provided platinum rating from Indian Green Building Council. Features for sustainable metro construction include rain water harvesting system, sewage treatment system, reflective roofing, solar energy usage, bio-waste converters, effective plantation, disabled friendly facilities, breathable external envelope by way of perforated cladding system, provision of bi-cycles for staff in depot, opportunity for cycle parking at stations etc. The Lucknow metro project has also been judged as the best metro transit project of the year 2017."
13