The importance of building materials can never be overstated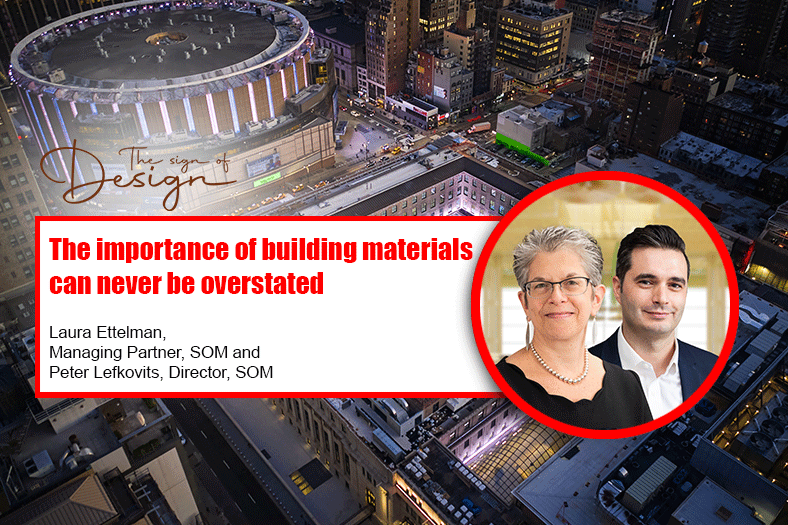 From building material to facades and energy efficiency to PEB, Laura Ettelman, Managing Partner, SOM and Peter Lefkovits, Director, SOM speak on the multiple aspects of architecture, design and our existing built environment.
What is the significance of building material on architecture and design?
Laura Ettelman: I don't think the importance of materials can be overstated. For many years, the concept of materiality in architecture was considered secondary by some, though it has emerged recently as being of primary importance due to advances in digital fabrication and digital science. At SOM, materiality has always been a huge consideration. Architectural systems are defined by their physical components — the materials that serve as the language that articulate architectural vision or that make architectural ideas tangible.
A recent example of our work, in which all of these forces come together, would be Moynihan Train Hall in New York City. Moynihan Train Hall is an extension to the infamous Penn Station, which has been an overcrowded, dark underground railroad hub for more than five decades. We designed Moynihan Train Hall to echo the majesty of the original Penn Station, which had been demolished in the 1960s and was a skylit, Beaux-Arts masterpiece. Restoring that aura largely depended on the material selection. A massive glass and steel skylight arranged in four catenary vaults bring natural light in while feeling simultaneously contemporary and timeless. The light reflects off Tennessee marble inside to restore the grandeur of train travel.
How can facades and building envelopes itself act as a sign of design, can you cite some examples? Laura Ettelman: Facades serve as the first impression of a building. For a huge proportion of people, facades are often the onIy visible part of a building, and define perceptions of the built environment. For that reason, there is an incredible responsibility that we have, as architects, to design buildings that are not only functional, but also beautiful.
In the United States, one of our newest buildings is the National Museum of the United States Army. The design is inspired by three core ideals — discipline, modesty, and rigor. Our job was to capture these ideas in the design, and we did so in the facade. The enclosure is composed of a regular grid of laser-cut, stainless steel panels, with smaller aluminum fins and glass panels in the corners that align perfectly with the steel. That kind of precision and sharpness evokes rigor and discipline, and the modesty shows itself in the reflectivity of the facade, which transforms the character of the building through every season and time of day.
Peter Lefkovits: In India, one of our signature projects is Terminal 2 at Chhatrapati Shivaji International Airport. The terminal is topped by a grand headhouse with a long-span roof, supported by thirty mushrooming columns that call to mind the airy pavilions and interior courtyards of the region's aesthetic. All of these columns are visible from the outside of the building through a transparent enclosure —a design measure that puts the signature architectural feature of the building on display. In making the exterior almost disappear, we aimed to extend the welcoming interior environment of the terminal out to the rest of the city.
What kind of design interventions can be incorporated in a building to make it energy efficient?
Laura Ettelman: Some of the best ways to save energy were implemented in one of our netzero projects, the Kathleen Grimm School for Leadership and Sustainability at Sandy Ground. For this school, we designed a cantilevered roof with hundreds of photovoltaic panels, which convert solar energy into electricity. The building is oriented to maximize natural lighting, and a system of windows and skylights reduces the need for artificial lighting for 90 percent of the day. Geothermal wells also naturally heat and cool the building, and a virtually airtight enclosure helps maintain the indoor temperature.
How will Covid-19 impact the design of future residences, office and hospitality spaces?
Peter Lefkovits: While many of our routines have been completely upended by the pandemic, we believe that now, more than ever, almost anything is possible. We now have the chance — or even the obligation — to reimagine every part of our lives for the better. Therefore, we have been putting in a lot of research into what we can do, as a design firm, to be prepared for a similar experience in the future.
Residences have certainly become more important than ever. Today, they're serving as our workplaces and schools, and because of that, we are changing our priorities for residential design.
In the future, our projects will accommodate the necessity, or even the preference, to work from home, with unit plans that can shift to adapt into spaces that are better equipped for working. Entries, common spaces, and corridors will be designed to preserve health in highdensity environments. Amenity programs may also shift from common recreation to shared but private spaces. Many of these ideas can also be applied to hospitality design.
Offices are a bit more complex. One concern we have heard is that they will become relics of the pre- digital era, but our belief is quite the opposite. The pandemic has showed us that the experience of working in an office benefits wellbeing. We all miss in-person collaboration, the energy of a busting workplace, and conversations that you can't possibly have online. Some of the future design solutions we are thinking about include the use of smart technology, to reduce commonly touched surfaces from light switches to door handles, and reconfigurability. Offices can be elastic places, with moveable walls and furniture. That way, you can create partitions when you need to, and if you combine that with outdoor space, you will can have workplaces that provides distancing if we ever face another pandemic.
How will PEB and prefabricated structures address a number of needs in the built environment?
Peter Lefkovits: Today's challenges related to health, social equity, and climate demand innovative approaches to how we make buildings and cities. The pressures of economy, labor, and quality are also prompting us to rethink the traditional roles that architects and contractors play in the construction of the built environment. Pre-engineered and prefabricated buildings offer a more energy-efficient, and cost-effective, solution. In comparison to traditional construction, prefabrication reduces waste, because it requires fewer materials to be brought to the building site. With that eco-friendIy package also comes a consistency in the construction quality, and the flexibility for the structure to be used in all different types of buildings. And because prefabrication is faster than building on-site, it can also accommodate almost any schedule or budget.
For example, the pandemic created an urgent need for temporary educational spaces that are also safe and healthy, so we designed School/House — a rapidly deployable, prefabricated classroom. The ventilated, high-ceilinged design promotes equal access to safe educational spaces for students that have been affected by the pandemic.
27