The key to efficiency is lower life cycle costs, sustainability, and thermal efficiency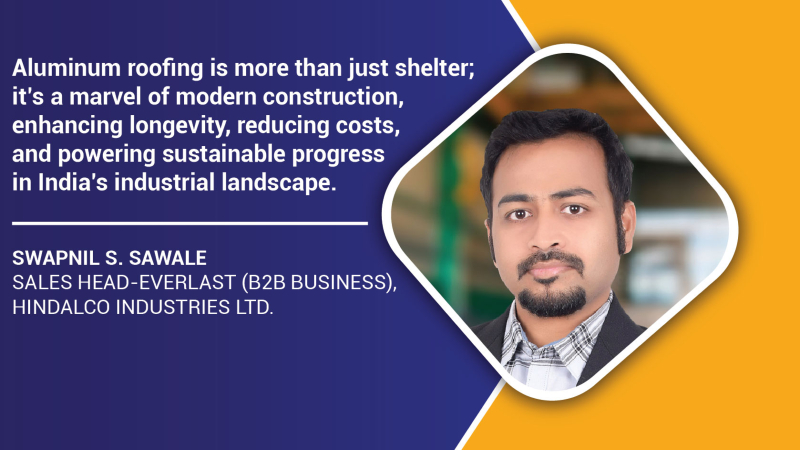 As India's pioneering brand in aluminium roofing, Hindalco Everlast offers versatile and superior roofing solutions, boasting corrosion resistance, improved thermal insulation, lightweight properties, and a lower life cycle cost.
What is the geographic suitability of aluminium roofing sheets and sheds?
India boasts a nearly 7000 km coastline, with 40 to 50 percent being industrialised. In these regions, corrosion rates are exceptionally high, accompanied by elevated humidity levels. Thanks to its natural resistance to corrosion, aluminium plays a crucial role in extending the life of sheds and reducing recurring costs for businesses.
In which market segments is aluminium roofing preferable?
Due to its corrosion resistance, aluminium has applications in various industries, including chemicals, fertilisers, foundries, base metals, textiles, paper, coal storage, and cold storage (for temperature control). Additionally, aluminium sheets are utilised in significant government projects, such as smart cities and projects with long-term requirements. Tamil Nadu, Gujarat, Maharashtra, Andhra Pradesh, West Bengal, Chhattisgarh, and Punjab are best suited for these applications, as they are highly industrialised and exposed to corrosive environmental conditions.
Where does aluminium roofing stand concerning renewable energy and sustainable structures?
Aluminium roofing is the top choice for rooftop solar installations, as metal roofs have a life expectancy of 20-25 years. Aluminum's lighter weight, being 2-3 times lighter than other materials, reduces the structural load and ensures durability.
How cost- and energy-efficient are aluminium roofs compared to conventional buildings?
The key to cost and energy efficiency lies in lower life cycle costs, sustainability, and thermal efficiency. Aluminum offers nearly five times the lifespan, decreasing overall costs, regulating internal temperatures, and reducing the heat load in HVAC-controlled spaces like cold storage, clean rooms, textile facilities, solar module manufacturing, and more. Aluminum also contributes to salvage value after the shed's complete life. Furthermore, with ambitious government projects, we expect around 30 percent of the roofing demand from such initiatives.
How do fluctuating prices and metal grades impact the overall project cost?
Currently, fluctuating commodity prices in the supply chain affect construction projects significantly, often leading to delays and added costs.

For more info: https://www.hindalco.com/
8