TK Elevator climbs to new heights with pioneering innovations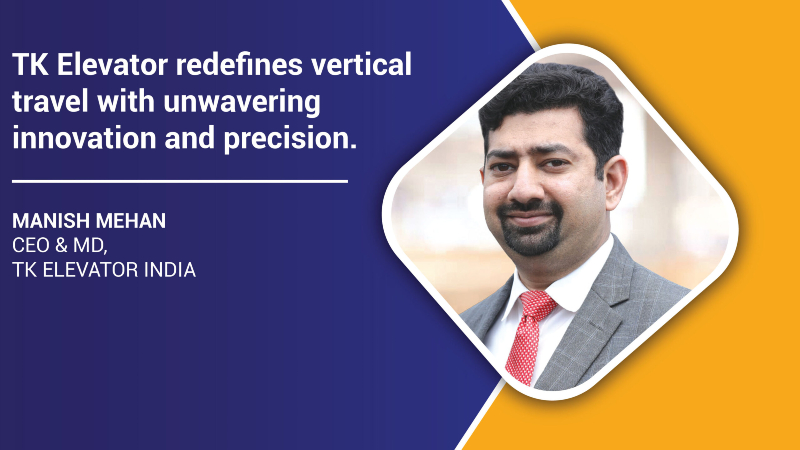 Manish Mehan, CEO & MD of TK Elevator India, emphasises elevator safety and the thriving progress in the elevator industry.
How do you ensure that your elevators meet or exceed safety standards and regulations in the regions where you operate?
Ensuring elevator safety is our top priority. We maintain a steadfast commitment to safety, valuing the well-being of all individuals. We've established the Global Elevator Safety Forum to promote a safe industry and developed ten essential safety rules for our global workforce and subcontractors. Our elevators are meticulously designed for optimal safety, exceeding standards with features like high-quality door safety devices, buffer devices, ropes, safety brakes, emergency systems, and fire protection. Our dedication to safety remains unwavering, recognising the potentially devastating impact of any accident on individuals and their communities.
How do your elevator solutions contribute to energy savings and sustainability in buildings?
We've made significant strides in energy conservation with our elevator systems. One of the key components we deploy is the permanent magnet synchronous (PMS) gearless traction machine. This technology consumes up to 50 percent less energy than traditional geared machines.
Additionally, our elevators are integrated with a regenerative drive feature. This is particularly innovative as it allows the elevator to feed energy back into the building's power grid during its generative mode, such as when the car moves up with a light load or down with a heavy load. This regenerative feature alone can slash the elevator's energy consumption by another 50 percent.
Moreover, we're mindful of the lighting in our elevator cabs and escalators. We have extensively adopted LED lights, which are not only efficient but also environmentally friendly. They provide the same brightness as conventional lights while consuming up to 80 percent less energy. Plus, LEDs have a longer lifespan – almost ten times that of traditional bulbs – producing minimal heat and radiation. All these measures combined emphasize our commitment to energy efficiency and sustainable solutions.
What strategies and technologies do you employ to minimise elevator downtime and ensure reliable operation?
At TK Elevator, we employ a holistic strategy to mitigate elevator downtime and guarantee reliable operation, enhancing the user experience. Our dedicated Service team, well-versed in TK Elevator and third-party products, focuses on safeguarding elevator and escalator operation and user safety. We embrace digitalisation, equipping technicians with Smart Tablets for efficient servicing, quicker responses, and reduced mean time before failure.
Through our Prescriptive Maintenance solution, tailored through customisable service agreements, we provide a consistent, proactive, and predictable maintenance process. This approach covers TK Elevator products and third-party elevators, breathing new life into older systems and ensuring user safety. We aim to maintain an unmatched user experience, building a journey that begins with product purchase and is sustained through exceptional service and modernisation solutions.
Can you describe your approach to elevator maintenance and how you handle emergency repairs?
We embrace cutting-edge technology to enhance elevator maintenance and efficiency. The MAX solution utilises cloud-stored data to predict component lifespan, allowing proactive scheduling of maintenance and reducing service disruptions. IoT platforms enable real-time communication between elevators and technicians, facilitating quicker issue resolution through AI and machine learning assistance. This approach decreases downtime and leads to substantial labour cost savings. In the rapidly modernising Indian market, these innovations are pivotal, as they optimise elevator availability, shorten downtimes through predictive maintenance, and elevate the overall in-car experience. TK Elevator's commitment to digital enablement underscores its dedication to delivering value and enhancing travel within buildings for commercial and residential projects.
What innovative features and smart technologies do your elevators offer to enhance user experience and building efficiency?
We are a pioneer in the elevator industry, integrating advanced technologies to elevate user experience and building efficiency. Leveraging Industrial IoT, our elevators employ connected sensors and cloud tech for real-time monitoring and enhanced maintenance, ensuring optimal performance. MAX, a predictive service solution utilising IoT capabilities, enhances elevator availability by identifying problems and enabling timely maintenance. AGILE Destination Control optimises system efficiency, reducing wait times by up to 30 percent and offering flexible elevator grouping. "Touchless Elevator Call" uses QR codes and cellular networks for a hygienic, seamless elevator experience via mobile devices. The TWIN elevator system operates two elevators independently in a single shaft, boosting capacity and saving energy by parking idle cars during low passenger volumes, with the option for energy recovery to the building's power grid.

For more info: https://www.tkelevator.com/in-en/
11