The process of construction requires informed decision making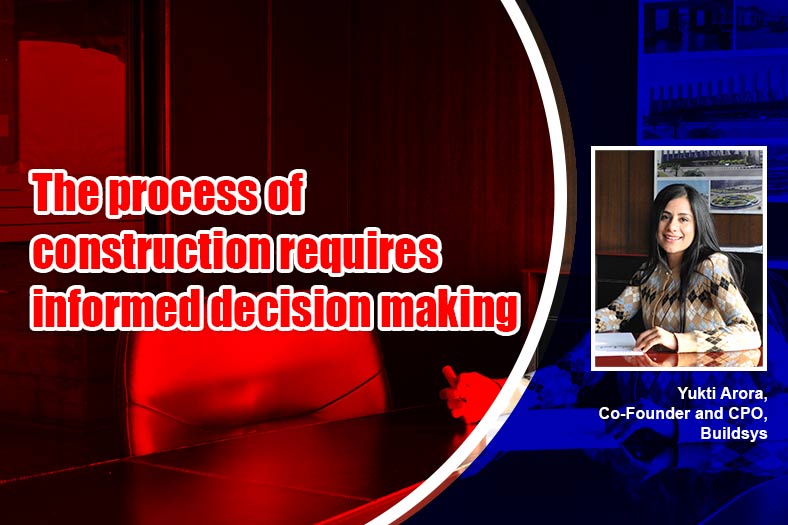 Yukti Arora, Co-Founder and CPO, Buildsys points out the challenges in remote construction management and how Buildsys can help simplify the process.
What are some of the challenges in remote construction management?
Significant challenges come up when construction teams are trying to work remotely. From our research and observation, we have classified them into inefficient communication and inefficient data gathering as well as un informed decision making. One of the most common observations is 're-work'; a term in construction, used when somebody on the field has worked on an old  blueprint. This has a lot of time and cost associated with it, but is really very common. Another problem that comes with remote work is that it's hard to lug a laptop around on a construction site; leading to people making uninformed decisions. Data gathering then also becomes a challenge; observations are made on paper and then later translated into formal documents over the computer and shared via snail mail, email or many other internal tools the companies might be using, often leading to scattered information.
What are some of the tools that are required to add efficiency in this space?
Construction is an incredibly complex process. It requires informed decision making, a lot of collaboration over data and the people in construction often don't have the comfort of sitting in an office, and doing just one task like many other professions. Not being able to carry your laptop around is another challenge. Construction is lagging behind in technology and the users are many a times first time technology users. Therefore, it's important to have a simple shared digital repository of information and data on a single platform that allows the office and field teams as well as all the stakeholders to collaborate in real time on a mobile device.A lot of time and money as mentioned before, is wasted on re-work, follow ups, and data gathering. Digitization of the construction processes could help free up the time for construction teams by almost 40% and save money on the construction projects.
What are the different processes that can be integrated in Buildsys?
Buildsys is a construction productivity tool for the whole team; it reduces paperwork and makes field to office communication faster, trackable, and mobile. Buildsys allow you to have all your information, like drawings, minutes of meetings, tasks, files, photos that can be viewed and accessed from anywhere. You're also able to collaborate seamlessly by leveraging the comments, sharing information with the right team member and tagging team mates for real time queries. Having all the information on the go, also allows you to tackle your workload and approval process like RFIs and Submittals on the go.
What is your pricing model?
Buildsys is available to teams of all sizes as an annual or monthly subscription. Pricing starts at INR 1500 per contributor / month. In addition, Buildsys provides unlimited free read-only user licenses, per account, so the entire team can have access to the latest project information at minimal cost.
Which are some of the key companies which have successfully implemented Buildsys to good effect?
We have worked with organisations across various sectors, such as affordable housing, infrastructure, residential and commercial. Buildsys has been implemented in projects across the country, such as Delhi NCR, Uttar Pradesh, Rajasthan, Karnataka, and Madhya Pradesh.
25