Versatile reflective wall wrap for enhanced (LGSF) building performance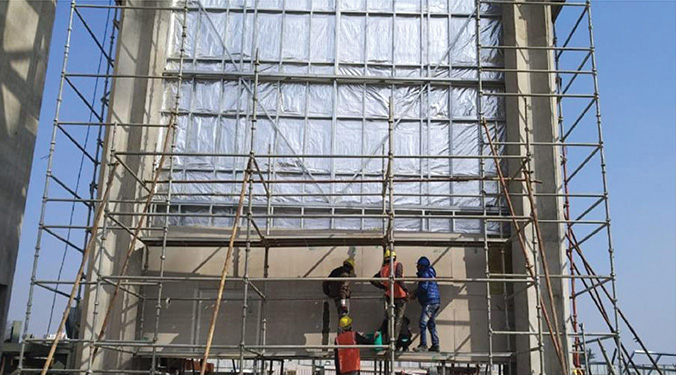 "The versatility of FRPWall Wrap serves as a reflective wall wrap in both residential and commercial buildings, improving insulation and energy efficiency."
Macmillan Insulation India Pvt. Ltd. offers innovative products like FRPWall Wrap/MACWRAP and FRP Facing Foil Heavy Duty for residential and commercial buildings to enhance performance and energy efficiency. Experience a reliable barrier against air, heat, moisture, and dust, all in a lightweight, reflective design.
FRPWall Wrap/MACWRAP is a medium-duty, reflective wall wrap designed to improve the performance of various wall system types, making it suitable for both residential and commercial buildings. With its exceptional strength, flexibility, and durability, this product is a barrier against air, radiant heat, moisture ingress, and dust penetration. Moreover, FRPWall Wrap's low flammability and classification as a water barrier and Class 2 vapour barrier make it an ideal choice.
Reflective and lightweight
 One of the key features of FRPWall Wrap is its highly reflective nature, with a reflectivity of 97 percent. When installed facing an air cavity, the reflective foil side provides additional R-value, enhancing the thermal insulation properties of the wall system. Despite its excellent reflective capabilities, FRPWall Wrap remains lightweight, ensuring easy installation without compromising structural integrity.
FRP Wall Wrap and FRP Facing Foil Heavy Duty are highly effective products that enhance building performance, insulation, and energy efficiency. These products create comfortable and sustainable indoor environments with their reflective properties, moisture resistance, and thermal insulation capabilities. Whether used in residential, commercial, or industrial applications, FRP Wall Wrap and FRP Facing Foil Heavy Duty provide reliable solutions for improved building envelope performance, ensuring a more comfortable and energy efficient living and working environment. loss, resulting in improved energy efficiency.
FRP-Facing Foil Heavy Duty
for residential, commercial, and industrial applications as a thermal insulating material and vapor barrier for roofs. It also serves as a barrier against, wind, heat, and dust when sealed with aluminum tape. The product features heavy-duty construction for superior tear resistance and can be installed without additional support on spans up to 1200mm. It is fire retardant, highly reflective, and has low emissivity to limit heat loss. Manufactured with pure aluminum foil, it provides an effective barrier against vapor. MACFOIL FS-138 is a reliable solution for insulation needs. Heat Barrier Insulation is a fire retardant double-sided reflective foil laminate. It is recommended.
27