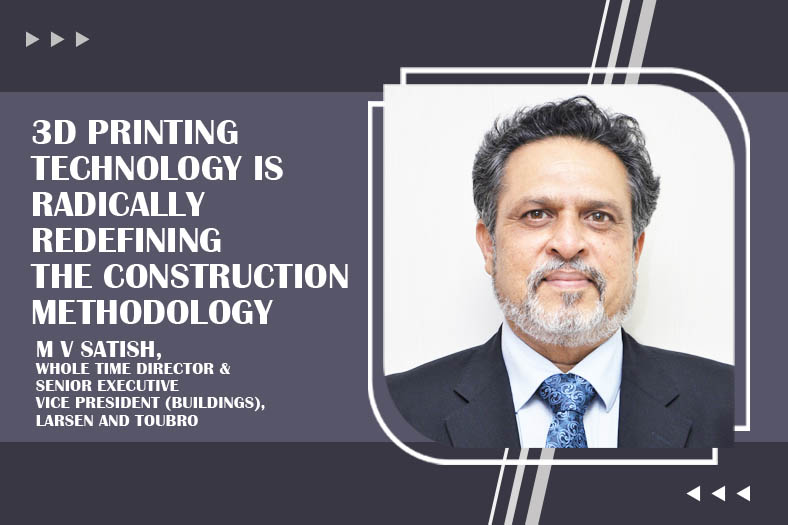 3D concrete printing technology will play a significant role in constructing affordable homes in the future says M V Satish, Whole Time Director & Senior Executive Vice President (Buildings), Larsen and Toubro
How is 3D printing fast emerging as a viable alternative in construction? What are the limitations which need to be overcome?
3D Printing has gained considerable traction over the past few years as has 3D Concrete printing that arebeing well researched globally.Across continents, several global players have successfully 3D printed concrete buildings in the recent past.
3D printing technology almost eliminates the need for formwork systems and thereby helps avoid related costs. However, the cost of special ingredients used in the concrete printing is currently high, as is the cost of the printer. As the case with any new technology, once a certain critical mass is achieved, the costs will reduce substantially, and the technology will become cheaper than conventional ones, and of course more efficient.
3D printing technology is currently only suitable for low rise building construction due to the printing height restrictions imposed by the concrete printers. However, with ongoing research in this area, we expect that this constraint will soon be overcome, with improvised printer design and innovative printing methodology. There have been certain challenges in embedding reinforcement in 3D Concrete Printing, which L&T Construction has overcome with innovative constructiondesign and methodology.
In a country like India where affordable homes are key to ensure 'Housing for All' what role can 3D-printing play? How soon before we see large-scale adoption of this technology in Indian construction?
3D concrete printing technology will play a significant role in constructing affordable homes in the future for it is well suited to the speed and scale demanded by the 'Housing for All' initiative. Due to the absence of conventional formwork systems and high design flexibility, the technology gives architects and design engineers the license to 'imagineer' futuristic designs to optimise cost,enhance convenience &improve aesthetics. A fully automated construction process will accelerate the pace of execution, ensuring high build quality and safety. We envisage that the Indian construction industry will soon start embracing this futuristic technology.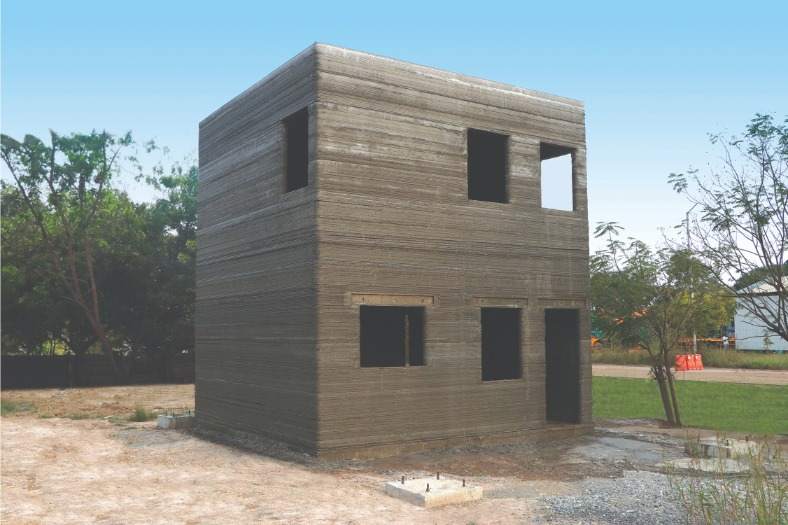 Can you tell us about L&T Construction's efforts/projects in making 3D printed homes a reality.
L&T Construction hassuccessfully 3D printed India's first G+1 Building at our Kanchipuram facility. The key innovations are:
It was 3D printed using in-house developed concrete mix with locally available regular construction materials
Both vertical and horizontal rebars were integrated into the printing process, which is essential to comply with structural design requirements and codal provisions
The entire building was 3D printed in an open-to-sky environment replicating a real construction job site scenario that helped us understand the atmospheric variables (like temperature, humidity, wind, etc.) interference during 3D printing and to design suitable methods to measure & address these variables.
Since 3D printing technology radically redefines the construction methodology and the way the industry has been operating, it needs to be certified by the relevant Indian statutory bodies and research institutions, to gain acceptance from the end users. We are in the final stages of obtaining such certifications and are confident to implement this technology soon at our various construction job sites.
15