As an architect, we all strive to create habitable art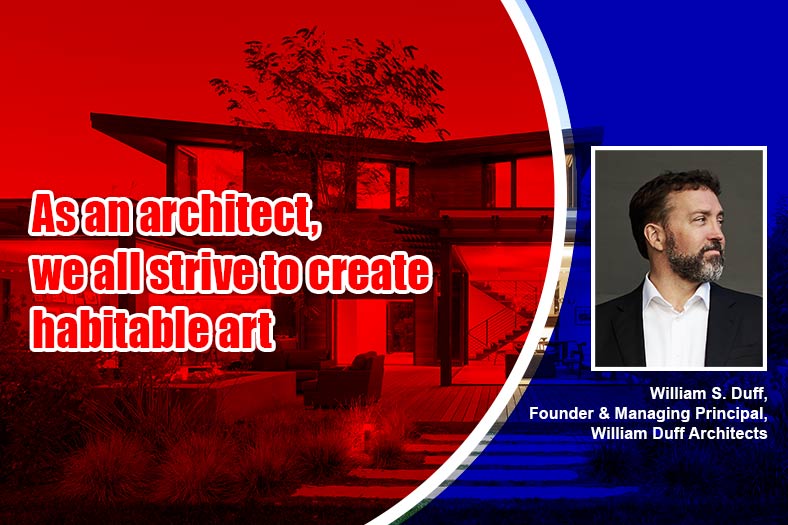 In a conversation with Vikas Bhadra, William S. Duff, Founder & Managing Principal, William Duff Architects opines great architecture is very moving and can evoke the same emotional reaction as one would have to a work by a master painter or sculptor.
"Architecture is full of challenges. We face them every day. Some are mundane logistical challenges, like processing permits through jurisdictional agencies, some are deep fundamental challenges, like improving the imbalance of equity and equality in our profession, and some are creative challenges, like resolving artistic compromises required by project constraints and the fact that we create habitable art." It would not be wrong to say that William S.Duff has managed to address these challenges effectively and create a niche for himself. He started his firm William Duff Architects (WDA) in 1988.
With an enormous experience in retail, residential and commercial architecture, he has successfully led WDA to grow and excel in each of these areas. "I knew at an early age that I wanted to be an architect, at my first job out of architecture school, I kept a notebook in which I mapped out plans for opening my studio. During lunch time, everyday, I used to take a look at it and refine my plans. Then one day a childhood friend called asking if I wanted to work with him on the conversion of an old theater into residential lofts. I was ready! I jumped at the opportunity and my firm was born," says William. Till date WDA has designed flagship stores, retail concept designs, roll-out stores, single and multi-family homes, restaurants, and office spaces. Other work includes cafes, wineries, art galleries, and full building renovations.
William holds each of these projects close to his heart however there are few which need a special mention "I'm attached to all of the projects I've done in one way or another. The Wheeler House and the Butterfly House are residential projects that hold a special place in my heart. The Puma and Timbuk2 stores are memorable, as are the restaurants aMano and Split. I am proud of our work on the British Airways lounge and the artist in me will always love the Big Ranch Road project, which is as much a piece of art as it is architecture."
Of these, the Wheeler Residence is one of the initial projects which brought WDA into the limelight "The Wheeler Residence, a modern residential home that embodies timeless design and was ahead of its time in terms of sustainability and green building," says William. "The home photographs well, but it is even better when seen in person. While we garnered a lot of attention for that project, the thing that makes me happiest is hearing our clients tell us how much they love living there and how the design ended up being more than they could have ever imagined."
The Wheeler Residence is also a clear reflection of William's idea of good design wherein an interplay between the primary elements of architecture form, space, light and material enhances one another to create something new that is exciting to experience. Like decades ago even in the contemporary age, the good work executed by architects and designers have consistently raised the bar. The creativity that has set in probably brings it much closer to an expression of art which symbolises timelessness "Architecture, if done well, believes William, "can transcend form and function and become art. Great architecture is very moving and can evoke the same emotional reaction as one would have to a work by a master painter or sculptor.
The difference between architecture and art, though, is you get to go inside, touch it, feel it, move through it, move around it. As you experience it, the form accentuates the function and the function enhances the form. Together they become art." So it's no wonder Williams lists Renzo Piano and Le Corbusier as his inspirations "I have great admiration for the work of Renzo Piano. I appreciate how every building he designs feels original and is responsive to its context. He doesn't have an identifiable style, rather the designs read as the result of a carefully considered, iterative design process uniquely suited to the building's site and surrounding context.
I also admire the work of Le Corbusier, the great modernist architect. His buildings display a mastery of composition, proportion, and sculpted space and are each unique unto themselves." Like colours and caricature in art, materials play an important role in architecture and design. "I prefer using natural materials," says William "natural materials, which embody warmth in my designs. Materials like stained wood, quarried stone, brick, handmade tile, and natural fiber carpet. I find materials that tend toward an organic color palette quite appealing. I also like to use materials with texture and juxtapose them against materials with a smooth surface, the difference between the two enhances the individual qualities of each."
For someone who has designed a series of upscale projects, William is quite informed about technologies and practices which can transform affordable housing into a reality. "I think modular construction is the key to making housing more affordable in the immediate future. It brings some economy to single family housing, but the greatest efficiencies can be found in multi-family housing where individual units can be pre-fabricated in a shop environment, shipped to the site, then stacked, like Lego blocks, to form a multi-story residential structure. In the not-too-distant future I think 3D printing technology will become a larger part of on-site construction and, over time, will help bring costs down as well."
And for people who are keen to understand how he manages to execute his projects so well, William says "I always approach design through our clients. We begin by listening, understanding our clients' goals and needs and I develop design strategies based on them. I don't have a preconceived notion of what the design should look like, instead I develop the look, the feel, the materiality, the use of light, out of our clients' goals and needs. They channel my creativity and help me focus on my design. So I don't see them as something that forces compromise, but instead as something that inspires and directs the design."
10